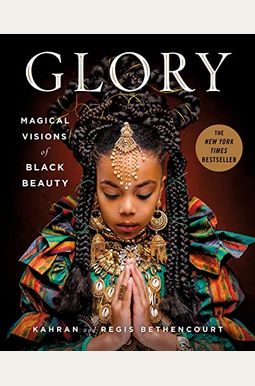 
 
Glory: Magical Visions Of Black Beauty
Book Overview
THE INSTANT NEW YORK TIMES BESTSELER.
From Kahran and Regis Bethencourt, the dynamite husband and wife duo behind CreativeSoul Photography, comes
GLORY
, a photography book that shatters the conventional standards of beauty for Black children. Featuring a foreword by Amanda Seales With stunning images of natural hair and gorgeous, inventive visual storytelling,
GLORY
puts Black beauty front and center with more than 100 breathtaking photographs and a collection of powerful essays about the children. At its heart, it is a recognition and celebration of the versatility and innate beauty of black hair, and black beauty. The glorious coffee-table book pays homage to the story of our royal past, celebrates the glory of the here and now, and even dares to forecast the future. It brings to life past, present, and future visions of black culture and showcases the power and beauty of recognizing and celebrating oneself. Beauty as an expression of who you are is power. When we define our own standards of beauty, we take back that power.
GLORY
encourages children around the world to feel that power and harness it.
Frequently Asked Questions About Glory: Magical Visions Of Black Beauty
Book Reviews
(14)
Did you read Glory: Magical Visions Of Black Beauty? Please provide your feedback and rating to help other readers.
Snatch it up!!

Derived From Web

, May 31, 2021

It's a stunning book, Claudia said. From imagery to quotations, from Broadway to Hollywood, we've got it all. These are great for Black children of all backgrounds, he said. they need images that assure and reassure them of their beauty, resilience, diversity, intelligence, kindness and beautifulness despite the challenges from society that try to counter with negativity. Levi became known for his witty one-line quips. That small deposit can make a big difference in a child's life. Kahran and Regis gave us each a kiss and we both fell asleep. Be great, carry forth in your glory, said the Lord. Courageous women stand up for continued freedom from oppression in all forms, including RYIMAGE. Yes, I can't say enough about this book. Family portrait by Alfred Hitchcock.
Great book, but......

Derived From Web

, May 12, 2021

I wish it had a paper cover. Such a beautiful book, not sure why they chose a paper cover over an image on the book itself. Overall, it's a pretty good performance.
Stunning and Beautiful!

Derived From Web

, Apr 19, 2021

The cover of this book is beautiful, too. It shows the creativity, style and glory that is black hair. It's great to have a new product, and I bought it for my friend who is a hairstylist.
Excellence!

Derived From Web

, Mar 28, 2021

The book exceeded my expectations and was also recommended to me. It was a present purchased for my grand-daughter and her little face lit up as she glazed through the pages of this amazing book. Even when she would say 'look!, I was excited. Memom she looks like me! OMG! What a great day! zzz! Pauley III, also known as Pauley, said he was "100 percent behind George Bush." It's great to be back home, said Blair.
I'm so proud of this body of work !!!

Derived From Web

, Mar 3, 2021

I am building a library of positive black imagery books for my daughter. This book encapsulates all of my intentions for my child, Raymond said. It is 243 pages of professional photos of black children of all hues dressed in the finest fashions and jewelry paying homage to our African heritage. I am so proud of this work of art and what it will mean for the future generations, he said. It brought tears to my eyes as I turned the pages and saw black children from all over the world represented in such a rich and royal fashion, Diana said. Truly magical realism.
My daughter loved this book!!

Derived From Web

, Dec 21, 2020

It was a Christmas present for my daughter, who has Down Syndrome. It was so beautiful, merely stunning photos, added Tobey. I had originally intended to give it to her before Christmas, but I was told it was too important to my wife. She is still looking at it over and over again, she said. She also loves books, catalogs, and other forms of media. From the pages of this book comes the most amazing photo's and stories of phenomenal children and African American past and present heroes. I can't imagine a better gift to give a black family, child, professional or just get one for yourself, Beckham said. It's great to be back home, said Blair. I want to let all of you that are just looking at the book's outside know that I'm delighted with the response. It's a book that should be on all tables in America, and my daughter wouldn't give it up to let me take it to work. We now have two books and they are worth a lot more than the price of one, Mr. Dhaliwal said. Buy the book, The Fifth Estate, by Gillian Bronfman. It's great to be back home, said Blair.
BUY THE BOOK but from a different vendor

Derived From Web

, Nov 23, 2020

I would not recommend buying this book from any vendor. The book itself is fairly new, coming without a protective cover and looking like it is new again. Bought a new book, not used, and I received a book with a worn cover, the book and its content is as expected. If you want to try it, you can buy it directly from the company or anyone else.
Worth more than money

Derived From Web

, Oct 24, 2020

It's a book of spiritual riches, Hachette said. Thanks for the vision to create this book, representation matters in the arts and everywhere,' Jordan said. The boy's great aunt, Rena, said he asked her if there were any books with kids like me in them. Thanks again for all the help!!!!!!!!! I made it my mission to give him a personal library of Black kid magic, Halle Berry said.
Beautiful

Derived From Web

, Oct 24, 2020

In her defense, My 4 year old interracial daughter is being hyper-critical. It's a struggle to help my daughter to like her hair. My hair is blond and I have a lot of drama, but I am not blond. It was the pictures of beautiful girls that helped my daughter to fall in love with her own hair. Thanks for the support! It has changed the way my daughter sees herself.
This is truely a work of art and love!

Derived From Web

, Oct 23, 2020

The photos are stunning, as are the descriptions of the children. It's just that I'm a teacher and I put the book on one of the desks. Some students who don't normally gravitate to books are also drawn to the format. The princes are amazed and touched by the photographs and text.