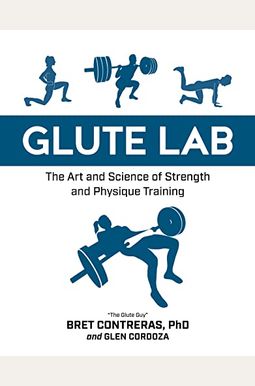 
 
Glute Lab: The Art And Science Of Strength And Physique Training
Frequently bought together
Frequently Asked Questions About Glute Lab: The Art And Science Of Strength And Physique Training
Books like Glute Lab: The Art And Science Of Strength And Physique Training
Book Reviews
(17)
Did you read Glute Lab: The Art And Science Of Strength And Physique Training? Please provide your feedback and rating to help other readers.
Excellently Explained w/ Templates

Derived From Web

, Oct 3, 2021

The language of the book is a very easy and understandable read that you can immediately apply the principles with the templates provided. I couldn t recommend this book more for fitness coaches looking to solidify their skill set or simply increase it!
BUY THIS BOOK

Derived From Web

, Aug 28, 2020

If you are in the fitness industry like me or if you are a fitness enthusiast, this book is for you. Dinge are easy to read, supported by science and make sense. The book is quite nice and later filled with so much good. This book suggests 1010.
highly recommend !

Derived From Web

, Jun 4, 2020

I follow Bret on Instagram and love him absolutely. I'm a personal trainer and purchased this book to help me create my training programs. It is very easy to follow and is full of invaluable information. Bret, thank you for providing accurate and effective information to help women build our desired gorges! Your research and social media training platform is appreciated!
Comprehensive and Consumable

Derived From Web

, Apr 7, 2020

This is a well thought out and comprehensive guide to glute training, which I consider a true tool in my own active lifestyle. It offers detailed cues, exercises with tons of variations,... I could keep going for a while longer. It is organized no matter your fitness level and is consumable to function as a reference guide for all things related to glute that you may want to know. I've been following Bret on insta for years, and you can tell that he takes care to offer contentinfo of the highest quality. That is, the excellent quality of this book is no surprise at all. Thank you BC.
Highly recommend

Derived From Web

, Apr 1, 2020

Amazing book filled with so much great information about how to build your flutes, but also great information about the overall. It even has a ton of seated weight exercises that you can do anytime. Recommendation is highly recommended. Follow also the Glue guy on Instagram! There he provides a lot of knowledge too @bretcontreras1.
Useless as a workout guide. Perfect for science geek

Derived From Web

, Dec 13, 2019

I've returned this book ''. I wanted to fill a workout manual with exercises. This is literally an anatomy and physiology textbook of the glutes. That's fine if you're a science geek and want all the details on muscle fibers and how and why movement is necessary for specific muscles and all that jazz. Only about 15-20% of the book is useful to someone who wants only exercises. The rest is Bret's life history as well as science and research. It's so huge and cumbersome that I wouldn 't take it anywhere.
Must have!!

Derived From Web

, Nov 20, 2019

From my wife, Glute Lab, is an amazing blend of science and practical advice. I love how Bret breaks everything down to the muscular level and discusses the physics behind why things work the way they do. However, you don 't need to be a science nerd to benefit from this book. From beginners to personal trainers, there is ample advice on building your own program to help you reach your goals effectively. Bret is literally the Glute Guru '' and the results speak to the strength of his methods! ! !
All knowledge in one book !💣💥

Derived From Web

, Oct 9, 2019

Amazing Book! Everything you need to know about how to incorporate glute, leg exercises in your workout routine. Save yourself time searching and guessing, all covered from proper forms to progressions, save you time searching and guessing. Good for all levels. And most important nailed to what works for all 3 groups of muscles in your glutes to develop that round beautiful shell. I have my own experience from buying his online program, competing in bodybuilding after his program and won!! Nobody knows the best than Glute Guy!
You can build glutes! At any age! Transform your physique!

Derived From Web

, Oct 1, 2019

The book by Bret will transform you physically and mentally, and help you achieve the physique of your dreams, I have been training with Bret for nearly 2 years. I didn 't even start body training until I was 46, and now 48 years old I became a pro fitness competitor. All because of Bret's strength training and glute building methods, all because of Bret's strength building and glute building methods. No magic pills, no steroids, no crazy pill... just following his methods and this book! It is a must read book . I have never had so much life balance and happiness in my life. This book also touches nutrition, which is key in building muscle. Bret is one of the most brilliant and passionate people I know and his book shares all his research that works! My photos say it all : My photos say it all. But this book and achieve anything you desire.
The booty textbook we all need!

Derived From Web

, Sep 21, 2019

Detailed, in-depth, evidence-based resource to get a better butt! This is not a real fitness handbook, this is the flimsy deal. Worth every penny!