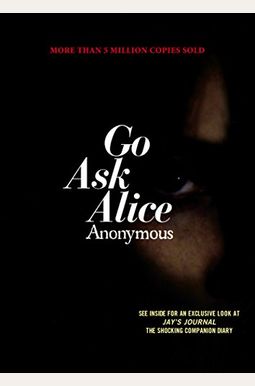 
 
Book Overview
This Description may be from another edition of this product.
A teen plunges into a downward spiral of addiction in this classic cautionary tale.
January 24th
After you've had it, there isn't even life without drugs.
It started when she was served a soft drink laced with LSD in a dangerous party game. Within months, she was hooked, trapped in a downward spiral that took her from her comfortable home and loving family to the mean streets of an unforgiving city. It was a journey that would rob her of her innocence, her youth--and ultimately her life.
Read her diary.
Enter her world.
You will never forget her.
For thirty-five years, the acclaimed, bestselling first-person account of a teenage girl's harrowing decent into the nightmarish world of drugs has left an indelible mark on generations of teen readers. As powerful--and as timely--today as ever,
Go Ask Alice
remains the definitive book on the horrors of addiction.
Frequently Asked Questions About Go Ask Alice
Book Reviews
(13)
Did you read Go Ask Alice? Please provide your feedback and rating to help other readers.
Pretty good, I don't usually read books that were ...

Derived From Web

, Apr 20, 2022

Pretty good, I don't usually read books that were written like journal entries, but I heard good thoughts about it. It was a real page turner and kept you interested throughout the entire exercise. The ending makes you extremely happy until you flip the page and find out what happens next. I sat there pissed off after I closed the book so the next day I looked up blogs about the book to get more information and I was extremely disappointed to find out that the book was actually fiction, Morgenthau said. At first the book left me feeling shocked that this was a true story and I totally believed everything I read and then when I found out it was fake it made me feel like you were lied to. The ending pissed me off but finding out it was all fake made me even more angry.
Book for English 340 class

Derived From Web

, Apr 20, 2022

I am not questioning my feelings about this book. Though I probably shouldn't have, I like it, because its authenticity as a real journal is no longer an issue. I can understand its over the years and why it was a banned book for many places, because of the language and sex and drug use of the writer. But anyone or place that finds it necessary to ban a book because of its contents will only make people want to read it. If I ever write a book, I hope someone out there will ban it in their school or library, that way I will become ever more rich and famous. I liked the character that remained anonymous in this diary, Morgenthau said. In the beginning, I had no sympathy for her, but by the end she had weaseled her way into my heart and pulled on its strings, Raymond said. Listen to some great hippie music from the 60s and 70's to enjoy it all over again.
Awesome story based off true events

Derived From Web

, Apr 20, 2022

One of my all-time favourite books. Still love this book! It is about drugs so if you are not into that or even into the lessons learned from that kind of experience, then don't bother reading. I'm not a huge fan of the first book, but I love the second. Note the subheading of this terrible parable in the "Harry Potter" series: "Will be in my top 5 fav books forever."
Entertaining fictional account of a teenaged girl's life in "Diary" format.

Derived From Web

, Apr 20, 2022

I've read all the books, but this is by far the best. As an adult I notice several unexplained phenomena, and know it could not possibly be true. But I still think it's well worth a read, as long as you know it's fiction.
Compelling and unsettling.

Derived From Web

, Apr 20, 2022

It is a tragic parable in the ever-expanding world of drug abuse and its associated vices. She really wants nothing more than to belong, to gain acceptance from her peers and to find fulfilment, but the choices she makes take her down a rocky pathway. As a parent and professional educator, I can't help but wonder what this book would have told my children. Still, we're pleased the movie was rated PG-13, the second-highest rating given to a horror film.
Could have been better

Derived From Web

, Apr 20, 2022

I'm not a huge fan of the book. To be honest, I don't even know why I bought it. As much as the story was about drug use, how she got into it, wanted out, etc., I didn't find it enjoyable. Fiction or not?
Eye Opening!

Derived From Web

, Apr 20, 2022

Freddie Mercury's lawyer Paul LiCalsi said: "There's no question that Freddie was at the wrong meeting." What I can say is that Sebastian did a great job with this book, said Frey. I enjoyed this book a lot and was a big eye opener for me to see how things really are for someone that is addicted to drugs.
Not a Fan

Derived From Web

, Jul 3, 2020

I feel like maybe it was because the book was published in the 1970s, but the writing doesn't hold up well. It's a British writer who works in the US, but the book is set in America. The word choices for the teenage girl seem offputting at times, or very exaggerated. I pushed myself through the book, but it's just too difficult to say whether I enjoyed it. The second and third books by Ellen Hopkins are much more enjoyable and realistic.
Define Anonymous SPOILERS AHEAD

Derived From Web

, May 15, 2020

As a woman in her 20s, I'm not pleased with it knowing that the author was lying. If you get past the diary entries it becomes more interesting as a story overall. It ended up killing the whole book, I can assure you of this. If you want to scare your gullible teen and are okay with them reading about a little bit of sex here and there with some drug use, then let them read this. If you're an older woman like me who wanted to experience the book many talked about while growing up, don't waste your time.
Best book ever...

Derived From Web

, Dec 30, 2019

In a classroom full of students, Max is a kid trying to make a new life in a new environment and having it all collapse around him. Must read by every human.