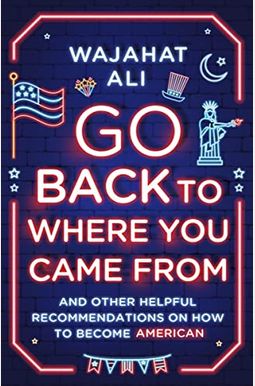  
Go Back to Where You Came from: And Other Helpful Recommendations on How to Become American
Frequently Asked Questions About Go Back to Where You Came from: And Other Helpful Recommendations on How to Become American
Book Reviews
(5)
Did you read Go Back to Where You Came from: And Other Helpful Recommendations on How to Become American? Please provide your feedback and rating to help other readers.
Mr. Ali has written a very important book.

Derived From Web

, Feb 2, 2022

Go Back Where You Came From is an exquisitely gut-wrenching reflection on a life being lived through all its vagaries. The book has all the classic conflicts of man v man, v nature, and man v himself. As each are intertwined and examined for honesty, a person emerges who has made the reader uncomfortable in addition to laugh out loud. A coalition of the country's most prestigious parties.
A must read!

Derived From Web

, Feb 1, 2022

I could not put this book down. The author weaves challenges, pain, and perseverance through humor and his personal story. She made my New Years resolution to read more books so easy.
This is a must read.

Derived From Web

, Jan 27, 2022

I find myself extremely enlightened by Ali's memoir. His ability to mix humor and angst, outrage and hope, tragic history and a positive vision of our nation's future makes this book a must read. He paints a picture using personal anecdotes and historical references of what growing up in America as a child of hard working parents is like for so many. In the midst of our nation's divisive noise, this book asks us to simply sit back and listen.
Not what I expected - but that's a good thing

Derived From Web

, Jan 26, 2022

As someone who has been familiar with Wajahat's writings for over 15 years, I expected this book to be a sort of long-form version of one of his many articles. What I found instead was something that read like a novel or a film script. The observations, lessons, and prescriptions are there, of course, but they are embedded in an overall narrative arc that puts context around all of them. I'd love to see these stories come to the big screen. It isn't enough to suggest to fellow Americans how they can best contribute to this ongoing experiment _ we need to show why those suggestions are needed, how they are implemented, and most importantly showcase the very human elements behind all of this. I appreciate the humor, the personal anecdotes, but particularly the trajectory Wajahat wants to see an America where everyone is included in the greater narrative — no more, no less.
The author does not hold back & speaks courageously!

Derived From Web

, Jan 25, 2022

Just delivered by the Amazon truck, already on Chapter 3. The 2nd generation American in me has been heard! Get your copies of Wajahat Ali's book now. Excessive laughter and nodding may cause serious injury or death.