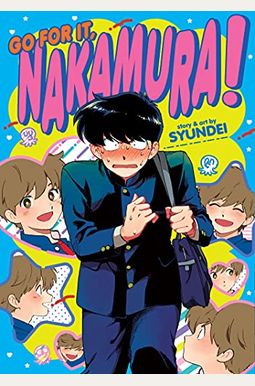 
 
Product is currently Out of Stock.
You can add it to your wishlist and you will be notified once we receive a copy.
Book Overview
Nakamura loves a boy in his class--now he just has to keep himself together Nakamura is a shy boy who falls in love at first sight with another boy--his dreamy high school classmate Hirose. But there's a problem: they haven't met yet. And Nakamura is a total klutz who might bungle things before they even begin In this endearing Boy's Love comedy about the trials of high school, follow Nakamura's hilarious attempts to cling to happiness.
Frequently Asked Questions About Go for It, Nakamura!
Books like Go for It, Nakamura!

Book Reviews
(9)
Did you read Go for It, Nakamura!? Please provide your feedback and rating to help other readers.
Very wholesome almost perfect yaoi mango

Derived From Web

, Mar 15, 2021

Nakamura is a very realistic protag, whose inner monologues I definitely had around alot of guys alot too. Part of this first book i did not like the whole Hirose Cross Dressing as a Lady in a Play twist thing, it was way too predictable and cliche. But its only one chapter, so only a little writing Hiccup, since it is his first published manga of this series. Prepare for the ultimate heartstring pull on page 180.
An Amazing Queer Romcom!

Derived From Web

, Mar 3, 2021

I love this story so much ''. The manga YaoiBL always has these really weird and fetishistic tones all over them. It also feels like a love letter to the early 90s school romance manga and does well. All characters that get a focus have really good personalities without being overbearing, the jokes are great, the art is AMAZING and the gay panic Nakamura goes through is very relatable. I am definitely going to look at other series by Syundei and am super excited about Vol 2!
A Really Sweet Slice of Life BL Manga

Derived From Web

, Jul 8, 2020

Go For It, Nakamura! as a product! Stark is an easy 5 - stars. It came in time, had no dents or scratches and all pages appear to be printed correctly. For the book, it is absolutely adorable. First of all, the art style is simply fantastic. I have a lot of nostalgia for 90s anime and manga style and this hits that hard for me. The story is a single burn slice of life - romance that is unfortunately only a slow shot. For those unfamiliar with the term, it essentially means self contained volume, given that the volume ends with * lowkey spoilers* a great start at Nakamura and Hirose's growing friendship. The book is a fun ride with you starting to understand the title about 7 chapters in and it makes you want to scream for it, Nakmura!
Hella owo

Derived From Web

, Feb 8, 2020

I read it in under 2 hours and I can not. It is so beautiful and absolutely wholesome. It is a must read book.
Adorable!

Derived From Web

, Feb 1, 2019

I thought the book was one of the cutest books I ever seen! '' I loved every moment and I just said awe. By far my favorite BL and even though there isn 't much actually romance in this book, I still loved it. But know that this is a SAUNEN AI, not a Yaoi! There aren 't any sex scenes here, let alone any kissing!!! If so, this book isn 't for you! Overall, I am super cute, and I die waiting for Volume 2. I have loved this author so far and I'm completely ready for their next book! Out of 5 stars, 629 shines! Totally recommend! Thank you very much! ''
Disappointing.

Derived From Web

, Jan 15, 2019

I love yaoi ''. But this isn t the one to fall in love with. I ordered it without waiting for customer reviews. It is a small but beautiful portable size. But the content is rather lifeless. I'm sorry.
Go For It!

Derived From Web

, Oct 11, 2018

I was enamored on the way through it all the way. Nakamura is such a good character and a cute and sweet match for the boy he likes! I was really satisfied with the end, but I would never complain if we saw a sequel! I am glad to have it on my shelf.
i'd give it my biggest YEA BOIIIIIIII

Derived From Web

, Jul 21, 2018

This manga features SLAPS i'm so glad that it has been translated into English. So tender and beautiful, we stamme stan honestly. The story of course? Hard to find, but very, hard to convince. Art as Art? Hard to find but good for you. The most important character is the main character. Forge, HARD is responsible for : I absolutely recommend '' reading it like three times over.
A lovely comedy series and a mangaka that I will definitely keep my eye on!

Derived From Web

, Jul 6, 2018

This is very nostalgic and so cute, seeing as how it has that Ranma 12 feel to it. Its so sweet and brought a smile on my face. All the characters are very nice presented to you and so nicely off the bat. Of course, since it is only the first volume, the romance is not yet there, but will obviously get there without a doubt. Syundei sensei won a fan! I root for him and this very beautiful series he has created. I enjoyed it so much that I read it three times, wishing that the second volume would somehow magically appear already!