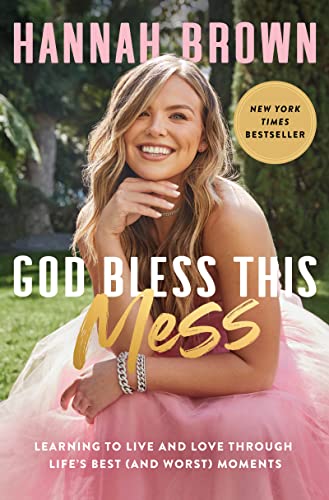  
God Bless This Mess: Learning to Live and Love Through Life's Best (and Worst) Moments
Frequently Asked Questions About God Bless This Mess: Learning to Live and Love Through Life's Best (and Worst) Moments
Book Reviews
(8)
Did you read God Bless This Mess: Learning to Live and Love Through Life's Best (and Worst) Moments? Please provide your feedback and rating to help other readers.
Lots of Bachelor tea

Derived From Web

, Feb 3, 2022

The former Bachelorette contestant turned lead on The Bachelorette Alabama was unapologetically herself every Monday night for weeks on her quest to find love. In her first post-partum interview, Hannah opens up about her childhood and young adult life which brought her to her reality show future. The audiobook is narrated by the author herself giving the reader a deeper connection to her story. Even if you are not a part of Bachelor Nation, Brown gives readers of God Bless This Mess a place to gather to know they aren't alone.
Honest and Relatable

Derived From Web

, Nov 26, 2021

I think a lot of the attraction to hearing Hannah's story is that it's relatable, too. We kept going back, Raymond said. Loved the honesty, Mr. Rule told the judge. Loved the focus on mental health and struggles that we all have, he said. We are all some form of a hot mess, and have had these feelings before," Blair said. Anyone who tries to act like they are not being honest with themselves or others, Bruno said. Loved the book, said Janet. I bought the kindle book and the audiobook separately.
She's the real deal!

Derived From Web

, Nov 24, 2021

Well written, well presented. She takes you through hers as if you were part of her journey. Her acceptance of herself and her discovery of self are inspiring. An excellent read, Michael. This is a book you can tell she wrote, no one else, her heart and soul. Many of these social media fast rising influencers have someone else write a book for them and claim it as their own, nan
Inspiring and honestly herself

Derived From Web

, Nov 24, 2021

The actress has always been so real and honest, which is why she is loved by so many, she said. What you see is what you get from her, you may not like it but she is authentically herself, Levine said. I absolutely love that about her, Tunick said. The book is a must-have for any Harry Potter fan. I cried, I laughed and I learned so much about her childhood, pageants, DWTS and some trauma, she said. What makes Beckham unique is that she is not just a fashion statement. Yes, she also dives into her Bachelorette days and doesn't hold back. But she also reminds us that we all have a past and we all make mistakes that we aren't proud of. But, it is in those messes that we can grow and learn the most. In her first interview, Blair opens up about her depression and anxiety. In her book, Dr. Goin says therapy has been so therapeutic and to not be ashamed, it's okay to reach out to get help.
Awesome!!!!

Derived From Web

, Nov 24, 2021

That was pretty cool, right? She has a way of connecting with people, Morgenthau said. Her book is a great read, Levine said. I couldn't stop listening until I finished the whole thing. I love the new look of the magazine.
Best book ever!

Derived From Web

, Nov 24, 2021

In fact, the whole thing is a parody, according to Hannah Brown. It's a book that I would recommend to anyone, especially first-time readers, Raymond said. I could relate to so many of her struggles and her victories, McCartney said. Brand new York always has a good reputation for customer service.
Very impressed

Derived From Web

, Nov 24, 2021

Loved this and very impressed by how honest Hannah is through it all. Even when we try to be honest, it's hard to be honest. As someone similar in age to her, it was also really inspiring to see how much therapy and reflection has helped her and made me want to do better in terms of my own mental health. Definitely recommend.
Love this book!

Derived From Web

, Nov 23, 2021

I've always looked up to Hannah and admired her authenticity, Beckham said. The book dove deeply into her heart and mind and was also relatable and inspiring. nan