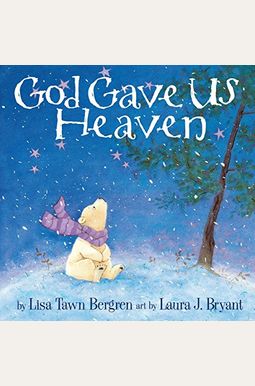  
Book Overview
As the sun rises on her snow-covered world, Little Cub wonders aloud.
What is heaven like?

With tender words, her Papa describes a wonderful place, free of sadness and tears, where God warmly welcomes his loved ones after their life on earth is over. Little Cub and Papa spend the day wandering their beautiful, invigorating arctic world while she asks all about God's home:
How do we get to heaven? Will we eat there?
Will I get to see you in heaven?
Papa patiently answers each question, assuring her that.
Heaven will be full of everything good.

This gentle story provides satisfying answers for a young child's most difficult questions about what happens after this life, inviting little cubs to find comfort in knowing that
God Gave Us Heaven.
Also available:
God Gave Us You
God Gave Us Two
God Gave Us Christmas
Frequently bought together
Frequently Asked Questions About God Gave Us Heaven
Books like God Gave Us Heaven
Book Reviews
(13)
Did you read God Gave Us Heaven? Please provide your feedback and rating to help other readers.
Love this book

Derived From Web

, Apr 20, 2022

My husband passed away a year and a half ago and my son is almost 6 years old and has questions about heaven and where his daddy is. He seemed to like it when I read it to him. We will keep it on the bookshelf for his sister when she asks more questions. There is a cute story. I felt a tug on my heart and had a tear in my eye while reading it, it was perfect for us. The other God gave us books.
Perfect!

Derived From Web

, Apr 20, 2022

My 9 year old nephew passed away and my 6 year old was having trouble with it. Although we are faithful and I talked with her about God calling him home, I knew I needed help breaking things down to her level. This book was exactly what I was hoping for. My daughter and my nephew's mother were reassured by the sight of God's love and beautiful place and it made them smile. This book is recommended by me.
Help adults and kids process loss and grief.

Derived From Web

, Feb 13, 2022

The pages and illustrations help people understand grief. I got it for the kids who lost their dad, but found peace from it.
Biblically Sound! Family Favorite!

Derived From Web

, Nov 20, 2020

I bought this book to help my oldest daughter understand what Heaven is like. The presentation of Heaven information in this book is very good. I can't find a single fault in the book. My 2 year old is the one who always gets it off the shelf. It's a family favorite.
Questions Answered

Derived From Web

, Aug 17, 2020

My daughter wasn't sure how to answer the questions my grandson was asking about Heaven because he wasn't sure how to understand it. I ordered this book for him and it was a resounding success. He asked for it to be read to him many times. My grandson was able to understand how much fun my friend would have in Heaven after she passed away. He has gained an understanding of what Heaven is and that has helped ease the grief we felt.
Kindle version cannot be read

Derived From Web

, Apr 4, 2020

I can't read this book because the illustration is a small square at the top left hand corner of the page with the text in a light grey colour. I wonder if I can get a refund or if this can be fixed, because I am disappointed in how the book is displayed. My rating is not based on the story, but on the quality of the version.
Beautiful book

Derived From Web

, Feb 14, 2020

The book is well written and appropriate for older toddlers to early elementary age children. My son is 5 years old and has a lot of questions. I bought this for him and to help me with some difficult conversations that may be in the days ahead for our family, because his grandmother is on Hospice. In simple explanations, the book answers questions like "how do we get to Heaven?". Excellent recommendation.
Starting with basics if faith

Derived From Web

, Dec 2, 2018

It's great for a Christmas Eve box for my grandson. This is easy for him to understand because he is do sweet.
God gave us heaven - it will be the best family reunion ever!

Derived From Web

, Jun 9, 2018

What I was looking for was what I was looking for. Simple enough for my 3 year old grandchild and deep enough information to prompt a few more questions from his older siblings. Leaving here and going to a better place when our time comes is what it is about. I like that it says sometimes when we're old and sometimes when sickness comes. This is a wonderful book.
so I was happy about that

Derived From Web

, Nov 30, 2017

We talked to our four year old about death because my grandmother is sick. I was looking for a way to do it that was child-friendly. I was familiar with the style because we already have God Gave Us You and God Gave us Christmas. It is positive and gentle. The part explaining that angels don't become angels when we die was something that I appreciated. I was happy that the books were not in line with Catholic teaching.