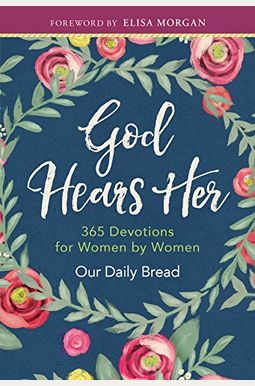 
 
God Hears Her: 365 Devotions For Women By Women
Book Overview
Hannah desperately wanted a child, and in her anguish she poured her desire out before the Lord. In 1 Samuel 1, we read that God heard her and answered her soul's cry. God hears you, too. When you are burdened, stressed, feeling alone . . . your Father hears you and responds in the way you need most.
We need God's reassurance that He is with us, He is for us, and He hears our heart cry. The stories in this collection of
Our Daily Bread
devotionals were written by women for women to bring comfort and encouragement each day.
Frequently Asked Questions About God Hears Her: 365 Devotions For Women By Women
Books like God Hears Her: 365 Devotions For Women By Women
Book Reviews
(7)
Did you read God Hears Her: 365 Devotions For Women By Women? Please provide your feedback and rating to help other readers.
Negative Reviews are Right

Derived From Web

, Jul 12, 2020

This isn't helping me. Each devotional is too short, basic, and bland, and didn't help to inspire me or align with the devotional. The authors and I are very disappointed in this. It seems hurried. An example is a devotional that says, "I was reading a book sliliently and my daughter thought I wasn't reading." It is similar to Hannah when they thought she was drunk but she was praying silently while moving her lips and God answered her prayers and gave her a son. I paid less for a devotional that was better. I wouldn't recommend this to anyone. Keep looking.
You Can Get Significantly Better Devos Online For Free

Derived From Web

, Nov 11, 2019

We wanted to do a daily devo. She picked it out. This was not worth the 99 cents I spent for the digital copy. The devotionals are so basic that I have not gotten anything out of any of them even though I have been looking for a thought provoking one for two weeks. I appreciate the concept of each devo being written by a different contributor, but there really should have been some quality control measure in place to ensure they offered something insightful, a few reference versus to study, something thought provoking or questions to inspire further study etc. I feel like they would have been better suited for third grade and Sunday school classes, because they are so basic.
Great gift idea

Derived From Web

, Dec 13, 2018

My wife and I have purchased this book many times. It has always been received with great joy. My wife and daughters like the simplicity of the writing. We have given away around 20 of these and we will give many more. It is a great devotional that leads to Christ.
Great Real Life Devotional

Derived From Web

, Feb 25, 2018

This devotional has been so good so far. I like to hear stories from other women that link into real life situations. It doesn't feel like homework when you read the readings. I highly recommend this devotional for people who are looking for a daily read.
What you'd expect from Our Daily Bread

Derived From Web

, Jan 12, 2018

When my sister asked for a devotional as a Christmas gift, I chose Our Daily Bread because I've been a regular reader for fourteen years. She doesn't have much time to read the Bible on a daily basis because she is a busy mom of two kids. It only takes a few minutes to read each day's devotional. She is really enjoying it. ODB applies real life situations to scripture.
A Woman's Devotional with Some "Meat"!

Derived From Web

, Oct 16, 2017

I can't wait to start this devotional. I like the layout and have looked at it. It is similar to the Our Daily Bread layout. You get a short story with the scripture. It's easy for me to keep a little basket by my chair for morning devotional time because it's a small book. I'm excited because I like some meat with my devotionals, not that fluffy stuff. This is a perfect combo. It has a great biblical foundation and an inspiring story. I'll update my review after I finish reading it.
A beautiful, little book of devotions.

Derived From Web

, Oct 12, 2017

Fans of Our Daily Bread will enjoy the encouragement and wisdom shared from one woman to another in brief, one-page devotions that take no more than a minute or two. It's a great gift for a woman in your life. I also recommend A Woman God's Spirit can Guide by Alice Matthews. The Bible Study explores women's callings, our relationship with God, and our roles in church. Woman-gods-spirit-can-guidedp161707676Xrefs is a topic that is related to a woman and god.