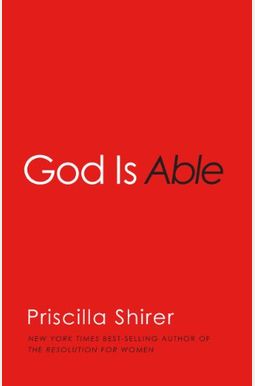 
 
Book Overview
Got an IMPOSIBLE situation? The anxiety it brings can wake you in the middle of a needed night's sleep and then stalk you in the middle of broad daylight. It can sneak up on you and cast a cloak of fear and concern over your shoulders that you can't seem to shake no matter how hard you try. It can take you down. Squash all hope. Stop you in your tracks.
IMPOSIBLE. IMPENETRABLE. UNCHANGEABLE. Maybe so . . . until God gets involved. No matter the details of your circumstance, His raw power potential and immeasurable ability refuse to cower in the face of any challenge. Nothing is impossible with God. Nothing. Not even that thing. This is the uplifting, well-reasoned answer from New York Times best-selling author Priscilla Shirer--not a denial of life's adversities and troubles, but a biblical reminder that God is always up to great things, even when His great things are greater then instant remedies and visible change. He is a God who cares . . . and a God who CAN. Believe it. Experience it. God Is Able.

Frequently bought together
Frequently Asked Questions About God Is Able
Book Reviews
(19)
Did you read God Is Able? Please provide your feedback and rating to help other readers.
That's "It"!

Derived From Web

, May 20, 2022

I came across this book at the right time ''. Although I intuitively knew that God is Able, reading this truth from a breakdown of Ephesians 320-21 made such a Ahh Hah connection to my mind and my heart that strengthened my thinking and consolidated my faith. I recommend this text for anyone who wants a memory verse from the Bible that will remind you to hold the truth that God really does care about our little things, especially our big stuff. And more, that He has the power to solve our. Bless GOD Priscilla Shirer... awesome woman of God.
Excellent!

Derived From Web

, May 20, 2022

God Is Able gave me the courage to believe that he is not only able, but also willing to display his power in my seemingly hopeless circumstances! A faith-boost that I desperately needed. I recommend this book for anyone who needs a spiritually uplifting intervention in his or her life or who wishes to read it simply.
Just What I Needed

Derived From Web

, May 20, 2022

God supplies exactly what we need, just when we need it! This includes even the literature that He sends on our way. He knew what I was going through and provided through my divinely-inspired help and intervention through the ministry of my sister-in-Christ, Priscilla Shirer. Those who know Christ come away from this book more fully trusting in his power, willingness and ability to act, move, restore and deliver -- in any and all aspects of His children's lives.
Everyone will want to borrow it!

Derived From Web

, May 20, 2022

I am leading a Bible study group using one of Priscalla's studies and when I brought this book to read it snatched and 2 ladies have put it on her Kindle and there is a waiting list. It is an easy read, takes a few hours to complete and fits perfectly with our study and other Priscalla studies we have done. I need to buy another one so that I can read it. My study ladies like to buy books - we feel it connects us, but they have all said they are borrowing it for theit libraries.
Priscilla Shirer is one of my favorite authors. Her books and Bible studies are Spirit-led

Derived From Web

, May 20, 2022

One of my favorite authors is Priscilla Shirer. Her books and Bible studies are inspired, inspiring and awesome.
A solid, feel good read.

Derived From Web

, May 20, 2022

Very beneficial for the emptiness that we experience sometimes. Shirer has a way of speaking to you as if she is talking to you and it is a one-on-one conversation. This book gives our faith a new hope.
Great book!

Derived From Web

, May 20, 2022

Priscilla Shirer has a wonderful insight into God's word and has been blessed to share it in her book. I read only one chapter a day so that I could meditate on each segment of the Ephesians. 320-21 : What a joy brought all 7 chapters into my life.
He is ABLE!!!!

Derived From Web

, May 20, 2022

I keep buying this book and sharing it with others. Great read and I enjoy all writings by this author, however this book is my favorite. It is based on the Ephesians 320 -- when you step out of your comfort zone and become obedient, don 't limit God. He goes abundantly beyond... the beyond. Beyond your thoughts, Beyond your heart's desires, Beyond your imagination, He gives His best to those who are willingly obedient in faith and trusts Him. He loves to woo his children who ask with right motives, laying down their selfish desires and following them to Him. He is more than capable... to finish what he started... and be prepared for the beyond experience.
Loved this one!

Derived From Web

, May 20, 2022

With this book, my faith was refueled and recharged completely! Trusting that God is able to do abundantly beyond my way past, gave me the life changing perspective that I needed!
Life Changer

Derived From Web

, Sep 17, 2021

Let me start by saying that this is one of the best books I ever read. For years, I have struggled with God completely trusting. I've struggled with issues that I never told anyone, issues that I don 't even know how to articulate properly. I know that I have always struggled with God, but will he? This book held my hand and dealt with those deep issues that I have never been bold enough to discuss loudly. My faith has been renewed and changed. I read this passage of the Bible a million times, but it never resonated like this with me before. I am so grateful that I read this book. Able is God!