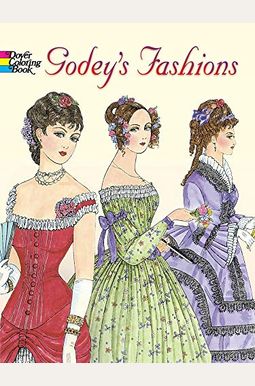 
 
Godey's Fashions Coloring Book
Book Overview
Superbly rendered illustrations, adapted from Godey's Lady's Book, a rare nineteenth-century fashion magazine, provide authentic views of evolving Victorian modes of apparel -- from lace-edged necklines and elongated bodices to fitted bonnets and extravagant bustles.
Thirty ready-to-color illustrations depict lavish dresses and gowns of velvet and damask; smart riding outfits trimmed with braid and gilt; an elegant cashmere shawl, children's outfits; as well as hair ornaments, footwear, and other accessories.
A lovely collection that offers an authentic glimpse of what well-dressed ladies and youngsters of the Victorian era were wearing, this is a must-have for coloring book fans, costume designers, and cultural historians.

Frequently bought together
Frequently Asked Questions About Godey's Fashions Coloring Book
Book Reviews
(13)
Did you read Godey's Fashions Coloring Book? Please provide your feedback and rating to help other readers.
Printed on both sides of each page, ugh!

Derived From Web

, May 24, 2022

I do not like coloring this book at all. First of all, it is printed on both sides, small details are so small that it is difficult to color with even the sharpest pencil. I ended up using ultra fine colored pens in many areas, because they cannot be blended well for a flat looking picture or illustration. The paper is thin and often the pen ink bled through to the other side so that I often had to sacrifice a page to color the other. In addition to being printed on both sides, there is no perforation to pull the book out of the book, so I am left with a colored in book and when I would have liked to pick the best picture to frame as an art '' piece for my office.
Beautiful dresses to color

Derived From Web

, May 24, 2022

There are thirty-three dresses from the Victorian era to color, fashion that reminds me of the historical romance that I like to read. It is a shame that these beautiful designs are two to a page, back to back, otherwise this coloring book would be perfect. They are printed on medium paper that is of bright white weight. I use my coloring pencil to color in this coloring book, I don 't want to mess the beautiful dress on the back of the page. I am very happy buying this book, I sure am.
The coloring book is wonderful. I am having so much fun deciding which ...

Derived From Web

, May 24, 2022

I am having so much fun deciding which colors to make the dresses, as I like to be original. It is easy to find the colors from the pictures, but I enjoy copying my own colors. When I was a small girl, I used to collect paper dolls and I would sometimes resize the costumes and then color them. It was good to have a bit of fun. I know that these days are gone forever, but I love choosing my own colors for the Godey ladies. They are so beautiful . Thank you for making me once again original in coloring. Kathleen B. Kennedy's mother was born in California.
This is by far my Favorite coloring book.

Derived From Web

, May 24, 2022

From some of the reviews, I was not expecting much. One reviewer claimed that there was too much text and the pictures are too small. Yes, there is text, but I do enjoy reading the text and ponder about the time period as I color. If you want to do much shading, this is not necessarily the right book for you. In some of the dresses there are tiny details. In my opinion, this is a perfect coloring book for those who enjoy coloring or those who learn about shading faces and the folds of dresses and flowers. I would buy a few copies at the price. That is $2.55 including shipping! Actually, I bought several coloring books this month and this is by far my favorite.
This is almost an "I Love it" coloring book but there are more than a ...

Derived From Web

, May 24, 2022

This is almost an I love it coloring book, but there are more than a few pages that I have no interest in coloring. Also, the pages are two-sided, so that if using colored pens or gel pens the picture could be ruined on the back side. The pages I did like I really enjoyed coloring. It is worth purchasing.
Disappointed

Derived From Web

, May 24, 2022

This book's pages are written on both sides so that it is impossible to use gel pens in this book. I'm glad that it was cheap.
She loves all the beautiful designs. She is actually almost done with the ...

Derived From Web

, May 24, 2022

She is actually done with the whole book almost completely.
Victorian coloring book of women's fashions.

Derived From Web

, May 24, 2022

The book was received in a timely manner, book is of very good quality. Has been disappointed that images are located on both sides of the books and that there are no perforations to tear out pages. I, however, will color these Victorian dresses because I love the beautiful clothing. Also the wish paper was of a heavier weight.
I love this artist and I have several of her books

Derived From Web

, May 24, 2022

I love this artist and I have several of her books... beautiful fashions to color. The paper is a bit thin, as are most Dover books, but colored pencils and water-soluble markers work well.
Good Coloring Book

Derived From Web

, Mar 4, 2022

Plus, I have an original Godey's Lady's book from the Civil War era and there is more diversity in styles than are depicted in this book, which would have been good to include. Oh, well-it is an inexpensive coloring book and gives me pleasure to color in it. What could you ask for more?