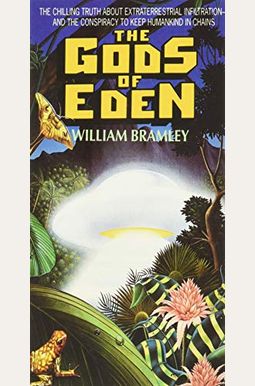 
 
Book Overview
They Came To Earth Millions Of Years
Ago To Spread The Poison Of Hatred,
War And Catastrophe.

They Are With Us Still.
Human history is a seemingly endless succession of bloody conflicts and devastating turmoil. Yet, inexplicably, in the light of astonshing intellectual and technological advancement, Man's progress has been halted in one crucial area: he still indulges the primitive beast within and makes war upon his neighbors.
As a result of seven years of intense research, William Bramley has unconvered the sinister thread that links humanity's darkest events -- from the wars of the ancient pharaohs to the assissination of JFK. In this remarkable, shocking and absolutely compelling work, Bramley presents disturbing evidence of an alien presence on Earth -- extraterrestrial visitors who have conspired to dominate Humankind through violence and chaos since the beginning of time.a conspiracy which continues to this very day.
Frequently Asked Questions About Gods Of Eden
Book Reviews
(9)
Did you read Gods Of Eden? Please provide your feedback and rating to help other readers.
I had read "Synthesis Remembered" by Charles L Moore which I highly recommend, and this book by William Bramley really helps ...

Derived From Web

, May 28, 2022

The author builds a very compelling case for the flow of history, filling in many of the gaps I was still searching for. I had read Synthesis recalled by Charles L Moore, which I highly recommend, and this book by William Bramley really helps me to build up my overall view of human history. I highly praise this book, which will always remain in my personal library.
Book will make you think

Derived From Web

, May 28, 2022

The book is very good. I am always reading articles on ancient religion or different views about religion and this is a very good book.
Disappointing read - not what I had hoped it would be.

Derived From Web

, Feb 26, 2022

I bought this book because Alex Collier recommended it in one of his 90s interviews. I was hoping for specific examples of alien involvement in modern times and even in historical government policies. Instead, the book seemed to be more of a shorty historical lesson of history that everyone already knows. The author recaps major events in history and suggests very briefly that aliens have influenced these events in order to create division. The author also suggests that a lot of government corruption and wars are caused by Freemasons, but who does not know yet?
Be the Maverick!!!

Derived From Web

, Apr 7, 2019

Through its symbolism it makes man aware that the world does not work as it should and needs to be changed at the spiritual level, as it says : A true understanding of ethics, integrity and justice is a prerequisite for regaining one's spiritual freedom and immortality. Why is this ''. Because this gives the man the proper view of life and the motivation for taking proper actions. For precisely for lack of these gems, there enters our blue marble strife, violence and crimes. But this change can not come with stagnated ideas, political or religious, but can only occur by a Maverick way of thinking, a Maverick way of devotion and a Maverick way of living. This is the only way to spiritual recovery and the only way to create a new age for the good of all.
Caution this will blow your mind

Derived From Web

, Feb 18, 2019

Here William Bramley wrote a classic. This book is almost 30 years old, but most people are still not ready to hear what he tells us. I heard only this book from an Amazon reviewer who said Bramley was much better while reviewing another book. Thank you Amazon reviewers, you are sooo helpful! I am open-minded, but when my friend and I discussed this book, we both felt the same - you won 't be able to put it down, but it makes your entire worldview about our history on Earth questioned. I wouldn't be able to do Mr. Bramley's excellent research and writing justice--I'll say he goes through human history and research it through fresh eyes. I saw Mr. Bramley briefly appear on the series of Ancient Aliens on the History Channel. I also brought my copy of Gods of Eden to a MUFON meeting and the director for Illinois spotted it and said it is a good book.
Fantastic book!

Derived From Web

, Jan 7, 2019

I read this book for the first time in 1992or 93. Whether you are looking at the possibilities of our origin, want a different kind of Scifi or whatever is in the middle, this is a fantastic book. This is my fourth copy, I have never had it returned when I borrow it out, and it is always passed along. That should be a good description of the book. A poorly written book usually gets donated somewhere and looks new, outside of buying this book brand new, I have always seen it somewhat worn, sometimes with pencil or pen marks, dog eared pages and the telltale sign of being read dirty spots on the pages where they have been turned.
This tale of fiction only convinced me more of the Truth of the Biblical canon of Scripture.

Derived From Web

, May 21, 2018

In this fictional story, Mr Bramley makes his disdain of God and Lord Jesus very clear. What he does not realize is that there is some truth in the beings that had authority over mankind at the beginning, but is not physical rulers of the divine council that God himself gave authority over spiritual creation. They fell through pride and brought great deception to mankind, including the false doctrine that Mr. Bramley bought Hook, Line and Sinker. Rather than causing me even an ounce of doubt about what I believe, each chapter served only to convince me further of the absolute truth of the canon of Scripture.
Forbidden fruit never tasted so good...

Derived From Web

, Mar 19, 2017

An absolutely masterful rendering of history, religion and the custodial race of the beings that weaves through it all. Bramley does an alien race of beings behind all that humanity postulates. His grasp of history is compelling, his psychology is highly believable and his own brand of mysticism is wonderful. I wish he had written more on this subject.
Beware, this book is very interesting

Derived From Web

, Jan 19, 2017

The theory proposed by Mr Bramley is audacious and fascinating, a tour of force through history with a twist you won t find in academia. True hidden knowledge awaits within the pages of this jewel. Beware.