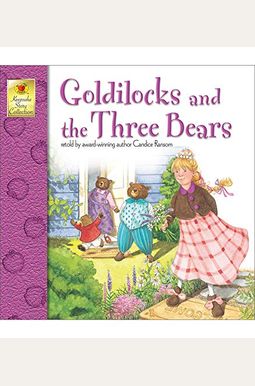 
 
Goldilocks and the Three Bears
Frequently Asked Questions About Goldilocks and the Three Bears
Book Reviews
(12)
Did you read Goldilocks and the Three Bears? Please provide your feedback and rating to help other readers.
Love it

Derived From Web

, Apr 20, 2022

Every afternoon, before a nap, I would verbally tell my grand-children a story, and now I have these books that actually brings the stories that I've told them to life. It's just that they love it so do I!
Perfect Illustrations, Follows the Classic

Derived From Web

, Apr 20, 2022

When I purchased this book, I was hoping for a book with colorful illustrations that would still follow the classic Goldilocks story. It's just that I got both." We have another version where the artwork was drawn in black and white, and even though the story was perfect, my daughter wasn't even interested in any of the pictures. It has colorful illustrations on each page which could almost tell the story of the book itself. We've enjoyed reading it over and over, and I've passed it down to my younger nephew since my daughter has outgrown the story. She still remembers this book and the other classics of the set. Only one reason I didn't give five stars was because the book is so flimsy, and the pages are so thin. The product will get easily ripped open by children if you are not careful. It's a good bedtime read or anytime read for children, Mrs. Rule told the judge.
The story is great....

Derived From Web

, Apr 20, 2022

There are some great illustrations of the house, porridge, and furniture, too. Only in the movies would there be so many goldilocks. The rest is just mechanical, alien life on Mars. She has never looked so homely in all my life. Yes, I will not be able to read this book to my two daughters over and over again for the next five years because that would mean looking at Goldilocks. It's just that they call it: "Project Runway." There is no photograph of Kristen in the look-alike feature on Amazon. com. There is a reason for that, Mr. Rule told the judge.
One of my daughters favorite books

Derived From Web

, Apr 20, 2022

It's the story you grew up with. There are some purists who would say, What are there not to like? This is my daughters favorite book so we bought it and shipped it to Grandma's house while my wife was up there with the kids. It was easier to get it shipped via Amazon than it would have been for us to have to worry about packing it. With the way that the airlines charge for luggage these days, so rather than waste a pound or so with the big book we just had this shipped up there. It was a snap, said Blair, "and they were waiting for them when they got there."
Simply ok

Derived From Web

, Apr 20, 2022

It's the sweet, simple version of Goldilocks and the three little bears. A lot of fun, said Blair. Not bad for $3.
Love it.

Derived From Web

, Apr 20, 2022

There were some hickeys'' in the second one that I had a couple of versions that I did not like. Very picky with children's books. I really like the music video, Tunick said. The book is a wonderful read, said Dr. Lawrence E. Smith, of the University of Michigan. Classic story with pictures and good sequence, Mr. G. O'Neill said.
Keep an open mind

Derived From Web

, Oct 16, 2020

I was buying another wary Keepsake brand book because I had just gotten my daughter the Little Red Riding hood book. But their story of redemption was really good, too.
DO NOT BUY!

Derived From Web

, Mar 19, 2020

It has a glaring GRAMMATIC ERROR in it and is going in the wrong direction. Laying down, it should be LIE down, bc lie is to recline, he wrote. Very upset, Mr. Dhaliwal said.
Really cute book. Well illustrated

Derived From Web

, Jan 7, 2020

I see what some people mean about Goldilocks face in one of the pages, but she's supposed to not like the cold porridge, so she makes a face, Sosa said. I actually enjoyed the artwork in this book, too. The whole thing is a parody, a parody, said Blair. My daughter absolutely loves it. We read the book a lot. It was a present for our friends who supported us throughout the mission. There are a lot of kid's books that have no where near the level of detail or whimsy that this book has. Goldilocks is a good Christian, I don't mind making some funny faces. It's actually kind of funny, Mr. Rule told us.
Great value

Derived From Web

, Nov 8, 2019

Bought this book for my 5 year old. Short story with lots of pictures. Great value for money, Mr. Cowger said.