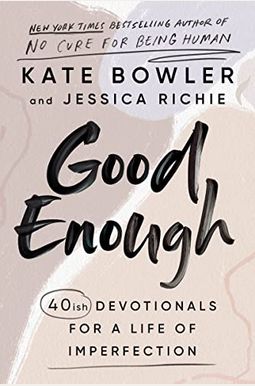  
Good Enough: 40ish Devotionals For A Life Of Imperfection
Frequently Asked Questions About Good Enough: 40ish Devotionals For A Life Of Imperfection
Book Reviews
(10)
Did you read Good Enough: 40ish Devotionals For A Life Of Imperfection? Please provide your feedback and rating to help other readers.
Uplifting and encouraging

Derived From Web

, Mar 13, 2022

This devotional is written for the true pursuer of Jesus. It feels like it was written by my girlfriend, who knows my heart for God, along with the baggage and insecurities I wrestle with.
excellent!

Derived From Web

, Mar 11, 2022

Kate Bowler has written a devotional that I enjoy. She treats her readers with respect and is witty.
So much wisdom, hope and grace

Derived From Web

, Mar 7, 2022

Kate Bowler and her friends wrote a lot. I enjoy the honesty and humor of the Paschal Mystery and the joy I feel when she writes about it in my heart and soul. All ten stars would be golden yellow. Kate speaks my language. I would love to meet her in person one day.
Love Kate Bowler / Book has misprints

Derived From Web

, Mar 4, 2022

The media couldn't be loaded. I was so excited for this. I wanted to use this with Kate's guide this year. I found several mistakes when I opened my book. The first two chapters are missing. Chapters 3 through 8 repeat themselves in the book.
Everyone Needs this book

Derived From Web

, Feb 28, 2022

I bought the book as well since it was such a good book. Kate is an awesome person and this book is helpful if you are like me, always struggling to do better and feeling like I never measure up. There are many ways to develop a closer relationship with our Lord and to assure you that you are Enough. This book and her other books are excellent. Her journey through cancer is amazing. Thank you Kate!
No scripture references

Derived From Web

, Feb 28, 2022

While this book is well written and offers rest for tender hearts, it does not offer any scriptures for guided Bible study. Bowler addressed it on her website. I would have liked to have had this in the bound book.
Two chapters, the appendix and acknowledgements were missing.

Derived From Web

, Feb 27, 2022

Kate Bowler is a brilliant writer and I was anticipating this book. The appendix and acknowledgements were missing from the hardbound book that was printed by an establishment press. I didn't expect an imperfect book in the book. Silly me. If this was meant to be a joke, I didn't understand it.
She gets is

Derived From Web

, Feb 26, 2022

I follow her on social media and listen to her podcasts. She is normal. You could meet her and feel like you could talk to her without being like a celebrity, but as someone who isn't afraid to call out our messy lives just as they are and make it ok to talk about it, and see God in it all. This book is what we all need. Thank you, Kate. We are all human and that's ok.
Gentle, humorous yet profound

Derived From Web

, Feb 20, 2022

This book is gentle and kind, yet deep, and is sure to make you laugh out loud, for anyone who has felt like time with God is not accessible due to illness or grief.
Amazing Book

Derived From Web

, Feb 15, 2022

This book was very good. It would be an amazing book to read. Highly recommend! My son approves too.