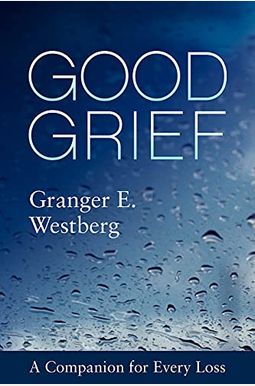 
 
Good Grief: A Companion For Every Loss
Book Overview
This Description may be from another edition of this product.
For fifty years Good Grief has helped millions of readers, including NFL players and a former first lady, find comfort and rediscover hope after loss. Now this classic text is available in a new edition with a foreword by one of the nation's leading communicators of medical health care information. An afterword by the author's daughters tells how the book came to be.
Frequently Asked Questions About Good Grief: A Companion For Every Loss
Book Reviews
(10)
Did you read Good Grief: A Companion For Every Loss? Please provide your feedback and rating to help other readers.
I couldn't make it through this book.

Derived From Web

, Jun 4, 2021

A grief counselor through work recommended the book to a grieving widow. The book is terrible, and I couldn't get through it. Even with time, losing your mother is not even in the same stratosphere as losing your job. I skimmed the book, I gave it a try, but it was too late. But it has such a strong religious bent to it that no wonder people don't believe in miracles. It feels almost condescending the way the author basically says people with strong faith deal with grief. The last thing I want is a religious book, he said. But if you're a strong Christian, this book will be great for you. But for us spiritual but not religious types this book is just heavy-handed and doesn't provide any practical tips for dealing with grief.
The most universal book I have read on Grief

Derived From Web

, Feb 19, 2021

The most universal book of grief. It is gentle and wise, and will appeal to all people, McCartney said. Yes, it is written by a pastor but will appeal to the person who does not profess a faith. Giving as a gift to my friends and family during difficult times is what I do.
Great book for all forms of grief

Derived From Web

, Sep 8, 2020

We use this for friends who have lost a loved one, but it can also be used for job loss, divorce, and other major transitions in life. Great book, easy to read, Mr. Rule told us. We use the Spanish language version, too.
Very Religious, specifically Christian

Derived From Web

, Aug 10, 2020

I'm surprised no reviews have mentioned the faith-based orientation of this book, so I'd leave one for clarity. I am not against religion and have my own strong practices of faith, but I did not realize that this book is written for people of faith and uses only Christian scripture. Buyers always want to know what is going on with their investment. It seems a lovely book, and divides the stages of grief into interesting phases that are slightly refreshing, Thibault said. However, it is appropriate for those who are practicing Christians, because everything is through that lens, he said. Thanks for the help.
Best book and quick reading

Derived From Web

, Apr 29, 2020

As a counselor, I gave this book to many of my clients. In her column, "Grief," Julie Bair laments the loss of her husband to cancer and needs a refresher on grieving. I bought this and have passed it on to my ex-wife, who also is now a widow. It's a great present for anyone who is going through a huge loss in their life.
A short, yet phenomenal, book!!

Derived From Web

, Jan 19, 2020

It's a book that should be read by every person on the planet. Whether it's a simple case of getting canceled or a complicated situation like divorce or death, we all grieve. Every person, not just children, should benefit from reading this book. In "Navigating Through Grief," Raymond gives helpful tips on how to move through each stage of grief. In his book, "Grief: The Road to Recovery," Robbins talks about how we can come through grief as stronger and wiser. He says that having faith won't keep us from grief, but will help us through it. Even when people of faith are not able to come to grips with the Lord, He brings them out stronger. Loved every single page! Will read again and buy more to pass on to friends.
Great guide to healing!

Derived From Web

, Nov 14, 2019

This book is very good, said Pauley. It is a gentle, sweet and concise book for the grieving process. It gives one the many facets one may find oneself through the grieving process which helps understand how we, human beings, function as we deal with grief. I have given many of these books to grieving families and it has been a comfort and a guide to a healthy grieving process, Raymond said.
Concise and relevant

Derived From Web

, Oct 17, 2019

It is very accessible, concise and relevant to the needs of the travellers, Mr. Dhaliwal said.
This is a classic -- for anyone handling any type of grief.

Derived From Web

, Jun 16, 2019

A Lutheran pastor gave me the first copy of this book when my mother died in 1992. In turn, I've given copies to friends and family members. There are multiple types of grief -- not only grief about a death but grief over new jobs, a move, a life change. Solid explanations of how all of the grieving can be handled.
Comfort for Those Who Need Comfort

Derived From Web

, Jun 9, 2019

It is short and simple, and is readily absorbed by most people. Anyone who has lost a loved one should read this book.