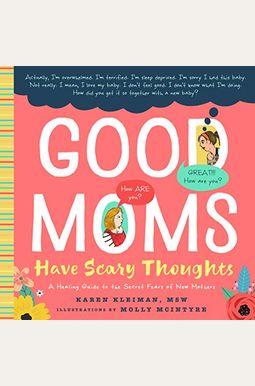 
 
Good Moms Have Scary Thoughts: A Healing Guide To The Secret Fears Of New Mothers
Frequently bought together
Frequently Asked Questions About Good Moms Have Scary Thoughts: A Healing Guide To The Secret Fears Of New Mothers
Books like Good Moms Have Scary Thoughts: A Healing Guide To The Secret Fears Of New Mothers
Book Reviews
(14)
Did you read Good Moms Have Scary Thoughts: A Healing Guide To The Secret Fears Of New Mothers? Please provide your feedback and rating to help other readers.
A Great Start

Derived From Web

, Mar 19, 2022

I've read this book first by my second child, and fully read it now that he is six months old. It was the most important thing I needed, and I needed it with my second child, too. I was introduced to it by my therapist, who had it in her office and would occasionally pick it up to show me a specific entry. There is nothing like feeling by something in a book, Frank said. The advice and exercises ultimately fell flat for me but the ability to see simple thoughts I had written in the "thought bubble" of an imaginary woman was so helpful. It is short and a quick read, not really meant to be read cover to cover as much as you need for the section you are reading. I hope it expands to include other social situations, as well as PPDPPA well past the newborn period, he said. The babies were all photographed with their mothers, sometimes in groups of 10 or more. When I was pregnant, I didn't realize I had PPD until she was 8 months old.
Great book for a new Mom

Derived From Web

, Jul 16, 2021

After having two kids and knowing what it was like to be in the scary place of having a new baby to take care of and hormones all over the place, I purchased this book for my friend who was pregnant. While expecting a baby is thrilling for some, it is also scary for others. And being able to express that, being heard, and knowing you're not alone is a great present. It is a unique situation to give a book like this to a new or expectant mother, you have to let them know you are very excited for them and this book is here if she ever needed it. My friend thanked me, some time after her child was born, because this book really helped her, she said.
Excellent book

Derived From Web

, Mar 14, 2021

This book is perfect for moms, but I feel it can be used by anyone with anxiety.
SOOO HELPFUL

Derived From Web

, Sep 5, 2020

My only regret is that I would have had it from the very beginning. Thanks for the help. I hope you find it helpful.
Must Read

Derived From Web

, Jul 16, 2020

If you are a struggling mom or a dad feeling like you're in over your head then you NEED to read this. It will help us with some of the research, and hopefully give some good perspective, he said.
Helped me with PPA

Derived From Web

, Mar 29, 2020

I purchased this book 6 months after my son was born but it was released only a few months later. That gave me time to continue to take over my life, or so I thought. As a first time mother, I felt like I was having an outer body experience being a mother. Who was this person I've become? What do I care about a little human being who was latched on to my boob? Not just normal as in, "just a first time mother," "wow these weren't just inside my head" normal. I would read this book whenever I had some time, it brought me back down to reality. Severe PPA made me feel so desperate and so I had to be, or try to be, in control of everything, Dr. Goin said. I would call this a "self-help" book because you DO help yourself by understanding that you are NOT alone in this.
Loved it.

Derived From Web

, Sep 6, 2019

The book is a great read, and the humor is just as real. It's just that simple, Complications aside. Some of the things I've been going through have definitely had me feeling alone, but this book has opened my eyes and helped me to realize that I'm not. I'd highly recommend it to any new mom but especially for moms with multiples.
Buy this for a new mom in your life!

Derived From Web

, Jun 25, 2019

This book helped me adjust to life after baby. New moms everywhere are desperate to have their first book. She may not relate to all of it, but I can assure you that she will absolutely find some things to relate to. It is written in a perfect way for a mom who is feeling overwhelmed and is in the midst of taking care of everyone, she said. It is easy to read one page at a time, even with a little help from your reading coach, because it is not as daunting as a chapter book.
Such an important read!

Derived From Web

, Jun 23, 2019

Yes, I do. What a great book for all moms. This book is also great for the non-moms in your life to help them understand what it's like to be a mom.
Amazing resource all moms should have!

Derived From Web

, May 30, 2019

Television images could not be loaded. As a survivor of maternal mental health disorders and an advocate for maternal mental health, this is the book every mom needs. While new moms will benefit from the invaluable information in this book, ALL moms will have aha moments reading this book. Karen Kleiman is the BEST in this field because she gets what moms are feeling and thinking and always does an amazing job of validating their struggles, Morgenthau said. Happy Mother's Day to all your mom friends!