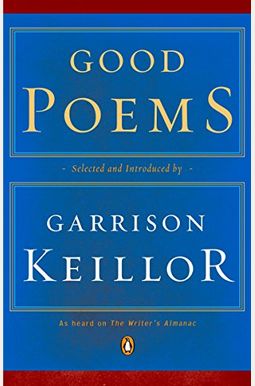  
Book Overview
America's beloved author, humorist, and storyteller offers a selection of meaningful and enjoyable poems
Every day people tune in to
The Writer's Almanac
on public radio and hear Garrison Keillor read them a poem. And here, for the first time, is an anthology of poems from the show, chosen by Keillor for their wit, their frankness, their passion, their utter clarity in the face of everything else a person has to deal with at 7 a.m.
Good Poems
includes verse about lovers, children, failure, everyday life, death, and transcendance. It features the work of classic poets, such as Emily Dickinson, Walt Whitman, and Robert Frost, as well as the work of contemporary greats such as Howard Nemerov, Charles Bukowski, Donald Hall, Billy Collins, Robert Bly, and Sharon Olds. It's a book of poems for anybody who loves poetry whether they know it or not.
Frequently Asked Questions About Good Poems
Book Reviews
(9)
Did you read Good Poems? Please provide your feedback and rating to help other readers.
No full table of contents in the E-Book

Derived From Web

, Feb 8, 2022

I own a wonderful collection in hardback. I bought the E- Book too. I am very disappointed in the E- book. There is not a full table of contents. It is impossible to browse poems or read individual poems with section headings. I have returned the ebook for a refund because of the defect. Good Poems for Hard Times does not have this defect. The table of contents does not include the poet name as part of the entry.
Great intro. to poetry

Derived From Web

, Feb 8, 2022

The book opened a door for me and I am very thankful. I can't believe anyone would not want to have it on their shelf. In his introduction, he does an admirable job of explaining why poetry can be appreciated by anyone, it is a fun read and he has done a great job of bringing culture to the mass. In a way, this book makes you want to read more of the work of Emily Dickinson, Billy Collins, and many other poets. There is a line between urbane sophist and common man.
A great read and a better gift

Derived From Web

, Jul 5, 2021

There is a collection that any human or forwarding thing can enjoy. I have given this book as a gift to many people because they really stick with me.
Something besides Lake Woebegone

Derived From Web

, Jun 24, 2021

I read this collection a long time ago. I always enjoyed listening to Garrison Keillor read poetry on NPR. I'm sure I' ll hear his voice as I read these poems.
pages missing in my book

Derived From Web

, Mar 15, 2021

I am part of a poetry group and have been reading the poems in class. I found that many of the pages are missing. I don't think it's right to cut the pages from a book and then sell the rest thinking nobody will notice. Many of the poems that are read in class don't match the book I bought.
Great Selection

Derived From Web

, Aug 24, 2020

I am late in adding these books to my collection because I listen to Garrison Keillor's show, but it is fine. A good introduction to poetry.
This copy had water damage and mildew

Derived From Web

, Aug 29, 2019

Water damage isn't noted in the description. The copy is not very good. Mild bleach solution was used to kill the mildew in the inside of the jacket and back cover. Before descriptions are written in the future, I suggest more careful product inspections.
Poem Collection A+ Kindle version D-

Derived From Web

, Jul 29, 2019

I bought the print edition a year ago and have read and re- read it many times, so that's an A+, the best collection of accessible poems on the market in my mind. I had a problem when I bought the Kindle version for my new Oasis because I couldn't take it with me. You can't find the poems in the kindle version of the volume. The broad sections are pointed to in the Table of Contents. Page numbers and document locations are not shown in the index of poems and author. Such sloppy conversion is negligent. I will ask for a refund when I figure out how to get it. There is no excuse, I bought one of the other Anthologies of Garrison Keillor's as an Apple Bookstore volume. You should step up your game.
A keeper

Derived From Web

, Jan 3, 2017

For years I have kept a hardcover copy in my car, and instead of listening to the radio on the way to work I would open the book and read a poem. I would think about the poem on the drive to work. I also have it on my iPad. The poems in this book are all very good.