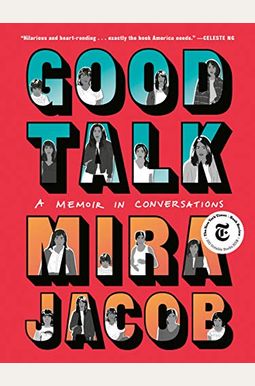  
Good Talk: A Memoir In Conversations
Frequently bought together
Frequently Asked Questions About Good Talk: A Memoir In Conversations
Books like Good Talk: A Memoir In Conversations
Book Reviews
(11)
Did you read Good Talk: A Memoir In Conversations? Please provide your feedback and rating to help other readers.
Conversations Add Up

Derived From Web

, Mar 21, 2021

I bought this book as a Kindle Deal '' without knowing too much about it. I was surprised that it was in the style of a graphic novel ''. Sometimes, this style can be visually overwhelming for me, but the approach was just right, as this memoir is rooted in conversations. The speech bubbles and illustrations were the perfect choice to express the author's intent, Mira Jacob. I was particularly impressed with the way Jacob took so many complex themes and feelings and was able to transform them into short interchanges and scenes from everyday life. There is a lot of writing small about big things in this book, and it is impactful.
Difficult Conversations

Derived From Web

, Jan 25, 2021

This book is an interesting in that it is a bit illustrative graphic novel of interesting conversations. I really appreciated the author's attempt to explain racism to her son and how complicated it can be even for an adult to make sense of it. I really enjoyed her that she confronted a white man in an interracial relationship with a white man whose parents are Trump supporters. There is definitely a spectrum of rage, sadness, and hopelessness, and the cycle begins again. This book is definitely a conversation starter as it covers a number of topics including anti-blackness, colorism, racism, sexism, microagressions, white privilege, to name a few.
Gorgeous

Derived From Web

, Nov 17, 2020

Good Talk is beautiful and documenting conversations between Mira and her son about racism, Trump and Knock-knock jokes, her husband about his supporting parents and parents, and love and marriage and how to be a person. It was particularly interesting for me to read as a fellow Malayali, our very unique culture is documented here in a way I have never seen before, especially by a Malayali raised in the United States. After riding my bike through India, I have become more specific with my language - certain I am Indian, but that word can mean 1.3 billion things. I'm Google, and if you don 't know what, it means Malayali. Not least, I appreciated Sarah's forthright mention of her bisexuality-not masking it, not over explaining, but normalizing it.
Wow this is sensational!

Derived From Web

, May 3, 2020

I love the beautiful graphic art and the deeply thought out and emotionally held conversations about what it was like to live in Chelsea during 9-11 through the spectacular rise of Obama and then the terrible defeat for people of color when Trump won and how to explain it to a smart precocious child of a loving marriage. Also, how we try to cope when any of our loved ones are so out of touch.
compelling read

Derived From Web

, May 31, 2019

Once I started with this, I couldn t put it down! I appreciate the author's willingness to open up and expose not just her personal vulnerabilities and experiences, but her son and the interplay of her family. I loved the questions her son would come up with ; they are so honest and blunt and innocent, and can only imagine how something like that would literally stop me in my tracks. I think the graphic novel format is a perfect way to express this for lack of a better word, message, able to convey feelings and facial expression in ways that only imagespictures can truly enhance what is said. I am truly grateful for the author for opening and sharing this, pointing out a point of view that is so valuable and relevant to society, especially now when there seems to be more and more tolerance of hatred than embracing and accepting them.
Essential reading

Derived From Web

, May 19, 2019

This I read in an afternoon. It is non-putdownable. Not only is it so prominent and relatable, but it was also an eye-opening introduction to graphic novels. I am now a literary snob! I also think that Mira Jacob, by addressing issues with her child, also taught us how to deal with these issues for adults who don't necessarily have a nuanced understanding of being a minority in Tr*mp's America. Although possibly non-intended, it is a demonstration of how to justify patiently without being defensive or without being completely unintended. This is what I call essential reading...
Should be required reading for all humans

Derived From Web

, Apr 21, 2019

In this difficult work, she augments this gift with the power of the illustration, making it easier to grasp and digest difficult themes. Poignant, important, essential buy it for the people you need to have a difficult conversation with.
Very good, very important

Derived From Web

, Apr 8, 2019

In this memoir, Mira Jacob explores her life and her awakening to the realities of being a person of color in the United States, alternating with her attempts to lead her mixed-race young son amidst those same realities. The format is a series of several dozen conversations, presented with paperdoll-like characters over evocative photographic backgrounds of the relevant setting. I laughed out loud, I teared up. I felt the turn-the-page suspense, discouragement and the slightest hint of optimism. The book is readable in a sitting, but it is not light material, as Jacob develops the themes and powerfully immerses the reader in her experience. GOOD TALK is a very important book and is an excellent book.
A great read, and an important book

Derived From Web

, Apr 7, 2019

It is creative, well-organized and drawn, funny and deals with meaningful themes in creative and witty ways. Looking for a good primer on gentle racism and issues such as love, race and gender? Get yourself prepared for a good talk. Sure, a lot of the material in Good Talk is hard to deal with in real life - racism, terrorism, family dynamics, to name a few. And solutions may be difficult, awkward, and uncomfortable. But Jacob's book makes it clear that, while the themes may be hard to talk about, it is important to start early and be revisited often. Her humor, aimed at the world and herself in equal parts, makes this discussion of universal experiences at the same time a very personal narrative.
If you're at all interested in anti-racism work, BUY THIS BOOK.

Derived From Web

, Apr 7, 2019

It touches racism, colorism, funny, thought-provoking, and wonderfully vulnerable and courageous relationships, all while being interracial and so much more. I received my copy on Monday and since then immediately read it, put it on my coffee table where I intended to live and 3 days later, I ordered another copy for myself and arrived on Saturday -- and I will probably give it back and buy another. It's that good.