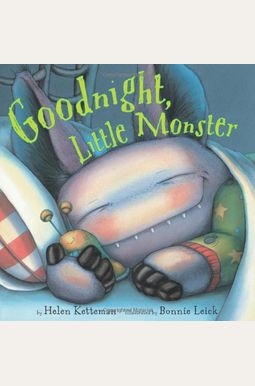 
 
Goodnight, Little Monster
Book Overview
Little Monster needs to get ready for bed. That means howling at the moon, scrubbing his scales, getting into his creepy PJs, and enjoying a nice snack before bed: worm juice and baked beetle bread. And, of course, Little Monster's mother is nearby to tuck Little Monster into bed and turn on his night-light--because even little monsters can be afraid of the dark. Bonnie Leick's soft, child-friendly illustrations rendered in watercolor bring a new and quiet twist to the evening's bedtime ritual. Sweet dreams, Little Monster
Frequently bought together
Frequently Asked Questions About Goodnight, Little Monster
Books like Goodnight, Little Monster
Book Reviews
(20)
Did you read Goodnight, Little Monster? Please provide your feedback and rating to help other readers.
Good for monster fears.

Derived From Web

, May 13, 2022

When my son was about 2.5 years old, he became very afraid of the dark and of monsters at night. I wanted to introduce the idea that things often considered friendly and lovable can turn out to be very scary. I borrowed a number of children's books from the library that were monster-themed and this was a huge hit! It follows a little monster and his mommy through bedtime routine. The illustrations are very colorful and my son loves to point out on each page all the spiders and other bugs. Best of all, my son still says he sees monsters, if I ask if they are scary, he'll say no, and that they are happy or nice monsters.
Goodnight little monster book is fantastic bedtime read for our little, figurative at times, monster children....

Derived From Web

, May 13, 2022

I love this book ''. I am glad I love this book because it is a reading staple for my 2 and 3 year old boys. The illustrations are beautiful and read smoothly. It consists of a little human being prepared for bed with the help of his loving mother and he does all the same things our little children do as well as bathing, snacks, brush teeth, reading a book and making sure no monsters are under the bed. I recommend this book as a sweet night-time read for any little.
Monsters, bats, and mice... oh, my...

Derived From Web

, May 13, 2022

This is my nephew's favourite book at bedtime. He loves to howl at the moon and is especially delighted when he can hear the entire family joining him as he howls down the hallway. He loves to growl and tangle his hair as he points out all the bats, mice and spiders that accompany Little Monster in his nightly bedtime routine. Mama Monsters leads her Little Monster through getting ready for bed, from making sure the night light is on, to cuddling with Little Monster's toy stuffed slug and assuring Little Monster that no scary children hide under his bed to nibble at his feet. My nephew has been born into a family of traditional sci-fi and fantasy geeks, and he loves monsters or dragons, along with his devoted teddy bears and cars.
Mommy's favorite bedtime story

Derived From Web

, May 13, 2022

It is easy to prepare for my daughter and the pictures really keep her attention. The story is really sweet!
So sweet and beautifully illustrated you won't mind reading it again and again

Derived From Web

, May 13, 2022

This bedtime story will love you. My little one loves to cuddle and read this story over and over again. Super kind of story, beautiful illustrations, just too sweet.
Really cute story, lovely artwork.

Derived From Web

, May 13, 2022

My 3 year old son loves this book and frankly, so do I. The artwork is really cute and the story is too. It is just the right length to read before bed, although my son likes to hear it read anytime of the day!
Wonderful preschool bedtime book for monsterlovers!

Derived From Web

, May 13, 2022

Creative writing and illustrations made this book one of our favorite books at bedtime! The 3 year old asks us to read it to her even when it is not bedtime.
Monster story safe before bed

Derived From Web

, May 13, 2022

Bonnie Leick's illustrations are unusual, giving the reader lots of wonderful details in a benign, snuggly monster household. The verse is wise and concise. Monsters oft condone a scifi-fantasy theme that is not suitable for young ones these days, but this mother and child monster are sweet with traditional values.
Warning for fellow arachnophobes: There are arachnids on the ...

Derived From Web

, May 13, 2022

Warning for fellow arachnophobes : There are arachnids on the interior cover. I wish I had known.
Great bedtime book, funny

Derived From Web

, Nov 24, 2021

Takes you through a routine bedtime of a monster. Great for kids who want a regular take on the funny books at bedtime.