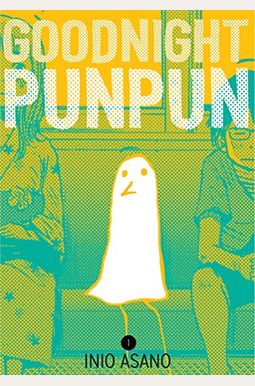 
 
Goodnight Punpun Omnibus, Vol. 1
Product is currently Out of Stock.
You can add it to your wishlist and you will be notified once we receive a copy.
Book Overview
A dark coming-of-age tale where slice-of-life slices back.
This is Punpun Onodera's coming-of-age story. His parents' marriage is falling apart. His dad goes to jail, and his mom goes to the hospital. He has to live with his loser uncle. He has a crush on a girl who lives in a weird cult. Punpun tries talking with God about his problems, but God is a jerk. Punpun keeps hoping things will get better, but they really,
really
don't. Meet Punpun Punyama. He's an average kid in an average town. He wants to win a Nobel Prize and save the world. He wants the girl he has a crush on to like him back. He wants to find some porn. That's what he wants, but what does he get.?
Frequently Asked Questions About Goodnight Punpun Omnibus, Vol. 1
Books like Goodnight Punpun Omnibus, Vol. 1
Book Reviews
(10)
Did you read Goodnight Punpun Omnibus, Vol. 1? Please provide your feedback and rating to help other readers.
One Of The Best

Derived From Web

, Apr 25, 2022

I have read the entire manga online and got to say it's one of the best in terms of story. Like many of the Japanese comics, it's a bit of a deconstruction of manga tropes as well as philosophy to social paranoia. It's also very creative in how it presents its main character and its perspective, as well as being extremely creative in its vast character development. This is one gripping read, for some that the volumes are going to be released months apart. The book itself is also very good, very well-written and has a really bright cover.
Five Stars

Derived From Web

, Apr 25, 2022

It's my favorite manga of all time. I'm so glad it's finally printed in English.
Very amazing story

Derived From Web

, Apr 25, 2022

I have never read a bookmanga by that writer. Parts 2 and 3 will be arriving in mid-June.
Amazing manga, can't wait for the next volumes

Derived From Web

, Apr 25, 2022

The entire thing is just too good to put down, Graham said. I can't wait to see what happens next!
Mind blowing manga series 👌

Derived From Web

, Nov 23, 2021

This was a surprise for me I had always heard good things about pun pun but never really gave it a chance until recently. Definitely not for everyone but for fans of berserk, evangelion, and the monster this can be a real treat series as it exhibits traits from all these series while being wholly unique. Truly a work of art can't recommend it enough.
Damaged Goods

Derived From Web

, Mar 2, 2021

The book itself is amazing, however it was damaged when it came to me, very disappointing and amazon refuses to do anything about it unless I return the item.
The Feels

Derived From Web

, Nov 16, 2020

I bought this because the artwork samples I saw were amazing and the bird concept was so strange, which is right up my ally. Despite the odd goings on in some parts of the show, the relationships feel genuine. It's well done, but I'm not sure I want to continue on another volume.
Affordable prices if you patiently wait on price reduction!!

Derived From Web

, Aug 25, 2019

I've heard a lot of good things about this manga, but it cease to amaze me the story gives an intimate look on how a normal life can go so wrong. I'm excited to be reading the other volumes I've bought from Amazon!
Excellent story, excellent art.

Derived From Web

, Aug 23, 2019

I have not read the entire series, but I will. Punto is a popular Japanese comedian who has a very good sense of humor. In "The Whole Nine Yards," Punpun is the main character in a cast of flawed characters trying to make the best of what life has given them. Most of the time, the boys act uncharacteristically. Most of the time, the injuries are minor and don't get serious. The average person is too scared to take risks, they say. Most of the time, they do foolish or damaging things and then try to cover it up. The majority of the cast members are actually real people. I enjoyed this volume thoroughly and hope you give it a try, Mr. Dhaliwal said.
So Moving!

Derived From Web

, Apr 3, 2019

It's been a while since I read a book that I had to take a break from finishing. It struck a lot of truths with me and I needed a day to process, he said. And I can't wait to read the next one.