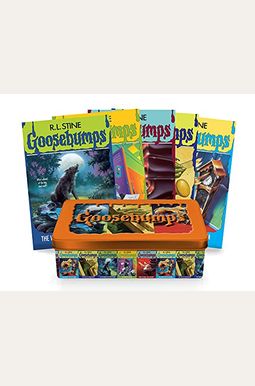  
Goosebumps Retro Fear Set: Limited Edition Tin
Frequently Asked Questions About Goosebumps Retro Fear Set: Limited Edition Tin
Book Reviews
(10)
Did you read Goosebumps Retro Fear Set: Limited Edition Tin? Please provide your feedback and rating to help other readers.
Great Gift

Derived From Web

, Mar 7, 2022

Purchased for the birthday of the granddaughters. Tin was in perfect shape. The tin was in perfect shape. I am sure that she will enjoy the books and use the Tin for her personal treasures.
He loves them!

Derived From Web

, Jan 4, 2022

My son is 7 years old, he is in love with goosebumps! We aren 't yet reading on our own, but he loves to be read too! Then another thing is a video game that can hold his attention.
Awesome but arrived damaged

Derived From Web

, Jul 9, 2021

Cool Collectors Piece for 90's kids, but my Tin came all dented and the books are thinner, so they can fit in the tin, but still a cool collector's piece.
Great gift!

Derived From Web

, Jul 5, 2021

I got these for my wife, who loved Goosebumps as a kid! She loved classical art and she has so much fun rereading all these stories. Tintins are also fun! The tins are fun! '' Great quality, great value for money. Wonderfully nostalgic! ''
Oh the nostalgia!

Derived From Web

, Jan 26, 2021

I started reading Goosebumps as a kid, which I am convinced has led me into the constant reader Stephen King that I am today. This was my son's 8th birthday and he loved it. A storage tin is very nice and keeps the books safe. We are 6 chapters into the stay out of the basement and he is hooked!
Awesome always will buy more LEGIT TOO

Derived From Web

, Jan 21, 2021

So awesome that they came in perfect condition, I was worried about it's Tin Box, but I was good, but the nostalgia is real with these if you're a Goosebumps fan like myself! Will buy other books! Will buy other books! '' Came fast too! Came soon too.
Grew up with these!

Derived From Web

, Dec 20, 2020

These books have me in love! Their descendants grew up with these people ( very fortunate '' ). They continued to the only wish, but the series book number was on the spine of the book.
Great Books

Derived From Web

, Nov 8, 2020

The product is described as described. Would have given 5 stars, except one of the metal tins was bent due to poor packaging. The box had only a small piece of bubble wrap, so that the tins had lots of room to tumble. They got them for my granddaughter for Christmas.
Nostalgia

Derived From Web

, Oct 9, 2020

This is at its best 90s nostalgia at its best ''. Not only are the books great, it comes in a really cool looking tin.
Nostalgic bliss. Please continue them!

Derived From Web

, Sep 13, 2020

I continue to purchase these retro tins as long as they keep releasing them! Pre ordered this one sadly the minus one star is because Amazon packed an order again in a bubble mailer bag! It came crushed. It was crushed. Getting it replaced! But love these Tins! Tins! '' But love these Tins! I LOVE that its my chance to get some nostalgic books i was missing from my original collection! Sadly, the "Goosebump " print on the cover is not embossed like the OGs! But still great!!! Bright white pages! Thinner than the elder, but still. Its fantastic! Love nostalgia - things to love. They can release these tins until they finish the entire series and i will buy every single one! Wish I was joking, but I am not! '' )