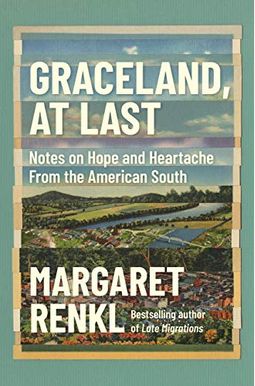  
Graceland, at Last: Notes on Hope and Heartache from the American South
Book Overview
From the author of the bestselling #ReadWithJenna/TODAY Show book club pick Late Migrations: A Natural History of Love and Loss
For the past four years, Margaret Renkl's columns have offered readers of
The New York Times
a weekly dose of natural beauty, human decency, and persistent hope from her home in Nashville. Now more than sixty of those pieces have been brought together in this sparkling new collection. People have often asked me how it feels to be the 'voice of the South, ' writes Renkl in her introduction. But I'm not the voice of the South, and no one else is, either. There are many Souths--red and blue, rural and urban, mountain and coast, Black and white and brown--and no one writer could possibly represent all of them. In
Graceland, At Last
, Renkl writes instead from her own experience about the complexities of her homeland, demonstrating along the way how much more there is to this tangled region than many people understand. In a patchwork quilt of personal and reported essays, Renkl also highlights some other voices of the South, people who are fighting for a better future for the region. A group of teenagers who organized a youth march for Black Lives Matter. An urban shepherd whose sheep remove invasive vegetation. Church parishioners sheltering the homeless. Throughout, readers will find the generosity of
Read More chevron_right
Frequently Asked Questions About Graceland, at Last: Notes on Hope and Heartache from the American South
Book Reviews
(9)
Did you read Graceland, at Last: Notes on Hope and Heartache from the American South? Please provide your feedback and rating to help other readers.
Grateful for Graceland's Insight & Synopsis of the Bittersweet Experience of Living in the South

Derived From Web

, Mar 13, 2022

I am grateful for the author's sharp observations of the glories that are part of the besieged South. Speaking mostly in how she accompanies us via her sophisticated Yankee-focused opinion pieces to our weekly readers and other readers of the NYT, but also so deftly compiled in this soul massage of a book. Reading them is like a conversation over a steaming cup of tea with a smart friend, nodding your head in agreement. This is what we are aiming for. Amen to that... Renkl's wit is masterful on paper.
Highly Recommended

Derived From Web

, Jan 21, 2022

A powerful collection of essays addressing individual and collective challenges, offering insights and suggestions for dealing with them and expressing optimism and hope for recovery and change. I highly recommend '' this book to everyone.
A wonderful collection of essays

Derived From Web

, Jan 20, 2022

This book is a compilation of her essays. She writes with grace and elegance about nature, southern culture and occasionally politics. She is always worth sharing the kind of author you want to read with friends.
If you are from the south, just moved in from the cold crowded north or expensive west coast.....

Derived From Web

, Jan 5, 2022

This book and this writer will really enjoy. She puts more into a sentence than most and as a southerner it is refreshing to read her true insights, we know are unique, but is rarely offered in publications. Yes, we are connected to the heritage of slavery, racism and other atrocities, but as Dr Renkl offers, there isn 't one South, we all aren 't of one mind and an honest person must admit that racism is alive and well throughout our country and in fact the world. The best news is that we continue to capture her thoughts in her weekly New York Times column!
Unique & Excellent!

Derived From Web

, Nov 30, 2021

What makes it so different is the range of themes. From flora's fauna to politics religion to social justice, environment, family and the arts. All articles are taken from her newspaper column so that they are short, quick reads. Highly recommended!
Columns

Derived From Web

, Nov 6, 2021

Margaret Renkl's column in the New York Times makes my list of "must read " every Monday. Sixty of these columns from recent years have been collected and slightly revised for a book entitled Graceland, At Hope and Heartache From the American South. What I want from a short essay is some observation and insight about the world that makes me think a little longer and harder about something important. These columns reflect observation and insight and wisdom that encourages me to think. Renkl's prose is finely written, and whether you read her before or start here, you're likely to find yourself thinking a little longer and harder about something. Rating five-star rating :
So sad to see such a beautiful writer caught up in politics……….TOTALLY ruined the boom for me !

Derived From Web

, Oct 4, 2021

There was absolutely no need for her to be caught in the Trump bashing.......... so sad that she had to jump on this bandwagon...... totally ruined the book for me!
This woman is among the very best writers in America.

Derived From Web

, Oct 1, 2021

But I knew that before I read this book, as I have been reading her stuff for years in the New York Times. She can think more in relatively few words than any other writer can say. And she writes about things and ideas that are important to us all.
Southern nonfiction essays at its finest

Derived From Web

, Sep 17, 2021

"I can 't tell her that the true miracle will never come until human beings have learned a better way to live a better way in concert with the natural world, and not in domination ", Margaret Renkl is my favorite New York Times writer, and I'm sad to say that I discovered her other book, Late Migrations, earlier this year, when I read her book, True Migrations. I am now hooked on her writing for life! At Last, Graceland is a collection of her New York Times articles, which are broken by different themes. She writes about politics, culture, religion and even the environment. She writes about the South in a way that always brings me back to my rural hometown. Give her writing a chance and you won t regret it!