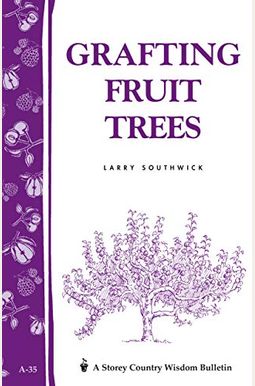 
 
Grafting Fruit Trees: Storey's Country Wisdom Bulletin A-35
Book Overview
Since the 1973 publication of Storey's first Country Wisdom Bulletin, our commitment to preserving the arts, crafts, and skills of country life has never wavered. We now have more than 200 titles in this series of 32-page publications, and their remarkable popularity reflects the common desire of country and city dwellers alike to cultivate personal independence in everyday life.
Storey's Country Wisdom Bulletins contain practical, hands-on instructions designed to help you master dozens of country living skills quickly and easily. From traditional skills to the newest techniques, Storey's Bulletins provide a foundation of earth-friendly information for the way you want to live today.
Frequently Asked Questions About Grafting Fruit Trees: Storey's Country Wisdom Bulletin A-35
Books like Grafting Fruit Trees: Storey's Country Wisdom Bulletin A-35
Book Reviews
(10)
Did you read Grafting Fruit Trees: Storey's Country Wisdom Bulletin A-35? Please provide your feedback and rating to help other readers.
Provides "Country Wisdom"

Derived From Web

, May 13, 2022

If I learned only one thing from this bulletin, it would be well spent money. I learned several so its money is in the bank. If you are familiar with Extension Service Bulletins, you have a good idea of Storey's Bulletins. They provide subject matter, simple nuts and bolts, as opposed to cake and ice cream.
This is a excellent book for fruit tree enthusiasts

Derived From Web

, May 13, 2022

After receiving the booklet, I was able to successfully graft 6 scions onto my 30 year old apple tree.
All the things I didn't know

Derived From Web

, Apr 28, 2020

When I asked other questions specific questions, the answers were vague.
Good intro to Stone Fruits, etc but not citrus. Bit outdated and some editing issues.

Derived From Web

, Jan 30, 2020

No mention of citrus, which is disappointing because that is what I am most interested in grafting, but understandable given the climate where the author lives. There are also a good deal of typos and misspellings throughout the book, along with a few incorrectly labelled figures. When it comes to sealing, the techniques are also somewhat outdated. The book seems to be written before grafting tape was in common use and so is not recommended. Thus, the author relies heavily on wax and rubber sealants instead. It is not a modern introduction to grafting for $3, but if you are looking for bad techniques or citrus specifics, you won 't find them.
Little abd informative

Derived From Web

, Jan 10, 2020

Arrived in reasonable time, delivery people did not do well. offered diagrams. Haven't tried that info yet. Some things don't seem as clear as it seems to be, but hoping that it will be clearly once I start working on this project. am interested in other brochures.
Information is available on the internet for free.

Derived From Web

, Apr 17, 2019

This good information can be found for free on the internet, but not in an easy to read book form. It is nice when you are working with a book. Klein, compact size, not a collection of 8X10 papers stampeted together. Buy it now!
how to graft a tree

Derived From Web

, Mar 31, 2019

Good basic information and not so basic, I would be confident to attempt some grafts and expect them to be successful worth the money, and would recommend to anyone wishing to make grafts on trees.
simple

Derived From Web

, Mar 18, 2019

It is short and simple. With some graphics, I hope you find it. But I thought that ti would be more informative. This is a tool for learning how to do and nothing else.
Small book

Derived From Web

, Jan 18, 2019

The book came quickly. It is a good book, but full of small tips for a greenhorn. This year I was going to try some grafting and this was a good place to start. It was also very affordable.
Useful for learning the terminology but lacking in detail such ...

Derived From Web

, Aug 22, 2017

It was basic, short, and ok introduction to grafting. Useful for learning terminology, but lacking in detail such as location or season specific information.