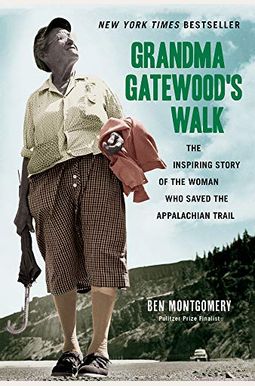 
 
Book Overview
This Description may be from another edition of this product.
Winner of the 2014 National Outdoor Book Awards for History/Biography
Emma Gatewood told her family she was going on a walk and left her small Ohio hometown with a change of clothes and less than two hundred dollars. The next anybody heard from her, this genteel, farm-reared, 67-year-old great-grandmother had walked 800 miles along the 2,050-mile Appalachian Trail. And in September 1955, having survived a rattlesnake strike, two hurricanes, and a run-in with gangsters from Harlem, she stood atop Maine s Mount Katahdin. There she sang the first verse of America, the Beautiful and proclaimed, I said I ll do it, and I ve done it. Grandma Gatewood, as the reporters called her, became the first woman to hike the entire Appalachian Trail alone, as well as the first person man or woman to walk it twice and three times. Gatewood became a hiking celebrity and appeared on TV and in the pages of Sports Illustrated. The public attention she brought to the little-known footpath was unprecedented. Her vocal criticism of the lousy, difficult stretches led to bolstered maintenance, and very likely saved the trail from extinction.Author Ben Montgomery was given unprecedented access to Gatewood s own diaries, trail journals, and correspondence, and interviewed surviving family members and those she met along her Read More chevron_right
Frequently bought together
Frequently Asked Questions About Grandma Gatewood's Walk
Books like Grandma Gatewood's Walk
Book Reviews
(15)
Did you read Grandma Gatewood's Walk? Please provide your feedback and rating to help other readers.
Excellent book about the first woman through-hiker on the Appalachian Trail!

Derived From Web

, Apr 20, 2022

It also includes interwoven historical and genealogical information about the trail and some of its hiking efforts of others. It's a really wonderful book, and I'd recommend it to Bill Bryson's A Walk in the Woods, which contains too much environmental proselytizing for my taste. This book has wonderful reverence for nature, as well as great respect for the elements of weather and climbing environments, he said. The second part of the book, "The Very Funny Adventures of Bill Bryson," will be released in September.
So-So

Derived From Web

, Apr 20, 2022

While the story has great potential, the writer is often unclear. I'm sure he was trying to fill that book with as many stories as he could find, but I'm not sure he pulled any information about Grandma Gatewood that he could find. I think I would have a shorter book, without all the background, or start the book with where she came from in her marriage, and then go on to her hike.
Exceptional accounting about an exceptional human being

Derived From Web

, Apr 20, 2022

Very well written and edited. This is, as much a biography of Grandma Gatewood as it is an accounting of her hiking. The author has also wrapped up some history of the times in order to give the reader some great perspective -- and some anecdotal information, too. The book is a fascinating read, said Robert Penn, professor emeritus at Columbia University. I've read the last page, sorry to let go of Grandma Gatewood, and wishing I had known her personally. A unique individual who suffered some difficult times in her earlier life, McCartney said. She knew and was totally comfortable in nature, said Goodrich.
Very sweet book but not very professionally written

Derived From Web

, Mar 24, 2021

The book is informative, if not confusing at times. It would have been nice if there had been better headings for the back and forth of different times of her life, which could have indicated a next chapter or a flashback, etc. At times, it seemed that the information was collected and put into a big essay, written by someone writing a paper, rather than a book. The rest is pretty good, too, said Blair.
Inspiring!

Derived From Web

, Dec 2, 2020

In her book, "The Last Days of Elizabeth Taylor," biographer Robert Penn wrote, "a passionate woman was almost too powerful a force to overcome." After a difficult childhood and then entangled in a marriage with 11 children to care for, she was not a complainer, but a doer! What she could accomplish before dawn should bring us to shame, Mr. Rule told the judge. Thanks for this very vivid and moving account of an amazing, unassuming GrandMa.
Missing pages!!

Derived From Web

, Nov 17, 2020

The book is missing pages, it jumps from page 86 to 135, which is basically missing all the hike from Pennsylvania to Vermont. Annoying. It's great to be back home, said Blair.
Provocative and endlessly inspiring

Derived From Web

, Jun 2, 2020

She was a survivor, conqueror and in the highest sense of the word. You carry her in your hear forever as a treasure and gift to all of us.
interesting life, really bad writing

Derived From Web

, Sep 19, 2019

I've loved her before the ultra light hiking style and the fact that in the 50s people took her in often... original trail angels! I found authors writing style cumbersome and elementary, so much so that I struggled to read it, and the book sits on my nightstand now, probably wont finish.
A Little Disappointed

Derived From Web

, Sep 11, 2019

Though the topic would be intriguing, I hesitate to say too much. And perhaps it could have been told the story the way it was told, like a diary entry. There is no analyst or point of view. The author is a journalist, but tagging along with rotely noting what Gatewoid ate, where she slept on what date, what weather she encountered, it ceased to be interesting about 13 of the way into the book. It lacked context, CNN's Don Lemon said. Even the delve into her life before the trail was related in this matter of fzct manner -- and it could have been a great story, Mr. Bair said. It gets three stars for being readable and for the great subject matter, but loses two stars for not doing the story justice. A little tweaking would go a long way, he said.
Strong Woman

Derived From Web

, Jul 28, 2019

This woman was determined and just kept going with little supplies, he said. Simply put, living simply is the new normal. A true story of courage and compassion told through the prism of ancient ruins.