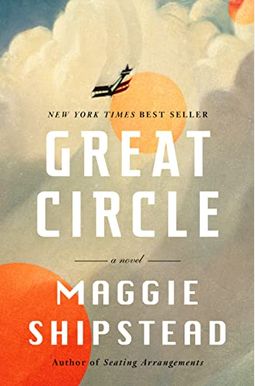  
Book Overview
Relentlessly exciting . My top recommendation for this summer. --Ron Charles, The Washington Post
NEW YORK TIMES
BEST SELER - LONGLISTED
FOR THE BOKER PRIZE -
A TODAY SHOW #ReadWithJenna BOK CLUB PICK
-
The unforgettable story of a daredevil female aviator determined to chart her own course in life, at any cost--
Great Circle
soars and dips with dizzying flair . an expansive story that covers more than a century and seems to encapsulate the whole wide world
(Boston Globe).

A masterpiece . One of the best books I've ever read. --J. Courtney Sullivan, author of Friends and Strangers

After being rescued as infants from a sinking ocean liner in 1914, Marian and Jamie Graves are raised by their dissolute uncle in Missoula, Montana. There--after encountering a pair of barnstorming pilots passing through town in beat-up biplanes--Marian commences her lifelong love affair with flight. At fourteen she drops out of school and finds an unexpected and dangerous patron in a wealthy bootlegger who provides a plane and subsidizes her lessons, an arrangement that will haunt her for the rest of her life, even as it allows her to fulfill her destiny: circumnavigating the globe by flying over the North and South Poles. A century later, Hadley Baxter is
Read More chevron_right
Frequently Asked Questions About Great Circle
Book Reviews
(16)
Did you read Great Circle? Please provide your feedback and rating to help other readers.
Is it over yet?

Derived From Web

, Feb 19, 2022

Goes on and on and on and on. Tedious read with seemingly no point Tedious read with no point. A real disappointment. About nothing ado much ado about nothing. Kept wondering what the resolution would be in this novel with none coming with no. Just a bunch of words. Character development by Shallow Shallow. Reading this wasted hours of my life reading this. Meh. Meh.
Fantastic descriptions

Derived From Web

, Jan 14, 2022

I read so much so much about this story that I loved it twice. An engaging description, a fantastic story. Marion faced so much, but was always her own person. A smart, strong woman, long before women were allowed to be strong, and themselves. I was particularly intrigued by the moral dilemma that Marion faces in Antarctica and the choices she makes throughout her life to stay true to herself. One of my very favorite books of the year!
why did I wait so long to read this book?

Derived From Web

, Jan 13, 2022

I read the reviews and the book was highly recommended, but something about the premise did not capture my interest. How wrong I was . If you love a sweeping and surprising historical drama, read this book if you love it.
One to keep on reading till the end

Derived From Web

, Jan 7, 2022

I enjoyed reading this and eagerly looked forward to the end. But, I felt that there were too many side tracks that did not add much to the story. Nevertheless, I travelled through the adventures, sifted out what I felt were relevant and came to the happy conclusion that I am glad I read the ending.
Great circle

Derived From Web

, Nov 6, 2021

I like the plot of this book, but the descriptions go on and on. Marion Graves is an orphan along with her twin brother who ends up in Montana. This is the story of her life and the lives of those around her.
Interesting book

Derived From Web

, Oct 11, 2021

I loved the speed with which the shipment arrived and the wonderful condition of it. I look forward to reading it and start it soon. Look forward to sharing my evaluation of the novel when I digested it.
pretty incredible

Derived From Web

, Sep 27, 2021

Historical and technical detail, interesting plot, convincing command of an enormous amt of convincing detail, convincing writing. I was not terribly enamored by the characters, but other readers will feel differently. Definitely a 5-star book. For a long time, I 'll be thinking about this.
Needlessly Disgusting

Derived From Web

, Aug 20, 2021

Let's first get one thing out of the way. I am not a Prude. I am not a Prude. But, I never read a book with such graphic sex scenes. Sexual descriptions! Needless sex descriptions! I was interested in the plight of Marian as a pilot. And every time I turned around, there was another disgusting description of sex. I am shocked that Jenna Bush Hagar has recommended this book , I would be willing to bet that she never read it because she presents herself as a goody two shoes ''. What a waste of paper! I am a former airline employee and my grandson is a pilot in training, so I was excited to read it. I would not lend this thing to anyone. I would not loan it to them. This author missed the boat completely... If I could give it minus stars, I would give it.
Redemption

Derived From Web

, Jul 19, 2021

I started Seating Arrangements '' when it came out and didn 't get past a few chapters, so I was on the fence whether to purchase Great Circle. I am so glad that I did. This is the kind of big, meaty novel that you settle with and stay awhile with. There were some tangents that I did not understand that eventually came the full circle that was brilliant in hindsight. She is a really good writer and this book made me feel good things. Highly recommended.
A Beautiful Novel

Derived From Web

, Jun 21, 2021

I love this book ''. The writing of Shipstead is a combination of lovely turns of phrase and well-plotted intrigue. Her characters are accessible and deeply resonate. I won 't forget Marian Graves for a very long time!