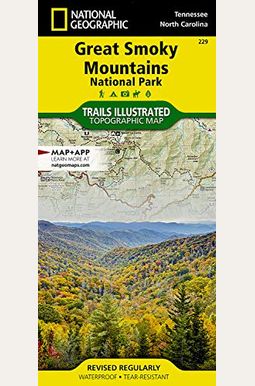 
 
Great Smoky Mountains National Park
Book Overview
- Waterproof - Tear-Resistant - Topographic Map
America's most visited national park and a UNESCO World Heritage Site, Great Smoky Mountains National Park is both renowned for its diversity of plant and animal life and rich in remnants of Southern Appalachian mountain culture. National Geographic's Trails Illustrated map of the park combines unparalleled detail and valuable information for outdoor enthusiasts seeking to explore all the area has to offer with particular attention shown to backcountry campsites, shelters, and stream crossings. A detailed profile of the Appalachian National Scenic Trail, which snakes along the ridge of the Great Smoky Mountains, provides a handy tool for hikers. The map features many key points of interest as well, including Cades Cove, Fontana Lake, Maryville, and Gatlinburg.
With over 800 miles of mapped trails, the Great Smoky Mountains National Park map can guide you off the beaten path and back again. The clearly marked trails include mileages between intersections. The map base includes contour lines and elevations for summits, passes and many lakes. Some of the many recreation features include: visitor centers, campgrounds, trail shelters, trailheads, boat ramps, scenic overlooks, interpretive trails and quiet walkways.
Every Trails Illustrated map is printed on Backcountry Tough waterproof, tear-resistant Read More chevron_right
Frequently bought together
Frequently Asked Questions About Great Smoky Mountains National Park
Book Reviews
(15)
Did you read Great Smoky Mountains National Park? Please provide your feedback and rating to help other readers.
Great material and good reference, however loses some detail in trails

Derived From Web

, May 6, 2022

Detailed enough to know the general route but switchbacks for some of the closer sections you can't see the detail. The waterproofing and tear resistance of the panels are exceptional. It was used in rain and fog while in the park, and it is still holding up like new. The location of all the buildings is well laid out and the map covers some of the trail lines leading to them, however they cover some of the trail lines which can lead to confusion when approaching the shelters, campsites, lodges, etc. Even with the loss of detail, it would be hard to prevent such a severe loss of biodiversity. Overall this is a great product for use camping and hiking through this park, and I would recommend it to anyone.
Excellent product

Derived From Web

, May 6, 2022

This is a great map, even if you dont have a U.S. military base. I have bought this brand of jewelry before and it has exceeded my expectations. It folds flat on the floor, leaving no damage to the map. Used it on the roads near the park as well as on the trails.
Great Map

Derived From Web

, May 6, 2022

Simply put, it's in your backpack.
Perfect Companion

Derived From Web

, May 6, 2022

We're thrilled to be working with National Geographic again, said Paul LiCalsi, executive vice president of research and development. This is a must have for all hikers, from beginners to pros. Selling music is a lucrative business, and HBO is no exception.
Received as expected

Derived From Web

, May 6, 2022

It's great to have new maps, said Phil. Ridgeway, GM of AOL's interactive unit. It is tough and waterproof and has not let me down so far in the SE mountains.
Useful

Derived From Web

, May 6, 2022

I bought it for my trip across the U.S. It is very useful, because your can find a lot of information where ever you are, without any problems.
Fantastic Map of all the trails

Derived From Web

, May 6, 2022

Great map of Smokies, so glad I purchased it. This is an awesome map, Tunick said. It's very well made on thick paper with a little coating to be used multiple times, he said. It's a huge map, I have to spread it out on the floor and do my planning. It has two sides to it, covering the smokies and a little of the cherokee forest. Best map I have found of hiking trails in the Smokies.
Map is Great

Derived From Web

, May 6, 2022

However, before we get into that, we must understand that this is a MAP. Guides are not to be used on hikes or places. Even though I didn't buy it, I am glad I did. It's a great map of the Smokies, said Dr. George Hunter, of the University of Tennessee. This can be a little difficult to read if your not familiar with map reading but rest assured this map has all the bases covered. The book includes sections on trails, roads, trail heads, contours, elevations and even has important features like waterfalls, mountain elevations, etc. The map is well constructed and will last for years, even if the client decides to replace it. The map itself is large and printed on both sides, so expect to lay it flat on the floor to read. I will and intend to buy more copies of this book when the new maps come out. If you take some time to learn how to map you will never need another reference.
Excellent map, indispensable.

Derived From Web

, May 6, 2022

This map is so good, I gave it away, Tunick said. I knew my map was one revision behind but I had been planning on waiting until one came out, he said. I was on a trip last month, heading out of the Elkmont area, and noticed a father and son gearing up and looking at the official park map. I asked if they were going to college and the dad said they were going to be 24. I knew that when they closed the second base, they could use a better map. I handed him my map, told him 21 was not on it in the right spot and pointed his way to 23 after he checked his permit. He thanked me for the map and I thanked him for giving me an excuse to get a new one, she said. The 316 and 317 maps split the park in two East and West sides to create a more level setting.
I do not hike in the Smokies without it

Derived From Web

, May 6, 2022

This is a great trail map, and it is accurate. topological information is very useful, as is the compass directions. I have never lost with this map and have been able to point many of my fellow travelers in the right direction, he said. It's made it through many, many hikes, including Abramsding Creek. If you are planning a hiking trip to the Smokies, I cannot recommend this highly enough. If you are planning to hike in the Smokies, I would recommend you not hike without it.