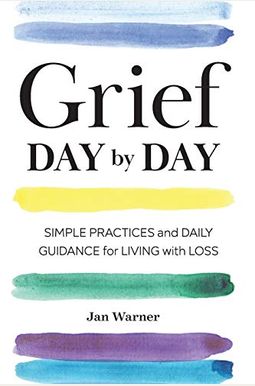 
 
Grief Day By Day: Simple Practices And Daily Guidance For Living With Loss
Book Overview
Supportive readings and exercises to help you move through life after loss, one day at a time
Grief is complex; it may present itself differently on any given day. This grief recovery handbook offers daily reflections and practices that address the day-to-day emotions and experiences that accompany the grieving process so you can create a life in which peace-and even gratitude-can coexist with your grief.
Explore the stages of grief with a collection of quotes, musings, meditations, and more that are tied together by a weekly theme, allowing you to reflect on each concept in depth. Work through topics like loneliness, grief attacks, exhaustion, hope, love, and creating meaning. You'll find opportunities to write, draw, meditate, do breathing exercises, and more as you learn to live fully with your grief.
This grief recovery handbook helps facilitate healing with:
365 Daily reflections-Find a year's worth of readings that can be revisited as many times as you like as you move through the grieving process.
Weekly themes-Explore feelings and experiences common to grief, including things left unsaid, unhealthy coping mechanisms, guilt, intimacy, and faith.
52 Healing exercises-Discover activities that help you process your feelings at the end of each week and develop skills for coping with grief as it arises.
Make peace with your grief one day at a time with the daily readings and exercises in this standout among grief books.
Frequently bought together
Frequently Asked Questions About Grief Day By Day: Simple Practices And Daily Guidance For Living With Loss
Books like Grief Day By Day: Simple Practices And Daily Guidance For Living With Loss
Book Reviews
(10)
Did you read Grief Day By Day: Simple Practices And Daily Guidance For Living With Loss? Please provide your feedback and rating to help other readers.
Saved me

Derived From Web

, Aug 17, 2021

On July 2, 2021, my boyfriend lost my best friend, Fiancésoulmatebest, on 2 July 2021. I was utterly devastated, shocked, scared, mad, physical heartache and heartbroken, very sad, depressed, no sleep, no appetite, anxiety, stress - everything you could imagine feeling when you lose the love of your life. I never thought I would stop crying. One day I finally opened the book and started reading it. You can read it one day at a time or for the whole week. You can easily search in the book by jumping through the contents. It tells you how to read the book and you actually read what other people feel in this book about certain things. It has tremendously helped. Just taking it day by day, day by day.
You wont get much out of this

Derived From Web

, Jul 15, 2021

It does not offer much help. Just the feelings that this lady went through with her husband's death. But it does not serve as a guide but it does. Was not at all helpful. If anyone knows of a good book on dealing with a dying parent, please advise. Thanks a lot for this wonderful gift.
Minor Disappointments

Derived From Web

, Dec 3, 2020

I really wanted to commit to this book, as the activities, daily quotes and short thought paragraphs from the author seemed like just the thing for each morning. I am three months into the book and in my grief process. The activities aren 't doing it for me just. I tried each faithfully and felt silly most of the time. I thought it might be me, so I asked my counselor, she said the activities seemed helpful, so that it may be me. Although I respect the authors and the words are powerful and applicable, some of the quotes used by SEEM are from novels-works of fiction. After three months of commitment, I left feeling a little disappointed. With all that said, I remain committed to reading the book and at least trying the activities.
Working through grief.

Derived From Web

, Jul 23, 2019

Just recently, my husband passed away and this book is very helpful to me in navigating through my grief. Inspirations for daily living are short.
A beautifully-written reminder that no one is alone in their grief.

Derived From Web

, Dec 19, 2018

Grief can be nonlinear... and universal. And yet, this can be so hard to remember when you are in it. Jan Warner's book feels like a friend on the nightstand, willing to stand by your side through your personal journey with grief, however this journey can look a little different. Her book is intended as a chapter a week, but is written to be like a nonlinear grief. You can turn on a subject that speaks to you on any given day. Jan founded a Facebook page, Grief Speaks Out, the genesis for this book when her husband died. But she is carefully inclusive and her book is for people dealing with all kinds of grief. It is a beautifully written reminder that no one is alone in their grief.
A wonderful addition to any library

Derived From Web

, Nov 13, 2018

What a wonderful book! Jan has chosen a wonderful variety of quotes, but my favorite parts of the book are her stories of her own personal experiences. She is relatable, sharing a breadth of emotions that sometimes make me smile and sometimes makes me teary. We have all experienced loss and one way or another and Jan helps bring grief to light. There is no right or wrong way and it is certainly not linear, as this book brings light to the light. I highly recommend! ''
Genuine, Compassionate, and Relentlessly Honest

Derived From Web

, Oct 17, 2018

Jan Warner's serious compendium of wisdom for living after profound loss is courageous and honest. Not brutally honest '', but compassionately, genuinely and relentlessly so. She leads her fellow travelers not on a well-camped journey through grief, but on an uncharted expedition into the new normal of an upended world. She helps us to accept that we never fully recover the loss of a precious loved one, guiding our fellow " Gief Warriors '' on how to continue living with the ever-present reality of our loss. Her personal experience allows others permission to see their own healthy grieving as a messy, messy, often unpredictable process, offering guidance on how to become in her words: Grieef Whisperers ''. And she helps us to understand that the love we have known is the precious, unending link between our past and our future, between our present and our future, between this world and the next.
A ray of light and hope

Derived From Web

, Oct 16, 2018

DaySimple Practices and Daily Guidance for Living with Los has been a ray of light for me when my world became dark with grief and sadness. I read many books and tried many things to help me with my grief, but nothing helped me, like this book by Jan Warner. The daily quotes really gave me hope. I can relate so much to everything the author has been through because i am going through the same thing. This is a book I can really relate to and would advise anyone suffering from grief to buy this book!
Meaningful and empowering. Highly Recommended!

Derived From Web

, Oct 15, 2018

Jan Warner has created a wonderful book, full of emotions. Not only has she gathered remarkable and helpful wisdom from philosophy, psychology and even poetry to give some insight into the complicated journey of grief, she also speaks openly and authentically about her own journey and loss and grief. After the death of her husband, she has become a true grief warrior with more than 2.5 million followers on her Facebook page, Defeating anyone who asks her to move on and move on '', proving that grief is a common language. This book will help anyone who is grieving a loved one.
Life Changing!

Derived From Web

, Sep 18, 2018

The ultimate grief guru is Jan Warner! Her acute understanding of grief, her use of language and the format of this book serves as an indispensable road map for grievers, wherever they may be on their journey through grief.