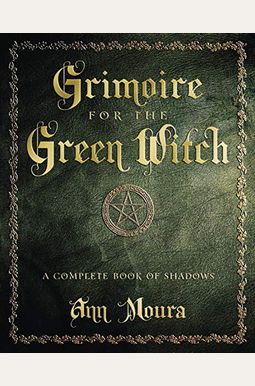 
 
Grimoire For The Green Witch: A Complete Book Of Shadows
Book Overview
The author of the popular Green Witchcraft series presents her personal Book of Shadows, designed for you to use just as she uses it-as a working guide to ritual, spells, and divination. This ready-made, authentic grimoire is based on family tradition and actual magical experience, and is easily adaptable to any tradition of Witchcraft.

Grimoire for the Green Witch offers a treasury of magical information- rituals for Esbats and Sabbats, correspondences, circle-casting techniques, sigils, symbols, recitations, spells, teas, oils, baths, and divinations. Every aspect of Craft practice is addressed, from the purely magical to the personally spiritual. It is a distillation of Green practice, with room for growth and new inspiration.
2004 COVR AWARD 1ST RUNER-UP
Frequently Asked Questions About Grimoire For The Green Witch: A Complete Book Of Shadows
Books like Grimoire For The Green Witch: A Complete Book Of Shadows
Book Reviews
(14)
Did you read Grimoire For The Green Witch: A Complete Book Of Shadows? Please provide your feedback and rating to help other readers.
Grimoire of a Green Witch

Derived From Web

, Jun 3, 2022

This book has written by the author very interesting and helpful personal experience information about her life as a green witch. It is her own notes, etc from her experiences, but can be helpful to anyone who follows or wishes to follow the path of a green witch. A green witch concentrates his hisher practice on nature and this book gives information about spells and such based in and related to nature and what spells are outlined in this book for healing and doing good. Currently I am still working my way through this book.
Learning about others

Derived From Web

, Jun 3, 2022

A very good read for those who want to learn about another person's beliefs and practices. Although this book is occult with many things packed.
Beautiful, Thorough, and Well Organized

Derived From Web

, Jun 3, 2022

Ann Moura, thank you so much for creating such a wonderful resource! All the research I have done so far or planned to do for my own book of shadows is contained within this book. Anything I write will simply expand the knowledge that is already laid here. Not for the novice, I think you need a basic understanding of witchcraft to understand how the book is set.
Very forumlaic

Derived From Web

, Jun 3, 2022

It has information about planting and harvesting, zodiac signs, moon signs and when to work what. There are pages to write your own notes in and has a wealth of information.
A nice book which ties everything together

Derived From Web

, Jun 3, 2022

A beautiful book that ties everything together. Usually you have to buy several books to get information on herbs, astrology, spells, meditation. This is an essential for any Wiccan, any way!
Very helpful! Using as a massive reference tool

Derived From Web

, Oct 8, 2019

I adore this book! The reviews have previously stated that this book would be the best for those who follow Wicca in particular, and are correct!! Nothing I did not already know, however it is an extremely useful reference tool. I feel like this would be a great buy if you are a beginner or seasoned in the craft. Very Glad I bought it ''.
Great book, misleading title.

Derived From Web

, Sep 19, 2019

There is great information about sigils, candle magic, color correspondences, moon phases and so on. It is very helpful and interesting! The first part of the book is, however, very focused on Wiccan. I am not Wiccan so that part I have no use for. The reason I gave it four stars and not five is because there is no mention of Creed in the title or description, but the rituals, Wicca etc. Based on Wiccan, they are : The title is a little confusing if you are not Wiccan. I, however, would recommend this book, because it has some great, useful information in it.
Thorough for new or experienced

Derived From Web

, Nov 2, 2018

This book covers a lot of variations of craft aspects. Here there is a lot of learning to be done. A good stop shop.
Not green witch craft.

Derived From Web

, Oct 11, 2018

This book has nothing to do with green witchcraft. It is a bos for wiccans, which is a nature-based practice. But it is not a green witchcraft. She mentions tips for dealing with unicorns and dragons... so that she might be indulging too much in Psilocybe cubensis. If you are a Wiccan, then this book is for you. If you want to focus on herbalism, nature, healing and spiritual aspects of the Earth, then look for anotherware. Unfortunately, this book will be burned and given back to the Earth. - ( )
This is a wonderful reference book

Derived From Web

, Mar 22, 2018

I have been interested and involved in various aspects of craft for about 20 years now and have bought many books and this one lays everything in such an easy to understand basic outline that I wish I had found this years ago. For example, a lot of books say simply Cast a circle and call the quarters '' or ground yourself '' Well, how the hell do you do those basic things if you are not sure how? I love that this book has all the stuff I need and lays it out in an easy to understand reference. This already has become a valuable resource for me and I wouldn 't hesitate to recommend it to someone who wants to learn the " bones " of witchcraft.