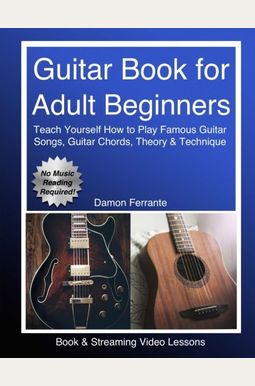 
 
Guitar Book for Adult Beginners: Teach Yourself How to Play Famous Guitar Songs, Guitar Chords, Music Theory & Technique (Book & Streaming Video Lessons)
Book Overview
Recommended by Rolling Stone Magazine as the best beginner guitar book, this book and streaming video course is all that you will ever need for getting started playing the most famous and cherished guitar songs
Music Professor Damon Ferrante guides you through how to play the guitar with step-by-step lessons for adult beginners and streaming video lessons. This easy-to-follow method, used by thousands of guitar students and teachers, is designed to be interactive, engaging and fun.
No music reading is required Learn great guitar songs
The lessons will greatly expand your repertoire of beloved guitar songs and improve your guitar technique, creativity, and understanding of music. Whether you are teaching yourself guitar or learning with a music instructor, this book and streaming video course will take your guitar playing to a whole new level
Ask yourself this:
1. Have you always wanted to learn how to play famous guitar songs, but did not know where to start?
2. Did you start guitar lessons once and give up because the lessons were too difficult?
3. Are you struggling to follow online guitar lessons that seem to jump all over the place without any sense of direction or consistency?
4. Would you like to expand your musical understanding and learn how to play the guitar through an affordable, step-by-step Read More chevron_right
Frequently bought together
Frequently Asked Questions About Guitar Book for Adult Beginners: Teach Yourself How to Play Famous Guitar Songs, Guitar Chords, Music Theory & Technique (Book & Streaming Video Lessons)
Book Reviews
(16)
Did you read Guitar Book for Adult Beginners: Teach Yourself How to Play Famous Guitar Songs, Guitar Chords, Music Theory & Technique (Book & Streaming Video Lessons)? Please provide your feedback and rating to help other readers.
A Pedagogical Abomination

Derived From Web

, Jun 19, 2021

It's a product I rarely review, but this miserable product deserves an exception. In this lesson, the author introduces the basic jazzpop progression. This in itself is fine, but the problem is he uses chords like F7 and B7 that are very difficult for a beginner to play. The writer could have easily constructed the same or a similar progression in another key using basic beginner chords. It's just that it didn't occur to him to do this." This is just one of numerous examples of thoughtless pedagogy. Emptor is a caveman's dream.
Excellent teaching techniques, but the book itself is too small and the print is incongruous

Derived From Web

, Feb 19, 2021

I very much like the author's technique of teaching and song selections, but the book is poorly put together compared with Alfred's Basic Guitar Method. The book is considerably smaller and thus won't easily stay open on your stand. It has huge letters for the top lesson description and finger placement charts, but uses very small lettering and notation for the song melodies. Very nicely done - this book should be redone and reprinted, Hachette said.
Disappointing Product

Derived From Web

, Dec 9, 2020

I expected a beginners guitar book designed for an adult, with background on the instrument, how to grip and use the guitar, some explanation of the objective of each lesson and some way to reinforce what you have learned through exercises, Mr. Harrison said. What I got was a thin book with single page lessons, little background material and no semblance of a guide course or expected outcomes, he said. The book is now rewritten with longer words and a new cover. This book may be suitable for others, but I did not find it matched the advertising and sent it back. Only in the past few weeks have I had any real musical experience." Yes, I'm officially retired. Thanks Amazon for your customer service.
Utterly Confusing "Instructional" Book

Derived From Web

, Oct 22, 2020

I'm only a few days into trying this book as a beginner's learning tool, but it has so far fallen far short of being useful no numbers, no obvious connection between the book's content and structure and the free videos, and I must admit, I'm not even sure what I want to do with it.
Not in a readable Kindle format

Derived From Web

, Apr 7, 2020

It was not designed to be a Kindle book. Phone pages are not large enough to read on a screen. Some pages have brown boxes or blue accents, making the text difficult to read. Even on a Kindle app on a PC sized monitor, it would not work.
Beginner

Derived From Web

, Oct 7, 2019

I am just starting out on guitar and would recommend the videos to anyone.
Free is too much to pay for it

Derived From Web

, Dec 17, 2018

Amazon said it will give away copies of the book for free with any kindle Unlimited subscription. It's an introductory course, but it's oriented toward beginners, which is what I was after, he said. However, the first video for the first song is, in my opinion, not very useful for beginners. Even if you have some experience, it's hard to pick out the chord from the video. The next problem isn't far behind - book talks about tuning. Before you can play your first chord or song, you must learn how to tune. In the next lesson, the G chord, the first of three, is correct. I'd love to hear someone play it as illustrated by the fifth skipped string, but all others played, too. It's just that nobody's going to do it. And the video to accompany lesson 17 does not add any value to beginners, if they even manage to understand the theory presented in the video which the book hasn't covered. It's clear this book is a disaster.
WTF

Derived From Web

, Sep 6, 2018

It's a total debacle of misunderstandings and jargon, said Brian Kilpatrick, director of music for AOL Europe. In the next lesson, you learn to play three chords and you think you're getting somewhere. Then you go to the video and all it is is is someone playing guitar almost wholly overwhelmed by a heavy drumbeat that makes the guitar impossible to hear. In future lessons, they will teach you THE EXACT SAME CHORDS, but the strings and how you play them are completely different. No explanation, and all you can think is, Damn, I already learned F Major! LeBron James flexes his muscle in the rematch against Floyd Mayweather Jr. "I can go on and on. You read it over and over again, and it's utterly meaningless — there is no explanation for what the words mean at all. Note the other reviews by Eric Clapton, who apparently didn't understand it. Two stars because some of the songs look so fun to play if you ever learn how to. 0 262201 3622201 4201 Weinshall said: "If necessary, we will seek court approval."
It makes your learning experience a good one. I love my book.

Derived From Web

, May 1, 2018

Yes, I have used that book for a while. This is great for beginners, or anyone who wants to learn how to play the guitar. And if you are interested in learning the board fret, then this is the beginner's guide. The fretless pedal will have you singing along to the beat in no time. I have read all the books except for this one.
This is a fantastic instructional book

Derived From Web

, Apr 13, 2018

This book is a great introduction to the subject matter. The way the lessons progress in a manner that includes the previous lesson so you can continue to use what you have learned is great. Diagrams are extremely helpful in understanding what the lesson should look like with the actual instrument. There is a little bit of everything here, Sosa said. Whether you are just beginning or you are trying to continue developing your skills, this book is for you. The interactive part of the video puts this instruction over the top! It is often hard to imagine what it would look like to put the lessons from a book to use. It's a tremendous bonus that puts this book above any other online or self-teaching course. I would highly recommend this book to anyone who wants to learn how to play the piano. It's just that they call it quits."