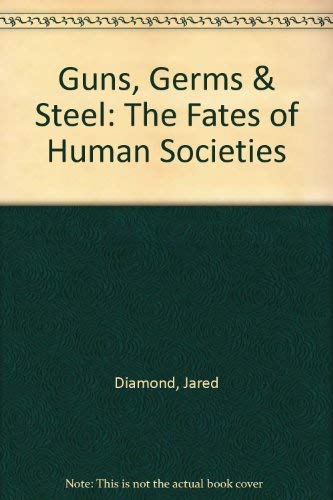  
Guns, Germs, and Steel: The Fates of Human Societies
Book Overview
This Description may be from another edition of this product.
Winner of the Pulitzer Prize, Guns, Germs, and Steel is a brilliant work answering the question of why the peoples of certain continents succeeded in invading other continents and conquering or displacing their peoples. This edition includes a new chapter on Japan and all-new illustrations drawn from the television series. Until around 11,000 BC, all peoples were still Stone Age hunter/gatherers. At that point, a great divide occurred in the rates that human societies evolved. In Eurasia, parts of the Americas, and Africa, farming became the prevailing mode of existence when indigenous wild plants and animals were domesticated by prehistoric planters and herders. As Jared Diamond vividly reveals, the very people who gained a head start in producing food would collide with preliterate cultures, shaping the modern world through conquest, displacement, and genocide.The paths that lead from scattered centers of food to broad bands of settlement had a great deal to do with climate and geography. But how did differences in societies arise? Why weren't native Australians, Americans, or Africans the ones to colonize Europe? Diamond dismantles pernicious racial theories tracing societal differences to biological differences. He assembles convincing evidence linking germs to domestication of animals, germs Read More chevron_right
Frequently bought together
Frequently Asked Questions About Guns, Germs, and Steel: The Fates of Human Societies
#2

#3
Book Reviews
(14)
Did you read Guns, Germs, and Steel: The Fates of Human Societies? Please provide your feedback and rating to help other readers.
Find time to read this

Derived From Web

, Apr 20, 2022

What a great read! What a great read! '' Finally, GG andS is about equality with its detailed, almost exhaustive, account of the history of the cultures. It does not connect history to heroic deeds and epic struggles, but catches the bigger waves of mass migrations and gradual evolution. It seemed to remold the globe to show why certain groups of humans enjoy dominance not because of superiority, but because of inherent superiority. If you are a big fan of racial identification, this might be good for you, or it might make you frustrated. But anyone who gets through its 400 pages will have a new way of thinking about the past and the current state of humanity as well, but anyone who gets through its 400 pages will have a new vocabulary way of thinking about the present, and the current state of humanity as well.
Insightful and entertaining

Derived From Web

, Apr 20, 2022

I really liked how this author brought together the chain of events and the drivers for success for different geological locations and the starting points of agricultural domestication. I thought, however, that expanding the model to organizational entities was interesting, but a stretch. Any reader could probably come up with several counter examples to the ones provided and certainly changes the situation in tech space, if any given organization is published faster than version of this book. That said, the cases the author makes in the beginning, as humans transitioned from hunter-gatherers, was well-founded in research and examples.
Wasted my money on this one. Reads like chewing cardboard.

Derived From Web

, Aug 15, 2021

Although obviously well researched and full of info, this book uses assumptions and hypotheses as fact in every turn of the page. Not really a good read unless you feel like taking a class instead of enjoying a book. Pulitzer can not believe this won a Cannot believe this won a Pulitzer. Then it seems that Pulitzers have been passed to some really bad choices in these days.
In general, people do what they have to do

Derived From Web

, Jun 18, 2021

I found it remarkable that the natural Japanese stayed so isolated and yet content with the early richness of the environment. I suspect that they!ed better lives on the whole than those living so called advanced cultures.
History of civilization

Derived From Web

, Mar 9, 2021

Book is excellent. If you don 't have time for Will and Arial Durant, read this. IMO should be a required reading of HS.
Author has speculated for 400 plus pages.

Derived From Web

, Sep 9, 2020

Was hoping to give this a 5-star review... I ordered this because it is highly rated here on Amazon with 4.4 stars and also recommended by Charlie Munger and Bill Gates. The book lacks substance, the author speculates for the entire novel. Asking why over and over again and never authoring concrete or solid answers. I made it to the end, but it was a fight. Author has traveled, but does not seem to help his research, as he formulates answers to his narrow experiences. He picks from the observations he makes in his research and in his travels. If you look through his citations, almost all the reference material is from the 1980s and 1990s, with a small amount leaving this narrow window of the publications. I like work of the type like One River by Wade Davis, where the author digs in and knows his subject well. Stayed and focused on an area of knowledge. In Guns, Germs and Steel, the author tries to publish on way to wide an area of focus and it leads to much speculation.
Clear bias and claims that disconnect with logic and reason.

Derived From Web

, Nov 13, 2019

Only the author took the author to the 2nd page to start a virtue signaling about racism. The author wants to push European and Asian communities just as intelligent and successful as aboriginal communities historically. Anyone with eyes and a true knowledge of history knows that it is not vague. I regret purchasing this and couldn 't force myself to endure such a masochistic trial, as reading this whole book would entail.
How did this book win a pulitzer prize?

Derived From Web

, Sep 22, 2019

The plate 1 in the book is grossly inaccurate. In reality, the spear point of Clovis is 3 widest and 1 at its long point. It is very thin with a slightly concave base. It is finely flaked, producing a very sharp point of projectile. The stone material used is usually white and varying colors, not chert. This picture is so blatantly misrepresented that I am surprised that it was not caught by someone in the editing process. Books such as this are supposedly educational. Now many people think that the picture is from a Clovis point. In short, the book was repetitive of already well-known history. I am Sandy Poe, an archaeologist who has excavated a site in Clovis. The Colby site near Worland, Wyoming is a mammoth kill site using the complex tools of Clovis, dating from 11,000 BC. Check the book Prehistoric Hunters of the High Plains by George C. Frison. This book illustrates an actual point of view from Clovis. I do not know how one fixes such a mistake in a prize winning book.
A very comprehensive book on world history

Derived From Web

, Jun 14, 2019

The book showed how some countries become more advanced than others. This book is essential for those who want to get a better look at the history of the world, full of powerful observations and insightful research. It is full of apprehensive observations and empowering research. It is essential for those who want to get a better look at the history of the world.
This is an exciting story of the human species. I could not put it down.

Derived From Web

, Jan 23, 2019

Who would have thought a non-fiction story would read as easily as a work of excellent fiction. The story is about the human species, so that it is my story. I loved every page of this thick book ''. The author has a great imagination and shows how the dots are related. I highly recommend this wonderful work of the history of humankind ''. Wow!