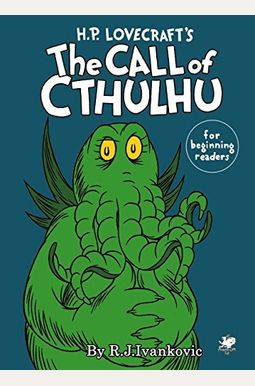  
H.p. Lovecraft's The Call Of Cthulhu For Beginning Readers
Book Overview
The most merciful thing in the world, I believe is humanity's failure to fully conceive the cosmical horrors we've yet to reveal, and which up until now I have tried to conceal. The iconic H.P. Lovecraft 1928 story, The Call of Cthulhu, is now a children's book. Seamlessly and gracefully told in anapestic tetrameter by genius poet-artist RJ Ivankovic. The late Professor Angell's research has been discovered by his grand-nephew, Francis Wayland Thurston. Francis delves into the papers and discovers a bas-relief depicting an odd creature with an octopoid head, spurring him to read on. He learns of the raid led by Inspector Legrasse and the voyage of the Vigilant, captained by Gustaf Johansen. This glorious full color 102-page adaptation of the H.P. Lovecraft story was written and illustrated by R.J. Ivankovic.
Frequently Asked Questions About H.p. Lovecraft's The Call Of Cthulhu For Beginning Readers
Book Reviews
(8)
Did you read H.p. Lovecraft's The Call Of Cthulhu For Beginning Readers? Please provide your feedback and rating to help other readers.
Not for the smallest of children?

Derived From Web

, Feb 15, 2021

I bought this as a gift for a 6yo child of a friend. Fortunately, I first had it sent to me to proof read it. The illustrations were perfectly rendered and the story rhymed delightfully. I expected, however, that the story would be a little clumsier and it was shockingly faithful to the original source, ha ha! There is an uncomfortable body count at the end for a children's book and doesn 't shy away from kidnapping or police brutality. Obviously, you get what you are looking for, as it is a lovecraft story. A great book, might not be suitable for very young children.
An amazing tribute to Seuss and Lovecraft alike

Derived From Web

, Jan 7, 2021

Wow, I was there. My daughter is 8 and half. She knows of HP Lovecraft, Edgar Allen Poe, Stephen King and some other authors of spooky stories. She has been very interested in their stories and the world that they created. This book was the perfect way to gain more knowledge about the topic without being too horrifying. The artwork is such an outstanding tribute to Dr Seuss'style.
Great fun read for my 7 year old

Derived From Web

, Oct 11, 2019

My 7 year old loves spooky stores, and I figured out what is more spooky than Lovecraft? This story does a good job of following the plot and history of the original in a fun way. Very fun to read and beautifully illustrated on thick glossy paper. A true show stopper!
Good for you and your offspring

Derived From Web

, Apr 4, 2019

I look forward to sharing this with my children, if I have any. I feel the themes associated with Lovecraft's work that may not be appropriate for young readers are effectively handled here. In terms of presentation, the text is a concise retelling of the CoC story and the artwork is particularly faithful to the Seuss style of children's books. I would recommend this for parents, young readers and fans of the Mythos.
THERE IS NO WAY I COULD EVER SAY ENOUGH GOOD ADOUT THIS BOOK! JUST BY IT!!!

Derived From Web

, Feb 26, 2019

Why are not more people buying this book? On the darker or more macob side of the literary spectrum, you will rilly apresheate this. Plus its enjoyment for a much border age spectrum, my 2 year old loves it, my 7 year old, my 12 year old and myself!
Wow, a perfect mashup

Derived From Web

, Feb 16, 2019

This book does the following almost perfectly : Sueos imitate the drawing style of Dr. Suess. Sueos imitates the writing style of Dr. Sues. Since I like both Lovecraft and Dr Suess, it is very amusing to see both in the same work.
GWAR Approves This Book!!!

Derived From Web

, Jan 22, 2019

The whole family loves it! Our kids took it to a GWAR show with them and got signed by them, Ringworm, Hatebreed and Miss May I!!! ALL bands thought the book was Bad*** and we're happy to sign it.
Good story, but pages not bound

Derived From Web

, Mar 22, 2018

The story and the artwork are fantastic, a great homage to Lovecraft and Seuss. Unfortunately, the copy I received had several loose pages bound incorrectly. I had saved the book as a gift and now it is too late to return it, so be sure to check the pages as soon as you receive it.