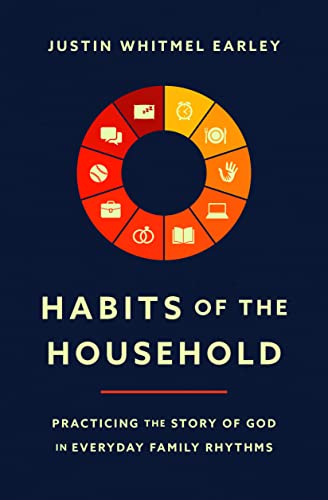 
 
Habits of the Household: Practicing the Story of God in Everyday Family Rhythms
Frequently Asked Questions About Habits of the Household: Practicing the Story of God in Everyday Family Rhythms
Book Reviews
(8)
Did you read Habits of the Household: Practicing the Story of God in Everyday Family Rhythms? Please provide your feedback and rating to help other readers.
Supports Witchcraft & Harry Potter. Don't Buy

Derived From Web

, Jan 31, 2022

I bought this book because I was so upset. I sent it back. The recommendation was that parents read Harry Potter. There is a book that encourages witchcraft. That's against the Bible. This is not a good book for a parent to read. Non- Christian or Christian. Do not buy it.
Foundational family patterns

Derived From Web

, Dec 7, 2021

Faith and character are forged in the daily rhythms of life. There are 10 habits of the household that can provide a strong support to family life. I liked the screentime and the sleep chapters. The chapter on screentime reviews how screens affect everyone in a household and how we can better manage our consumption. He's writing style is engaging and I'm in the trenches figuring it out. It's a great place to go for new parents on up through the teen years.
Wonderful read

Derived From Web

, Dec 3, 2021

I have been reading this book. Good advice on establishing good habits within the family. The book is easy to read and refer back to. I ordered additional copies for Christmas gifts because I am not finished with my copy yet. It's in my top books for 2021.
Wish I had read this (and it had come out) 10 years ago!

Derived From Web

, Dec 1, 2021

The Common Rule was the first book that I liked, but I like this one even more. It will be a book I reference a lot. I believe this will be helpful for parents. I wish I had this when my children were younger because I have begun to apply what I have learned. Highly recommended, without reseervations.
Practical habits to guide your life

Derived From Web

, Nov 30, 2021

The book gives practical advice on how to exchange a life of parental chaos for a life of family order. Some of the steps are a little difficult, but committing to try them will yield amazing benefits in your life as a person and parent. stewarding the precious time we have as parents and shaping our children into who God designed them to be is what this is about. It was a good read. The Common Rule was his first book.
A perfect sequel from the Common Rule

Derived From Web

, Nov 17, 2021

The Common Rule has made a huge change to my discipleship practices. After applying his book to my life, my next question was, "How do I involve my family into this?" I have three children, a 2, 3, and 4 year old. Then he comes out with his second book. I pre-ordered it as well as the audiobook version. It didn't fail! The pages were full of practical and Biblical frameworks of family habits and rhythms that anyone can practice immediately. My family has benefited from the work of Justin. This book will transform your family and any Christian parent should read it.
I cannot say enough wonderful things about this book!

Derived From Web

, Nov 15, 2021

Excellent, humble, wise, practical, full of faith, so encouraging! And very helpful. From now on, I will give this book as a gift at every baby shower. The young children under ten are with him. I can attest to the truth and power of the ideas he holds out here, as a mother of 4 young people. This book doesn't heap the burden of achieving a great parenting record on our shoulders, but offers great hope for those of us trying to parent and love by grace through faith, with God as the hero and center of our days and family life. The age chart suggestion at the end of the book is important. .
A new favorite

Derived From Web

, Nov 12, 2021

This might be my new number one recommendation, not just for family rhythms, but also for parenting as well. It's top notch.