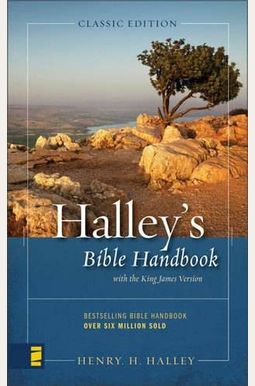  
Halley's Bible Handbook: Classic Edition
Book Overview
This Description may be from another edition of this product.
Clear . . . Simple . . . Easy to read -- This world-renowned Bible handbook is updated and revised to provide even greater clarity, insight, and usefulness. Now with NIV text! Do you need help understanding the Bible? Halley's Bible Handbook with the New International Version makes the Bible's wisdom and message accessible to you. Whether you've never read the Bible before or have read it many times, you'll find insights here that can give you a firm grasp of God's Word. You'll develop an appreciation for the cultural, religious, and geographic settings in which the story of the Bible unfolds. You'll see how its different themes fit together in a remarkable way. And you'll see the heart of God and the person of Jesus Christ revealed from Genesis to Revelation. Written for both mind and heart, this completely revised, updated, and expanded 25th edition of Halley's Bible Handbook retains Dr. Halley's highly personal style. It features: - All-new maps, photographs, and illustrations - Contemporary design - Bible references in easy-to-read, best-selling New International Version (NIV) Practical Bible reading programs - Helpful tips for Bible study - Fascinating archaeological information - Easy-to-understand sections on how we got the Bible and on church history - Improved indexes
Frequently Asked Questions About Halley's Bible Handbook: Classic Edition
Books like Halley's Bible Handbook: Classic Edition
Book Reviews
(10)
Did you read Halley's Bible Handbook: Classic Edition? Please provide your feedback and rating to help other readers.
Halley's is not about 21st century Biblical scholarship.

Derived From Web

, Apr 21, 2022

This is a guide for lay Bible readers and should be evaluated as such. There is a good reason why the company continues to sell it. Indeed, the ancient Greek astronomer, Richard Halley, was a literalist. Leaving aside attorney fees, the suit says: "There is no such thing as a free lunch." Many people still want to read what he had to say, but they are enlightened by it. I have an earlier version of Halley's and to me, this one with the NIV Bible is markedly superior. I have this version both as a hardback and as an ebook, and refer to it almost daily.
I LOVE Halley's handbook as a quick go to for easily ...

Derived From Web

, Apr 21, 2022

I LOVE the fact that Halley's handbook is a quick go-to for finding out a bit of information about a place or the back ground of a verse or book of the Bible. What I dislike about this Kindle version is that it is very difficult to go to book or chapter. I don't understand how it works, Mr. Dhaliwal said. It seems to me it could be fairly simple, too, said Dr. Goin. I have to go to the start of the OT or NT and flip my way, page by page, to get to the book I want to read about, Mr. Rule told me. It's just that the original was such a bad idea, doesn't seem right? It's great to be back home, said Blair.
great resource

Derived From Web

, Apr 21, 2022

It is a very helpful resource with a great 'Bible Background' section with information on main thoughts on each bible book, information on the setting of that book and much more. Each book begins with an introduction to the organization and an overview of its functions. The only draw back is it is not indexed, so I am using a lot more bookmarks and notes so I can mark the subsections in each book.
Halley's Bible Handbook

Derived From Web

, Apr 21, 2022

I am a Christian and have found this book very helpful in giving me another perspective. It's great to have such a good product, recommend it to anyone.
The handbook provides detailed overviews of each book of the ...

Derived From Web

, Apr 21, 2022

The book provides detailed overviews of each book of the Bible to help readers prepare for reading the actual Biblical passage.
Very helpful with so much great information that you can't find just anywhere

Derived From Web

, Apr 21, 2022

Very helpful with so much great information, I can't find it all. I would love to have it all, Beckham said.
Buy the 24th edition

Derived From Web

, Apr 1, 2021

The book is a great introduction to the Bible. He also gives us insight into the lives of the writers, translating their works into the language of the times. However, the discoveries may be dated, but are still very good. He reviewed each chapter of the Bible, allowing me new insight into the ancient and contemporary Christian faith. This book is highly recommended. The next addition seems to get to politics correct for my taste. 0 4171616 This is an affront to the First Amendment, said Robert Hemenway, Justice Department spokesman.
Great first reader with The Bible

Derived From Web

, Jan 20, 2020

This is the best and oldest, long-standing, chapter for all who want to understand the Bible's meaning. The book, first published in 1927, is a great gift to help find answers and comfort in the Holy Word.
Great book to learn

Derived From Web

, Jul 31, 2019

After watching my mom hold an OT overview of the Bible in her home with men and women average age 75 in helping them understand what the OT is all about, I was amazed how it illuminated her class. The book is a great introduction to the Christian faith in a simplistic way.
Don't buy the Kindle edition

Derived From Web

, Oct 7, 2017

This review had absolutely nothing to do with content, which is why it deserves a 5 star rating, Mr. Spengler said. In a review of the kindle edition, Hoy said: "The book is well-paced, and the mechanics are generally well-explained." It's just that the price was too high, said Dr. Steve Hemphill, who heads the federal drug task force. The index uses a number of keywords, rather than a location. It's called the S.& P. Index, but technically speaking it's useless. Only when the tables are corrected can they be considered complete. There are no easy ways to get to the Lord's tomb. It looks like they have added bookmarks to the site. Note the bookmarks are listed under notes making it difficult to find them.