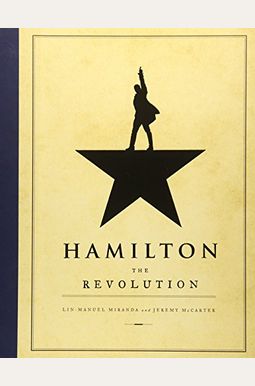 
 
Book Overview
A backstage pass to the groundbreaking, hit musical Hamilton, winner of the 2016 Pulitzer Prize for Drama and Eleven Tony Awards, including Best Musical, including the award-winning libretto, behind-the-scenes photos and interviews, and exclusive footnotes from composer-lyricist-star Lin-Manuel Miranda, now streaming on Disney+ with the original cast.
Lin-Manuel Miranda's groundbreaking musical Hamilton is as revolutionary as its subject, the poor kid from the Caribbean who fought the British, defended the Constitution, and helped to found the United States. Fusing hip-hop, pop, R&B, and the best traditions of theater, this once-in-a-generation show broadens the sound of Broadway, reveals the storytelling power of rap, and claims our country's origins for a diverse new generation.
Hamilton: The Revolution
gives readers an unprecedented view of both revolutions, from the only two writers able to provide it. Miranda, along with Jeremy McCarter, a cultural critic and theater artist who was involved in the project from its earliest stages -- since before this was even a show, according to Miranda -- traces its development from an improbable performance at the White House to its landmark opening night on Broadway six years later. In addition, Miranda has written more than 200 funny, revealing footnotes for his award-winning libretto, the
Read More chevron_right
Frequently Asked Questions About Hamilton: The Revolution
Books like Hamilton: The Revolution
Book Reviews
(17)
Did you read Hamilton: The Revolution? Please provide your feedback and rating to help other readers.
Could You Be the Most Beautiful Book in the World?

Derived From Web

, Apr 20, 2022

I wish I could say that I saw Hamilton in person, but alas, I wish I could say that. However, this good tome is almost as beautiful as being there. The craftsmanship is beautiful. The craftsmanship is beautiful. I believe that Lin-Manuel Miranda and Jeremy McCarter were allowed artistic input on how the book would look because it shows that someone who truly loves this musical has crafted a beautiful Valentine for the production. So exciting to see how this game changer came together! I own a lot of books, especially art books, but this may be the most beautiful book I ever own.
I wish every Broadway show made a book like this!

Derived From Web

, Apr 20, 2022

If you are on this page, you probably don 't need me to tell you much about this book. You are probably already a fan of Broadway - musical Hamilton and are probably very interested in knowing everything possible about it. Instead, what I tell you is how impressed I am with this book. It is heavy and has thick paper. There is tons of information and insights into making the show on every page. There are beautiful images from the show or production of the show on just about every single page. I learned so much! I have so much to learn! '' Honestly, I wish every show would produce a book like this. Getting a peek inside how a musical is made is absolutely fascinating.
Perfection

Derived From Web

, Apr 20, 2022

I've recently become obsessed with Hamilton, and this book is absolutely amazing. I've tried to take it in pieces rather than gobbling it up in one sitting, but it is difficult. The behind-the-scenes pictures are wonderful and give you a real insight into the play if you haven 't been able to see it live. Lin-Manuel Miranda's commentary on the libretto is probably my favorite part. I now listen to the songs and now laugh to myself that I get his thoughts behind some of the jokes-that-you-don't-realize-are-jokes. My new life goal is to see Hamilton live before any of the original cast leaves!
5 STARS

Derived From Web

, Apr 20, 2022

I am like many people obsessed with the musical Hamilton. I start listening to the soundtrack all the time and am very close to having it all memorized. I also have a thing for narratives about how things are made, especially works of art. This account of the creation and implementation of musical is therefore right up my alley. It was just fascinating for a process nerd like me to see it shift from a random thought to a full-blown pop culture phenomenon. I also loved the Lin-Manuel Miranda '' lyric annotations, which ranged from bizarre to poignant to just plain weird. If you are a fan of the show at all, I recommend Hamilton & The Revolution.
Such a fascinating book that I bought it twice

Derived From Web

, Apr 20, 2022

I actually bought this book twice now -- the hardcover version for my shelf and then the Kindle version for actual reading. I bought it knowing that this is not a standard Kindle book, and I plan to read it on my iPad so I can scroll as needed. I haven 't yet read very much of it, but I'm satisfied with how it works on the Kindle. I can 't figure out quite how to highlight anything. I thought I read that you could. But that's okay because I wanted mostly a portable version where I can read the type and enlarge it without fear of damaging the book itself. Oh, and may I say that the hardcover book is beautiful. You can tell that a lot of care went into it. And the spine... And the spine... I can 't say enough about the old-style design there.
Don't buy the Kindle version. It is not in ...

Derived From Web

, Apr 20, 2022

Don 't buy the Kindle version. It is not available in Kindle format. It is just photocopies of double-columned pages that don't fit on the screen and is very difficult to read. If you want to read it manually, you must enlarge each page separately.
A stunning creation, but I knew that before I even saw it...

Derived From Web

, Apr 20, 2022

This book is a book of beauty! I ordered it early and it arrived literally at my front door. Giddy with excitement pulled back the packaging tab and inside was this glorious tome. The design is exquisite, the words flow as gracefully as the pictures from page to page texts, insights and anecdotes galore - nothing has been overlooked. To be honest, I came back to Amazon to order another as a gift, but there don 't seem to be any available. So glad I ordered early! So glad I've ordered early! '' Edited to see myself in this Hamilton word and pictures story, that is until I actually get to see the show... a girl can dream ). Used this beautiful book to deliver surprise tickets to my niece, who turned 18 today. I'm in New York and it's the night!! Miranda wins the Pulitzer on the same day, AND, Pulitzer wins the Miranda. It has been a bit of a day since then! !
I was secretly curious what the inside pages looked like, and found myself looking through every single one ...

Derived From Web

, Apr 20, 2022

I bought this as a gift, along with the CD and a shirt. I was secretly curious about what the inside pages looked like and found myself looking through every single one of them. Beautiful! The sketches, the notes, the history, the cast photos, the lyrics... it is all beautifully placed. Great price for a copy and definitely worth having one for myself!
The Man That Made It Happen

Derived From Web

, Jan 23, 2021

Excellent narration and behind-the-scenes journey of Lin-Manuel Miranda's Blockbuster, Hip-hop, 11 Tony Award winning musical, Hamilton. Meet the cast and the collaborative team that helped Mr. Miranda's seven-year project come to fruition.
Ultimate book on a landmark show!

Derived From Web

, Oct 17, 2020

The complete script and text, with chapters on its background, the actors, creators and history involved. And with a fabulous binding that will hold forever. I love this musical and this is the ultimate reference and souvenir.