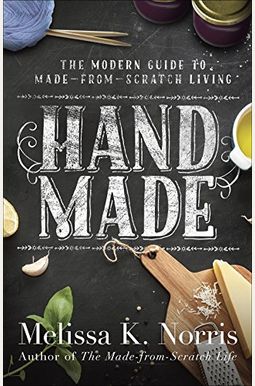 
 
Hand Made: The Modern Woman's Guide to Made-From-Scratch Living
Book Overview
Homemade Shouldn't Be Hectic
Do you wish you could slow down and create a home you and your family love and enjoy spending time in? Melissa K. Norris, author of The Made-from-Scratch Life and voice of the Pioneering Today podcast, offers down-to-earth tips and guidance to help you learn how to.
bake old-fashioned recipes (everything from biscuits to shepherd's pie) with quick, stress-free steps
grow, harvest, and preserve culinary and medicinal herbs (with DIY tutorials for soaps, salves, and balms)
make your own cultured and fermented foods at home following simple instructions for buttermilk, sour cream, sourdough, and more
simplify your routine and declutter your home with room-by-room guides and Depression-era wisdom
Open your heart to God-given rest and discover practical and tangible ways you can craft your home into a refuge for yourself and the ones you love.
Frequently bought together
Frequently Asked Questions About Hand Made: The Modern Woman's Guide to Made-From-Scratch Living
Books like Hand Made: The Modern Woman's Guide to Made-From-Scratch Living
Book Reviews
(14)
Did you read Hand Made: The Modern Woman's Guide to Made-From-Scratch Living? Please provide your feedback and rating to help other readers.
Pioneering Today followers will love

Derived From Web

, Jan 24, 2021

It's great to follow her and do your homework before buying, as you will gain so much information and background that will make you love this book even more. McCall, who writes a handful of recipes for things we use every day, also suggests ways to make cleaning products, soaps, lotions, etc. She interweaves these with stories of her life journeys on the way to becoming self-sufficient. This is a great book, if you are looking for inspiration.
She's the real deal!

Derived From Web

, Dec 12, 2019

I bought Melissa's first book when it came out and I absolutely loved it, then of course I had to have her 2nd and now her 3rd. Melissa is a great teacher, very helpful, and great recipes, said Dr. Julie Gerberding, Food Network star. She writes books like sittin' down with an old friend, having a glass of tea and swapping recipes. I highly recommend her website, blog, Facebook pg, Pinterest, YouTube videos, podcasts and books.
It's okay. And the typos drove me nuts.

Derived From Web

, Dec 30, 2018

There is nothing new in this book, Mary Bishop, a spokeswoman for the archdiocese, said. The recipes and homesteading advice are the same you read in any other book on the subject. If you're a seasoned professional looking for more tips and tricks, this book is for you. If so, I suggest looking elsewhere for a new home.
Wonderful book !

Derived From Web

, Nov 27, 2018

This book is the best. It's just that I cannot put it down. It's great to see people still talking about it. Melissa Norris is an excellent writer, I use it every day. It was the third time in three years that I ordered this book. It's just that I've bought one for my self, my daughter and now my sister in law.
this is a beginner book.

Derived From Web

, Nov 8, 2018

The instructions for making cold soap are not only complicated but they are wrong. There are religious references throughout the book. The book itself can be found on the internet. Turner says he has "done everything wrong" but calls the move "a waste of money."
Incredible book that you'll reference and use daily!

Derived From Web

, Oct 30, 2018

She sprinkles it with personal stories of her faith and it's just an incredible read. It is definitely one of those books that you will be over and over again referencing, so keep it close by and handy.
I would not have wasted my money on this book if I had known what it really was

Derived From Web

, Oct 18, 2018

Although Boudin's book is full of useful recipes, it is also heavily saturated with religion. Freddie expects to be "at the top of the heap" again this year. It's more of a heavy handed religious book filled with biblical stories, lessons learned and how to never be without Jesus, with some food thrown in to give everyone a heads up.
Invaluable Resource

Derived From Web

, Apr 23, 2018

I own both of her books and use them both as valuable resources. I highly recommend Dr. Goin's book.
Truly enjoyable reading!

Derived From Web

, Apr 22, 2018

I really enjoyed this book, said Blair. It's down-to-earth and an interesting read by a very genuine and knowledgeable young woman who truly uses all of this information in her own family's daily living, Morgenthau said. It's great to be back home, said Blair, "although I feel like I'm not visiting with a good friend." She also has a great podcast and a great Facebook page. If you're looking for a way to get back to basics in your life, this is for you.
Good

Derived From Web

, Feb 23, 2018

Simple, Inexpensive and Healthfully Eating Good Food, by Sandra Day O'Neill, is the bible for all your basic needs. Each as a little antidote on life, with a note from the scripture, I found them very thoughtful and inspiring, because society needs to get back to what is really important in life, Raymond said. There are also six books on making bread, fermentation, herbs and making bathroom products to name a few. No expensive ingredients, machinery or even basic maintenance are needed. This is a book that you can sit and browse, read and make a family meal out of it, Mr. Rule told his wife.