Buy 3 Get 1 Free
Our Best Sale Yet! Add 4 Books Priced Under $5 To Your Cart     Learn more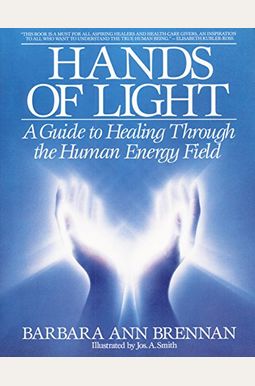  
Hands Of Light: A Guide To Healing Through The Human Energy Field: A New Paradigm For The Human Being In Health, Relationship, And Dis
Book Overview
With the clarity of a physicist and the compassion of a gifted healer with fifteen years of professional experience observing 5,000 clients and students, Barbara Ann Brennan presents the first in-depth study of the human energy field for people who seek happiness, health and their full potential.
Our physical bodies exist within a larger body, a human energy field or aura, which is the vehicle through which we create our experience of reality, including health and illness. It is through this energy field that we have the power to heal ourselves.
This energy body -- only recently verified by scientists, but long known to healers and mystics -- is the starting point of all illness. Here, our most powerful and profound human interactions take place, the precursor and healer of all physiological and emotional disturbances.
Hands of Light is your guide to a new wholeness. It offers:
- A new paradigm for the human, in health, relationship, and disease
- An understanding of how the human energy field looks, functions, is disturbed, healed, and interacts with friends and lovers.
- Training in the ability to see and interpret auras
- Medically verified case studies of healing people from all walks of life with a variety of illnesses.
- Guidelines for healing the self and others.
- The author's personal and intriguing life adventure which gives us a model for growth, courage and possibilities for expanded consciousness

Frequently Asked Questions About Hands Of Light: A Guide To Healing Through The Human Energy Field: A New Paradigm For The Human Being In Health, Relationship, And Dis
Books like Hands Of Light: A Guide To Healing Through The Human Energy Field: A New Paradigm For The Human Being In Health, Relationship, And Dis
Book Reviews
(10)
Did you read Hands Of Light: A Guide To Healing Through The Human Energy Field: A New Paradigm For The Human Being In Health, Relationship, And Dis? Please provide your feedback and rating to help other readers.
I liked it. After I read it thoroughly I gave ...

Derived From Web

, Apr 29, 2022

Liked it, said Blair. After I read it, I gave it to an acquaintance who had parkinson's disease. He applied what he learned to himself. No wonder he no longer shakes.
Good book

Derived From Web

, Apr 29, 2022

As a massage therapist, this book helps me understand what is happening when I sense or experience certain aspects of my clients and the energy in the room. I am going to keep studying and learn how to help people better through this gift, he said. The book is simply beautiful, said illustrator Paul Dhaliwal.
Good if you can already see auras

Derived From Web

, Apr 29, 2022

It was recommended to me by a medium who said that starting out as a healer is a good way to develop mediumship. Many of the book's claims were not really relevant to me, as I don't see auras and so could not use the material. I kept the book just in case I developed the ability to see auras, he said. In the book, patience is a direct statement of faith in the Divine plan.
A true in Depth study of Energy Healing and human transformation

Derived From Web

, Apr 29, 2022

hands of light is an absolute must read for anyone interested in working in energy healing, said Barbara Brennan, one of the world's leading energy healers. As a teacher, I hope this book opens a new path to understand the human aura and its connection to the physical world.
We are eternal electrical energy field beings/holograms

Derived From Web

, Apr 8, 2021

In a November interview, McCartney said: "I had a NDE as a kid. I felt energy beings around me and knew there was no such thing as death, she said. But I was harshly discriminated against for this experience, so I became antisocial, he said. In my 20s, I found books about this subject and learned how to heal myself. Feeling so much energy in and out of my body, I couldn't help but wonder what it was. Then I found the book Hands of Light by Mark Haddon. I wanted to go to that college because I thought I would fit in there. So I wrote them, and they said, 'Yes, I'll give you a refund. The letter I received back from them seemed more interested in keeping their copywrite protected, Sosa said. The pictures are priceless, and I give them away to many people because of the pictures.
Insightful guidance and application.

Derived From Web

, Apr 19, 2020

The book was written by ER Nurse Jackie Green, who became a doctor. This is a wonderful, thought provoking and enlightening read, said Dr. Goin. I have, since I was a kid, always been a quick self healer and have been able to use this gift for others, too. This book, although read by many years later in life, is a wonderful affirmation and guide. There is also a companion workbook, which I first purchased several years ago.
The Master class by a master teacher.

Derived From Web

, Aug 27, 2019

First recorded on Oct. 12, 2002, it was played on the Web Site www. audible. com. My reiki master had a difficult time understanding it and I was told not to read it. I stopped, and then I looked at the guy. It's great to hear your voice again and again, said Blair. I had to have the print version, Mr. Dhaliwal said. This book is, by far, the most ambitious. It's like a master course in itself. It's just that you want to keep it forever. Lucky me, lucky you, Mr. Dhaliwal said.
Hardcore Textbook

Derived From Web

, Jul 3, 2019

Not much in feelgood vibes or first-person experience. He has a great healer, said Dr. Chester Floyd, director of the Institute for Traditional Chinese Medicine. It's an excellent textbook, but I wasn't inspired and couldn't finish it, he said. It would be good for people who see auras and feel energy vs. people who don't have ordinary talents yet, said Dr. Goin.
Great book

Derived From Web

, Dec 28, 2018

A great book. One of the best and informative guides I've read.
Five Stars

Derived From Web

, Mar 6, 2017

It's an exceptional book. Brazilian Chakras Reflexology was born.