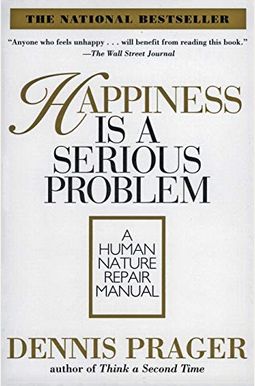 
 
Happiness Is a Serious Problem: A Human Nature Repair Manual
Book Overview
This Description may be from another edition of this product.
In this unique blend of self-help and moral philosophy, perfect for fans of Gretchen Rubin's The Happiness Project or Dan Harris' 10% Happier, talk-radio host Dennis Prager shows us that happiness isn't just a value--it's a moral obligation.
When you ask people about their most cherished values, happiness is always at the top of the list. In this enduring happiness manifesto, Prager examines how happiness not only makes us better people, but has an effect on the lives of everyone around us--providing them with a positive environment in which to thrive and be happy themselves.
Achieving that happiness won't be easy, though: to Prager, it requires a continuing process of counting your blessings and giving up any expectations that life is supposed to be wonderful. Can we decide to be satisfied with what we have? he asks. A poor man who can make himself satisfied with his portion will be happier than a wealthy man who does not allow himself to be satisfied. Prager echoes other political commentators in complaining that too many people today see themselves as victims; he submits that the only way to achieve your desires is to take responsibility for your life rather than blaming others.
If you're willing to put some thought into achieving a happier outlook, you will find plenty to mull over in Happiness Is a Serious Problem.
Frequently bought together
Frequently Asked Questions About Happiness Is a Serious Problem: A Human Nature Repair Manual
Books like Happiness Is a Serious Problem: A Human Nature Repair Manual
Book Reviews
(17)
Did you read Happiness Is a Serious Problem: A Human Nature Repair Manual? Please provide your feedback and rating to help other readers.
For anyone challenged by "real life" -- someone you care about!

Derived From Web

, May 2, 2022

This is for anyone who has been a victim of domestic abuse, or someone you care about. In the new book, "What It Means to Be Human," we explore concepts and fresh perspectives on what it means to be human, operating in a world where others don't always appreciate you, or act like you. Suggest you open the book and read what feels like the entire book, as each chapter is self-contained. And, if you are ready, start at page one and read all the way through as the author has organized his thoughts. Even if you only read the book one way, you will gain a much deeper orientation to the material. The new kid on the block, Samudra, sounds like she's having second thoughts about life.
Required Reading

Derived From Web

, May 2, 2022

The Prager shows us how to get along. I've been a huge fan of Rush Limbaugh's clear-thinking and enormous intellect for years, catching his radio show when I can. In this book, Abraham argues that happiness is a moral choice, and that there are many barriers to it. Yes, I'm still reading and re-reading sections, but I'm glad it's on my Kindle and I'll probably sample some of his other books.
Very Clear and understandable

Derived From Web

, May 2, 2022

A very good presentation, calling for a few very simple alterations of common behavior, he said. I would recommend this to anyone who is interested in a bit of introspection.
I love this book

Derived From Web

, May 2, 2022

It makes you appreciate what you have in life, not what you don't have, Mr. Booher told his friends.
The Why and How of Happiness

Derived From Web

, May 2, 2022

What a great read, said Dr. Chester Floyd, director of the federal Centers for Disease Control and Prevention. I have always admired Mr. Powell's work, said Barbara Comstock, executive vice president of public policy at the National Constitution Center. I am in the talk radio show biz and I never underestimate the power of the human voice, Bill Frist said on his program. Mr. Kennedy said: "Now, I know Mr. Kennedy. His written word is also impractical. Sir Richard was very pleased, Mr. Rule told the judge. Scott Ragain, of EG Radio Marketing, said: "We're thrilled with the results.
Great Book

Derived From Web

, May 2, 2022

If you enjoy reading a good book, you must have this one. The benefit for me was being able to reflect on my own life and find areas where I could improve, he said. He has three kids that are all under the age of 6. Clear and Simple: The Whole Nine Yards provides a clear and logical framework for dealing with life's challenges. Thanks to Coach Prager, I am able to live a positive life. Inspirational quotes.
Dennis Prager makes the "Wisdom" go down in delicious bites. I loved it!

Derived From Web

, May 2, 2022

Dennis Prager is everything they say about him on the back cover: witty, irreverent, and always in the right place. At the end of each chapter, I liked the way he divided the books into three main headings and, at the end, I found a comprehensive Index in the back that was very helpful. The book is also called The Human Nature Repair Manual. Dave Istomin's new book, "No Limits," was also released today.
"There must be a better way to go through life than having to be ...

Derived From Web

, May 2, 2022

There must be a better way to go through life than having to be dragged kicking and screaming, Mr. Saltzman said. Happy people usually want everyone else to be as miserable as they are.
A different perspective

Derived From Web

, Jan 5, 2022

There are some difficult concepts laid out in this book. Concepts that you've experienced if you've ever been to foreign countries. Concepts like "meaning" and "connection" create happiness, he said. Expectations, insatiable wants and accumulating more wealth and possessions do not. The book is written in English, so it will be difficult for many readers to grasp. The pros this book is honest, and it is correct, Morgenthau said. The book outlines nine strategies that can help you create lasting happiness. I love the irony of this book, Raymond said. An important principle of the book is that happiness isn't a product of more "stuff" than exists, Raymond said. Now I will give it to a young person and hope that they will read it, then give it to a friend.
Fantastic book. Timeless. Great gift.

Derived From Web

, Jul 28, 2021

Great for all ages. We all need a little more happiness, Raymond said.