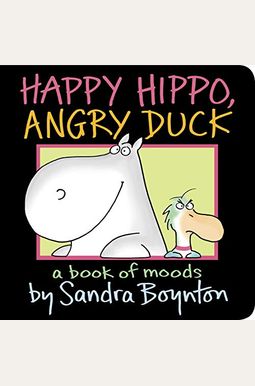 
 
Happy Hippo, Angry Duck: A Book of Moods
Book Overview
Are you HAPY AS A HIPO?
Or ANGRY AS A DUCK?
Maybe SAD AS A CHICKEN?
(Can you sadly say CLUCK CLUCK?)
Bestselling author Sandra Boynton is back in this all-new board book about moods. Boynton's clever animals exemplify a wide range of emotions in this hilarious story about different feelings. Young readers are sure to giggle as interactive text asks them if they are grumpy as a moose or excited as a dog? Maybe they're worried as a rabbit or contented as a frog? This new Boynton board book covers the first concept of moods with her charming, trademark sense of humor.
Frequently bought together
Frequently Asked Questions About Happy Hippo, Angry Duck: A Book of Moods
Book Reviews
(17)
Did you read Happy Hippo, Angry Duck: A Book of Moods? Please provide your feedback and rating to help other readers.
Very cute illustrations

Derived From Web

, Apr 20, 2022

This book is really cute! I bought this for a friend who has two children, one is 5 and just mastered the sounding out words, the other is about to turn 2! The illustrations are really cute and the book is nice and sturdy. The pages are pretty thick, and since her two year old likes to pull things down, I always look for books that would be difficult to destroy to pieces! It got here quickly and safely. I think they're really going to enjoy it, and if they do, I'll definitely be back for more! ''
A fun family favorite!

Derived From Web

, Apr 20, 2022

I have always loved Sandra Boynton books, and this one is no different! My 1 12 year old loves the silly illustrations and the snarky humor found in them. It has also helped her to express her emotions more clearly to us - we ask her if she's a happy chicken or a sad hippo all the time, and it brings a smile on her face as she mimics the moods of all the animals in the book! Definitely a family favorite!
Not good for learning about emotions

Derived From Web

, Apr 20, 2022

I did not really enjoy this book and neither my toddler did. The pictures really don 't teach them about emotions since the characters are animals. The author should have made their facial expressions more apparent. My toddler is not really interested in this book and whenever I read it to her, she gets in a weird mood and starts saying no. When she gets older and starts to learn to read, she will hopefully learn to like this book when she gets older.
Teaches an AWESOME (and important) message to your youngster, and you'll get a kick out of it too!

Derived From Web

, Apr 20, 2022

I can 't love this book enough ; it is mine and my wife's favorite books for the baby. It is pretty hillarious and has such a sweet message about how it is OK to have different moods - good, silly, angry - because they'll pass - and no matter what, those who love you will always be there for you. Now you can buy it seriously!
Great books for little ones

Derived From Web

, Apr 20, 2022

We love Sandra Boynton books - very simple but perfect for little ones. This book of moods helps illustrates the different moods that your little one will go through. Her books allow for singing and voices of the different characters - we are fans!
Introduces emotional vocabulary.

Derived From Web

, Dec 10, 2021

It is a good book to teach emotional vocabulary to your babytoddler. The emotions have accompanying illustrations that show what the emotion looks like, thus teaching the child to communicate the emotion they are feeling. In addition to that, I like that the book holds " space "... Emotions are okay to feel, and we are here for you while you feel them.
My Daughter love the book.

Derived From Web

, Oct 13, 2021

My daughter loves the book. I can not say much yet about education of the moods, but she enjoys the cute animal characters!
good but has an imaginary creature in a book of mostly real animals

Derived From Web

, Aug 28, 2021

This book is fun, but I wish they thought of something else for are you frazzled like a frazzled thing... i'm not sure what the rest of the book is all animals and then there is just one thing that doesn 't fit for me. My toddler is at the, what is that? The stage makes it harder and it is more.
Fun book

Derived From Web

, Oct 28, 2020

We're big fans of Sandra Boynton, so we had to have this one as well. I loved this book, but my daughter isn 't as enamored. Might be just the age, she turned two, or I may have just too many books. She does let me read it, but she doesn 't yet seek it actively. But the board book is strong and we love Sandra's other books.
Love our Boyton books!

Derived From Web

, Sep 25, 2020

This is great! I love how it addresses that moods change and is okay! It is sometimes okay to be grumpy and it will pass!