OUR BIGGEST SALE EVER - SAVE 20% AT CHECKOUT WITH CODE CYBERBOOK. Learn more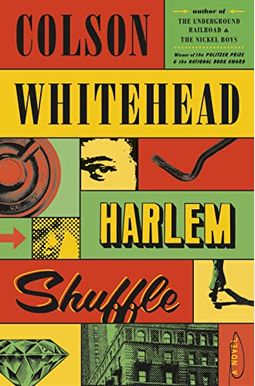  
Book Overview
From the two-time Pulitzer Prize-winning author of The Underground Railroad and The Nickel Boys, a gloriously entertaining novel of heists, shakedowns, and rip-offs set in Harlem in the 1960s.
Ray Carney was only slightly bent when it came to being crooked. To his customers and neighbors on 125th street, Carney is an upstanding salesman of reasonably priced furniture, making a decent life for himself and his family. He and his wife Elizabeth are expecting their second child, and if her parents on Striver's Row don't approve of him or their cramped apartment across from the subway tracks, it's still home. Few people know he descends from a line of uptown hoods and crooks, and that his fa ade of normalcy has more than a few cracks in it. Cracks that are getting bigger all the time. Cash is tight, especially with all those installment-plan sofas, so if his cousin Freddie occasionally drops off the odd ring or necklace, Ray doesn't ask where it comes from. He knows a discreet jeweler downtown who doesn't ask questions, either. Then Freddie falls in with a crew who plan to rob the Hotel Theresa--the Waldorf of Harlem--and volunteers Ray's services as the fence. The heist doesn't go as planned; they rarely do. Now Ray has a new clientele, one made up of shady cops, vicious local gangsters, two-bit pornographers, and other assorted Harlem
Read More chevron_right
Frequently Asked Questions About Harlem Shuffle
Book Reviews
(7)
Did you read Harlem Shuffle? Please provide your feedback and rating to help other readers.
Harlem Shuffle

Karen Weiss

, Oct 5, 2022

Whitehead has created another compelling story, like Underground Railroad. His characters are multi-dimensional and the settings are true to life. He cleverly interwinds the real events happening in New York City at the time. I couldn't put it down.
sucks you in

Derived From Web

, Oct 16, 2021

I was hooked on a series of stories about a unique cast of characters, but it took awhile to get interested. The book is similar to a New YorkHarlem version of Elmore Leonard, but the characters are more complex, with a setting at a time when the crusade for civil rights was beginning to get a foothold. The race riots in New York were a foretaste of the slide that would not be reversed for twenty years. The author treats his characters with respect and in the end it is an old fashioned tale where the players mostly get their just desserts. This book will be an evocation of the city's savage beauty and one of the main characters is the city itself.
Not his best effort

Derived From Web

, Sep 24, 2021

The Underground Railroad and the nickel boys are two of my favorite books. This one wasn't much at all. It was a deep dive into the life of a black businessman trying to make a go of it, improve his and his family's life, and juggle all the corrupt players with his hands out. He didn't make a character that I wanted to follow. I liked his wife the best, and she was only a peripheral player. I gave up after I pushed through 80%. It wasn't enough for a draw after the sting and revenge.
Harlem of the middle of the 20th Century told through the lens of a crooked furniture store owner

Derived From Web

, Sep 20, 2021

The Harlem of the mid-20 th century is brought to life through the lens of a furniture store owner who deals in stolen goods on the side. A cast of denizens not to be believed but told with vivid descriptions to bring them to life was illustrated with what life was like in Harlem in the 1950s and 60s. The description of how things worked as pimps, pushers, and low- lives attempt to make their way in their black culture with occasional inroads from whites is woven into the story of Harlem. I highly recommend it to you because I loved it.
Disappointing

Derived From Web

, Sep 19, 2021

The author has two previous books that I rated five stars. I slogged through it. I agree with the reviewers who said that the descriptions of Harlem are rich and interesting. I liked the flawed character of the main character. The story didn't grab me after the first third of the book, but I was glad to put the book down.
good writing -bad book

Derived From Web

, Sep 18, 2021

There is no doubt that the author is a great writer. The characters were well developed and he is a joy to read. Why is there one star? I stopped reading after about a third of the book. There isn't a cohesive narrative. He is telling a story The beginning and end of a story is what it should be. I don't care about the end if there is one because this one had a beginning and a big mess. Michael Connelly wrote a book about Harry Bosch. Whitehead is so superior as a writer that he isn't in the same class as Connelly. The narrative was sustained. He told me a story and didn't just put together pages of good writing. I will read another book by him.
Slumming

Derived From Web

, Sep 17, 2021

The son of wealthy parents in NYC, educated at a highlyselective prep school and then Harvard with a white wife will tell you about the struggles of being black, slavery and shuffling in Harlem.