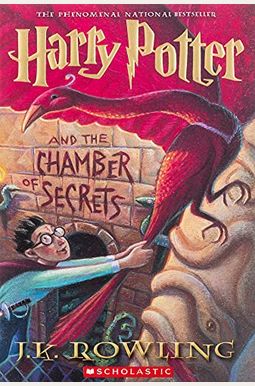 
 
Harry Potter And The Chamber Of Secrets
Book Overview
This Description may be from another edition of this product.
This special edition of Harry Potter and the Chamber of Secrets has a gorgeous new cover illustration by Kazu Kibuishi. Inside is the full text of the original novel, with decorations by Mary GrandPr .

The Dursleys were so mean and hideous that summer that all Harry Potter wanted was to get back to the Hogwarts School for Witchcraft and Wizardry. But just as he's packing his bags, Harry receives a warning from a strange, impish creature named Dobby who says that if Harry Potter returns to Hogwarts, disaster will strike.
And strike it does. For in Harry's second year at Hogwarts, fresh torments and horrors arise, including an outrageously stuck-up new professor, Gilderoy Lockhart, a spirit named Moaning Myrtle who haunts the girls' bathroom, and the unwanted attentions of Ron Weasley's younger sister, Ginny. But each of these seem minor annoyances when the real trouble begins, and someone -- or something -- starts turning Hogwarts students to stone. Could it be Draco Malfoy, a more poisonous rival than ever? Could it possibly be Hagrid, whose mysterious past is finally told? Or could it be the one everyone at Hogwarts most suspects. Harry Potter himself
Frequently bought together
Frequently Asked Questions About Harry Potter And The Chamber Of Secrets
Books like Harry Potter And The Chamber Of Secrets
Book Reviews
(15)
Did you read Harry Potter And The Chamber Of Secrets? Please provide your feedback and rating to help other readers.
Huge fan

I was able to replace all my softcover Harry Potter books with hardcovers thanks to SecondSale!
Book review

Aaren Williams

, May 17, 2022

This book was so good!!! It was also in great condition! Love this website.
wizards

strange going ons at Hogwarts
Harry Potter

I bought this book and the whole Harry Potter series! I have always loved these movies, and it was awesome getting all of the books at such a low price!
Beautiful book but unfortunately, typos and design mistakes over content

Derived From Web

, Nov 14, 2021

This review is for the MinaLima edition. If this is the first approach to the text, I would strongly recommend going with a different version. Some of the design choices make it hard to read the text in some pages. The Chamber of Secrets edition is not a cheap one, so it is difficult to find typos and design flaws in it. It's worth it for the overall design but I wish more attention was paid to the text.
Stunning

Derived From Web

, Nov 11, 2021

The media could not load. This is beautiful. This is a wonderful addition to my collection of HP books. It is just stunning and there is so much detail. The book is a great way to get your kids involved with HP. It is interactive and fun with art to keep them interested.
Simply incredible.

Derived From Web

, Nov 7, 2021

The new version is stunning, and my kids are more fond of it due to the moving parts and lifting flaps. The adults love the Jim Kay illustrated version but these are also amazing. Two different styles of illustrators convey the magic of these books. I cannot wait for the rest to be done.
Love the Mina Lima series!

Derived From Web

, Nov 4, 2021

The book is gorgeous! I own two different illustrated copies of the book. My favorite version is Mina Lima. The book is well made and contains delicate designs. I wouldn't recommend for young children due to the delicacy of the pages. Do it if you are on the fence about buying it. This will be a collector's item for a long time and the cost is worth it.
Brilliant bit of book design

Derived From Web

, Oct 28, 2021

The Harry Potter edition was designed by Minalima. Chamber of Secrets is similar to the standard of the SorcererPhilosopher's Stone in that it features interactive paper elements and unique design touches. It captures a bit of the magic of Harry Potter in a special way and feels like it could be found in the library at Hogwarts. This is a great addition to the collection of fans of the series. For people on the fence about the series, this could be a way to find their way into the world of magic. I eagerly await the other volumes in the series.
Beautifully crafted

Derived From Web

, Oct 27, 2021

The amount of detail in this book is as good as the first, looking carefully crafted with love for the universe and work they were doing. The first one has some of my favorite interactive pop ups, but the illustrations are more wonderful. A huge thanks to the creative at Mina Lima for bringing so many unforgettable moments in this book to further life in a way that the big screen can't capture and can only be held in a book! I got it for my niece, but I will have to get myself one later on as a collector's item. There is some blood and scary bits brought to life, but surely nothing a Harry Potter loving kid has not seen or read. Mina Lima does a good job of making things safe.