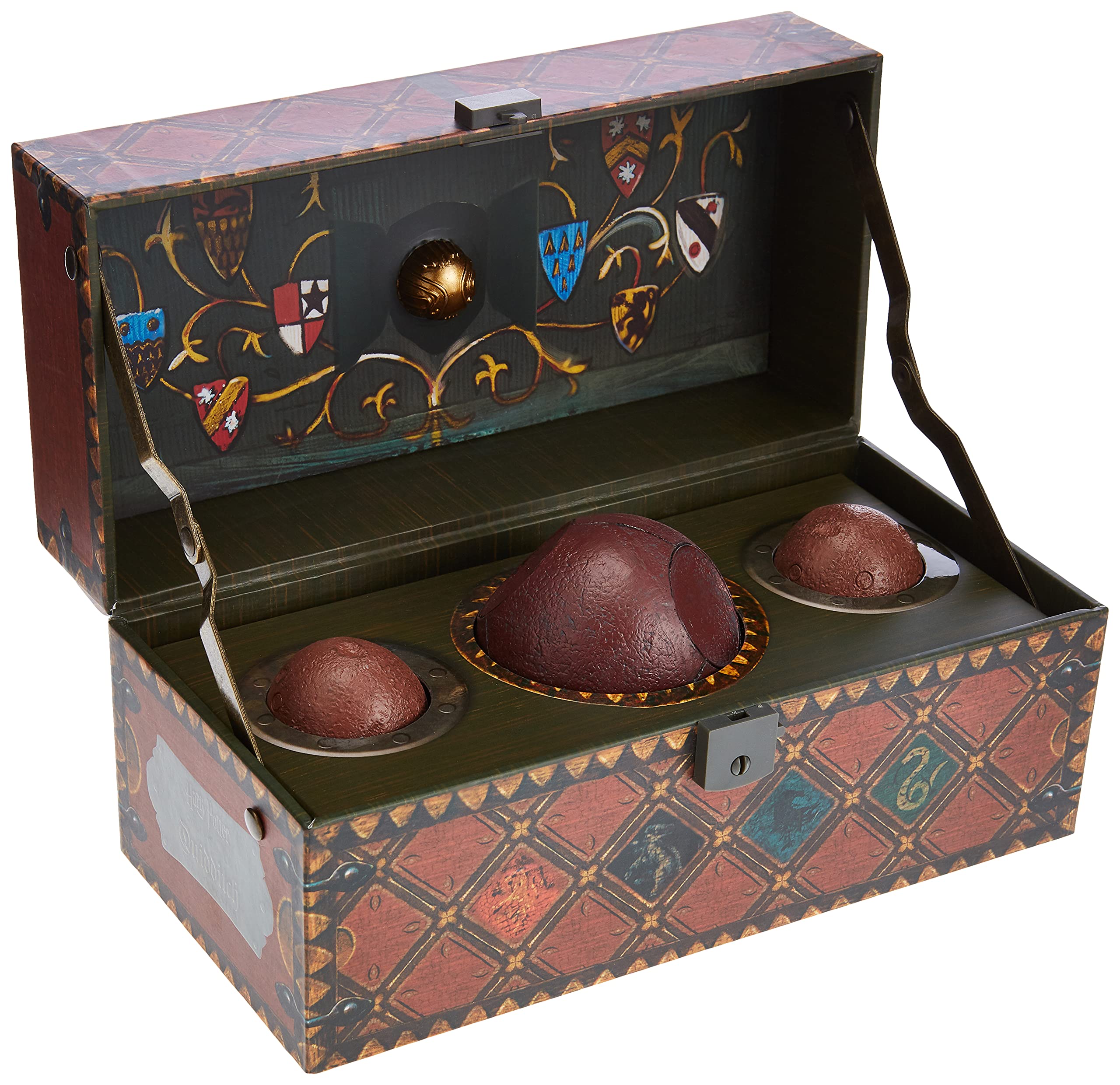 
 
Harry Potter: Collectible Quidditch Set
Book Overview
Collect your own one-of-a-kind keepsake replica of the Quidditch trunk, complete with bludgers, quaffle, and snitch
Set includes:
1 Quaffle
2 Bludgers
1 non-removable Snitch
16 x 24-inch full-color poster
All packaged in a Quidditch trunk which doubles as a keepsake box, complete with lock and key

Frequently Asked Questions About Harry Potter: Collectible Quidditch Set
Book Reviews
(16)
Did you read Harry Potter: Collectible Quidditch Set? Please provide your feedback and rating to help other readers.
If you know what your are buying, you will enjoy this.

Derived From Web

, Apr 20, 2022

This is actually really cute, Mr. Booher told us. It's not the best material, but it's still better than I expected. It's a pretty good collectible size, said Bustamante. It makes me happy to add it to my collection, Tunick said. The keys are on the poster and the rest are tucked under the balls. It's a little bit of a challenge to remove the inner box, because it's a tight fit, he said. Bad reviews aside, for those leaving them because the snitch doesn't have wings, have you seen the movie? The wings won't expand until they are removed from the box. In the movies, Harry is given the snitch to keep. No wings, Tunick said. It's a really cute little thing, Mr. D'Antonio said. If you are looking for a life size, perfectly made set, you are going to have to spend a lot more money. This will fit nicely on a shelf or dresser, look nice and won't take up too much space, Mr. D'Antonio said.
A beautiful peice

Derived From Web

, Apr 20, 2022

It's great to see so many quidditch fans, Mr. D'Antonio said. Husband bought me these for display on my desk. He also praised the quality of the work. It's made of thick cardboard and has beautiful painted designs on it. The shoulder is about 7 1/2 inches long and 5 1/2 inches high. The dice are mounted on top of a thick cardstock display. Simply remove them, or they will reappear in their place. The stem is about the size of a small plum. The snitch is attached to the lid of the trunk and is unable to be removed. It has a lock and a key, too. It's an upscale collectable for a small price and a great present for any Harry Potter fan.
Bigger than I thought, but works well...

Derived From Web

, Apr 20, 2022

Even though I love the trunk, it's too small, so many complain. Some running Press products were smaller than expected, so I was surprised at the size of this. Although it was bigger than I was expecting it still works well for displaying Harry Potter and the rest of the Funko players.
Beautiful quidditch display piece, perfect for Harry Potter fans (NOT playable quidditch set)

Derived From Web

, Apr 20, 2022

The product description says it is "designed to help people with mobility problems." This isn't a playable quidditch set, and for anyone who thought they could buy a full sports quality quidditch set at $18, it's just too good to pass up. The box is sturdy with a nice matte finish and metal accents for the hinges, locking with a plastic latch that can be locked with a set of keys. It has a hand painted look on the lid, and the balls themselves are a good, heavy weight. The bozzetti is made of the same material, but the quaffle is larger, about baseball size. The snitch is attached to the back of the box.
Wonderful replica piece.

Derived From Web

, Apr 20, 2022

It's an adorable little display collector's item that is going to look great in my office, Tunick said. Even with the discounts, I knew I was in no way going to get a full size kit. Mr. Kennedy said: "I'm very happy with the outcome of the inquiry. The only issue I have is that the poster that should have been included wasn't inside. I'm very pleased with this purchase and can't wait to display it in my office, Mr. Dhaliwal said.
It's ok

Derived From Web

, Dec 29, 2021

Television images could not be loaded. It's just that I thought it was bigger but it's ok. The boxcar was not properly closed and the rails on the side were lost, he said. You get what you pay for, Tunick said. It's too late to return it as it was a late delivery, so the gift will have to do. If you're never going to close it, then it should be fine, Mr. Rule told the judge.
Love it

Derived From Web

, Jan 15, 2021

It was a great Christmas present for my son, said Jennette. Novelty item. The insert is cardboard and I would say its a little cheap so if you want something to display and play with I dont suggest that with this just because the wear and tear on the cardboard holds them in place would get ruined pretty quickly. Still, I would also like to point out to the company selling this that they should probably remove the price tag on the back since they are selling it here on Amazon for about 40. Yes, I'm still okay with it as it is a wonderful piece of work, just saying.
Item Broken when I opened the box. Missing the keys and poster too.

Derived From Web

, Dec 21, 2020

The product arrived with a broken lock on the face, the source said. It's great to be back home, said Blair, "but Harry is the one who really made this happen." Ironically, I bought this as a birthday present for my nephew, who is a die-hard fan. It's broken, and we don't know what's next. It's missing the key and the poster, too.
Small/ missing parts

Derived From Web

, Oct 18, 2019

It's very small, Raymond said. The item is shown in the photo next to a floss dispenser. The item was reported as having disappeared from the Hogwarts classroom, but the teacher later found it had been replaced by a "lost or stolen" quidditch ball. I have come back, Sir Richard said.
Over all it's ok but not impressive,,kind of on the toyish look

Derived From Web

, Jun 10, 2019

The box was a good size, but it's not wood, it's a hard-backed cardboard box, the two smaller balls were not removable but the center big one is.