Buy 3 Get 1 Free
Our Best Sale Yet! Add 4 Books Priced Under $5 To Your Cart Learn more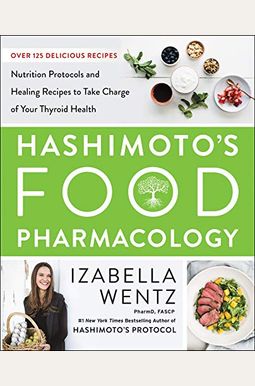 
 
Hashimoto's Food Pharmacology: Nutrition Protocols And Healing Recipes To Take Charge Of Your Thyroid Health
Book Overview
One of the pioneers in understanding and treating Hashimoto's Thyroiditis and author of the #1 New York Times bestseller Hashimoto's Protocol returns with a proven nutritional lifestyle guide for treating this autoimmune condition, featuring 125 recipes, meal plans, and 100 full-color photographs.

Hashimoto's Food Pharmacology is a step-by-step guide for replacing medication with healthy habits and delicious food that will help you revitalize your immune system. Izabella Wentz's plan has successfully transformed the lives of thousands of women, and now she can help countless more suffers heal their bodies and live free from devastating autoimmune disease.
More than 35 million Americans suffer from Hashimoto's--the country's fastest-growing autoimmune disease, which affects the thyroid gland and causes the body to attack its own cells. Many individuals--with or without a formal diagnosis--suffer symptoms daily, including chronic cough, acid reflux, irritable bowel syndrome, allergies, persistent pain, hair loss, brain fog, and forgetfulness. Expanding on her #1 New York Times bestselling program that has reached hundreds of thousands of women all over the world, Hashimoto's Food Pharmacology features:
125 nutritious and tasty recipes for salads, smoothies, bone broths, as well as dishes for the crockpot and Read More chevron_right
Frequently Asked Questions About Hashimoto's Food Pharmacology: Nutrition Protocols And Healing Recipes To Take Charge Of Your Thyroid Health
Books like Hashimoto's Food Pharmacology: Nutrition Protocols And Healing Recipes To Take Charge Of Your Thyroid Health
Book Reviews
(15)
Did you read Hashimoto's Food Pharmacology: Nutrition Protocols And Healing Recipes To Take Charge Of Your Thyroid Health? Please provide your feedback and rating to help other readers.
A great resource I recommend for my patients!

Derived From Web

, Jul 27, 2019

My patients find the recipes easy to make and take the guess work out of the age old question, what can I eat? With the framework of autoimmune disease such as Hashimoto's, food is the foundation of informing our immune system. In our practice, Nature Cures Clinic, we've always addressed diet first. I love that Izabella one diet doesn't fit all and has three options to get you started putting food first where it should be in any treatment plan. The book is beautiful, great photos of the meals, and laid out well to follow along! Thank you, Izabella, for a wonderful resource for my patients.
Nightshades throughout book

Derived From Web

, May 14, 2019

All her recipes have nightshades so if you have introduced great food you will enjoy the book if not buy the book. The differences are that the other information is the same and in her other books or online course.
Love this book!

Derived From Web

, Apr 17, 2019

I really enjoyed this book, and I'm going to have to read more. Hashimoto's diagnosis for nine years and haven't really done anything with it other than take Synthroid, the doctor says. Half my hair has fallen out and I never feel good. Two weeks of making these recipes and going gluten and dairy free and I feel so much better already! It's a little confusing on which is the best plan to go with, Sosa said. Paleo, or Autoimmune? So I just decided to combine them all and just go gluten-free, dairy-free, right now. Can't wait to see if my hair starts growing back! Some of the recipes are not that clear, as far as I'm concerned. And maybe the layout of the recipe book could be a little bit better in order to find things when you want to. If you enjoy the author and all her helpful tips, please let her know. Nice to hear it from someone who is walking on the road, Mr. Dhaliwal said.
Disappointing

Derived From Web

, Apr 1, 2019

Very disappointed. She has written a book that not only includes two other diets, but all the recipes are mixed together. She does a two week diet plan for each, but no grocery list, so you are back flipping and forth trying to figure out what to buy to cook these recipes. The recipes are not compiled per diet, but mixed together so again, more flipping back and forth. Completely frustrating. I can't answer for the taste of the recipes as I closed the book and put it aside.
A must-have book for anyone with Hashimoto;s

Derived From Web

, Mar 29, 2019

I absolutely LOVE this book. Izabella does a fabulous job of explaining Hashimotos and the principles and science that support her healing through nutrition approach. She explains the concepts behind them in more detail. The information in this book is extremely useful and I highly recommend it to anyone. It goes well beyond medical advice. As an integrative health coach and person with Hashimoto's, I know firsthand how powerful and life-changing this material is. Izabella takes a difficult subject and breaks it down into easy, manageable steps. I just started trying the healthy recipes and so far they are delicious, I must try them again. I am dairy and gluten-free and can eat all the recipes, yay! Easy to follow directions and the photographs are beautiful. I can't wait to try new things. Now I am recommending it to all my clients who have Hashimotos and people with other autoimmune conditions.
An incredible resource for those wanting to become the CEO of their own health.

Derived From Web

, Mar 29, 2019

Izabella Wentz is one of my favorite authors and healers. This gorgeous book is for everyone, not just those with Hashimoto's. Inflammation is not only at the root of Hashimoto's, it's at the root of all chronic disease. The book is your go-to resource for reducing and eliminating inflammation, and your incredible healing journey begins with food. Assessments, along with different types of healing diets to support you where ever you are right now. In this book, Izabella teaches you how to use food as medicine to heal, and provides delicious recipes using real anti-inflammatory foods. You'll never feel deprived because you'll find so satiated and balanced. Enjoy this beautiful book, and share it with your family and friends. We all need to learn how to take charge of our health, and this incredible book will help you do just that.
finally a book that works for me!!

Derived From Web

, Mar 28, 2019

I have bought numerous cookbooks over the years, paleo, mediteranean and this and that—and based on my genetics, my food sensitivies and my thyroid health, I always end up a little deflatted. But this book, by far my favourite, finally a book for me!!! Great first recipe, bison meatballs, so good. The little notes in the book, so helpful, like random comments that fennel can be aggravating for autoimmune issues, are just that. Never knew. I have not read the first part of the book, but will get there soon.
If you've got lots of time & money...

Derived From Web

, Mar 27, 2019

I preordered this book and got it delivered on its release date because I had such high hopes for it. I wanted to love it. But I'm not sure it will work for the average, working person. To follow the meal plans, you will need to set aside a significant portion of your day to cook. In today's Intro to Week, we're going to have literally hours of prep and cook time. Several recipes, in addition to the daily morning smoothie, require a scoop of a specific Rootcology protein powder, which sells for $40 on Amazon. Obviously at this price point, it may not be feasible for many people's household budget, especially if you're a mom who is having to increase the recipe sizes to feed a big family. It's just not the best solution for a busy, working middle class family.
I couldn't wait to get this book!

Derived From Web

, Mar 27, 2019

I am very happy to have this book. The first couple of chapters goes into detail about the importance of nutrition, addressing nutrient deficiencies, the use of enzymes, testing and other tips and tools to help heal my Hashimotos. The recipes seem very user-friendly, which is great as I am not a chef nor do I like to spend hours in the kitchen. She gives tools, tips and meal plans so that you know how to get started. All of the ingredients are also easy to find in stores so I'm not searching for some strange ingredients that I have never heard of. Thanks Dr. Wentz for the introduction, I am very happy to add this to my collection of your books.
A must-have for people with Hashimoto's

Derived From Web

, Mar 26, 2019

The customer service was excellent, he said. In her book, Izabella offers super easy meal plans which are easy to implement along with any comprehensive diet you may be following. This book will also help you understand how to approach your symptom burden common in people with thyroid disease through the use of healing foods that are nutritious and delicious. The pictures are stunning and the recipes are delicious. As a nurse-nutritionist who works exclusively with women with Hashimotos, I am recommending this book to all my clients.