Buy 3 Get 1 Free
Our Best Sale Yet! Add 4 Books Priced Under $5 To Your Cart Learn more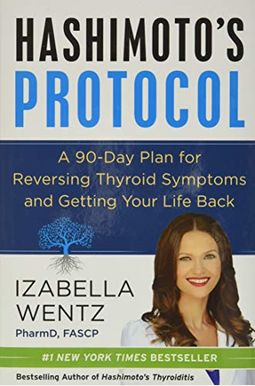 
 
Hashimoto's Protocol: A 90-Day Plan For Reversing Thyroid Symptoms And Getting Your Life Back
Book Overview
More than thirty-five million Americans currently suffer from Hashimoto's--the country's fastest-growing autoimmune disease, which affects the thyroid gland and causes the body to attack its own cells. Conservative estimates state that one in five women will be affected by Hashimoto's or another thyroid disorder at some point in their lives. And many individuals who suffer the daily symptoms--including chronic cough, acid reflux, irritable bowel syndrome, allergies, persistent pain, hair loss, brain fog, and forgetfulness--of this debilitating disease may not even be aware that they have it. Even with a proper diagnosis, conventional medicine tends to treat Hashimoto's with an ineffective prescription for a synthetic hormone, ignoring the autoimmune implications of the condition. For all who struggle with the disease, this is a life-altering mistake.
There is a better way.
Diagnosed with Hashimoto's at twenty-seven, pharmacist Dr. Izabella Wentz knows firsthand the effects of the disease. Drawing on her personal experience, her work with thousands of patients, and multiple years of research, Hashimoto's Protocol delivers a much-needed accessible lifestyle intervention for identifying, healing, and reversing the autoimmune damage at the root of the condition. This is the first comprehensive program of its kind and it has already helped Read More chevron_right
Frequently Asked Questions About Hashimoto's Protocol: A 90-Day Plan For Reversing Thyroid Symptoms And Getting Your Life Back
Books like Hashimoto's Protocol: A 90-Day Plan For Reversing Thyroid Symptoms And Getting Your Life Back
Book Reviews
(13)
Did you read Hashimoto's Protocol: A 90-Day Plan For Reversing Thyroid Symptoms And Getting Your Life Back? Please provide your feedback and rating to help other readers.
Changed my life

Derived From Web

, Oct 19, 2021

The book changed my life. At least I can understand these problems and have a plan for moving forward, he said. However, he said, Hashimoto's is complex. Doctors won't tell you the full story unless you ask. Simply put, no one can put a value on that. Thanks to everyone who wrote this, Izabella Wentz said.
Informative

Derived From Web

, Jan 4, 2021

The nurse practitioner was looking for clarification and understanding of how to care for my health. The information is plain and easy to understand, and the material is readily available.
Don't waste your money, Dr. Google can and will tell you more in less time!

Derived From Web

, Aug 7, 2018

If you are like most people who get diagnosed with a new disease, you see a few doctors and do a ton of research on your new crazy disease. Then you buy this book thinking this chick might tell you something new and useful. The disappointment will set in when you realize how horribly disappointed you were. She likes to repeat herself a zillion times, and then tell you that she will address this issue later and never really does. She also acts like she's been dealing with this issue forever and day, sometimes by herself, she said. Wait till you have kids and hit your 40s, then tell me how bad you got it sister! I got most of the way through the book _ because I could not read more than 30 minutes with the intention of gouging her eyes out of nothing. It's all about her $$$ supplements, Tunick said.
Although the doctor's recommendations are all helpful, solid and reliable...

Derived From Web

, Apr 12, 2018

Although the doctor's recommendations are all helpful, solid and reliable, most of which I had been following before reading this book, there is too much extraneous repetition that is boring and redundant. Ms. Wentz pointed out that Hashimotos to the adrenals, which is an absolutely critical piece of information I have seen nowhere else.
Works for me! 85% reduction in Hashimoto's numbers!

Derived From Web

, Nov 30, 2017

After 6 months, the lab work shows an 85% reduction in Hashimoto's antibodies and perfect thyroid function. 40 lbs. It feels good to be back to normal.
it was getting worse. I thought I was lazy as well as ...

Derived From Web

, Oct 31, 2017

It was taxing to take deep breaths, and I had been ill for years, palpitations, weakness, fatigue, shortness of breath, dizziness, it was getting worse. When I was younger, I thought I was lazy as well as not want to do much of anything. It never occurred to me all this had anything to do with my thyroid, bio-balances, and inflammation, she said. I saw the docuseries Broken Brain which is how I discovered Dr. Wertz. I listened to her interviews and I decided to purchase her book, she said. Between what I learned in the docuseries and this book the supplements and change in diet and changed my life and future, Thibault said. Dr. Wertz has created a user-friendly, easily readable, comprehensive and well-organized plan of action that will improve the quality of life for seniors.
Over come your Hashimotos with Dr. Wentz' advice

Derived From Web

, Oct 2, 2017

Dr. Wentz is a true genius at dealing with Hashimotos. This book has saved my life and finally helped me uncover my cause, which was blastochondritis, a parasite infection! But I started out with a devastating and confusing diagnosis, one I never dreamed I could solve. I was trying to stay optimistic but didn't get what she meant to get your life back It seemed to me I was stuck feeling ill almost every day. Now I realize she was right and there are answers, Raymond said. It takes a lot of patience and diligence to take on this disease but if I can do it so can you! Good luck on your journey!
The perfect guide if you suffer from hosimoto's disease.

Derived From Web

, Sep 14, 2017

If you have them, you must have at least one copy of this book. Health Canada has information about why and how to stop all the horrible side effects of Hosimotos in the 1st place, U.K. citizens can take preventative measures to minimize the impact of the disease. I am losing my hair and have taken some of these steps which have allowed for less hair loss, Bruno said.
Has many good things to offer. Not realistic for many.

Derived From Web

, Aug 1, 2017

The book is a good read, Levine said. However, my friend and I both have Hashimotos, and we cannot follow the protocol. There are many people with autoimmune issues who have digestive problems. However, I am not using the protocol recommended by the doctor because I am double over in pain. It looks like it's going to try and go backwards again.
Very Helpful!

Derived From Web

, Jul 21, 2017

This book hands down is the best out there currently for anyone suffering with Hashimotos. The book is extremely detailed and user-friendly, making it an excellent introduction to the game of chess. It's a lifesaver, Mr. Rule told the judge. I own many books dedicated to thyroid issues, but this one stands out. However, time will tell if I can put this into remission and at least thanks to this book I have the tools to try. Instead of the path of thyroid med dose increase, he said, "it's more like a slow burn." Thanks for the book and recommend it to anyone else suffering. Thanks for the support. Update 8/14: I have reduced my antibodies to 230318 from 1200. I'm not in remission of course, but I would say that's winning for me. Feeling better, have lost weight and my skin is beaming, she said. Yes, I'll take it. Now that we're here, baby steps and looking forward to what the future holds. I've re-read the book a few times because it keeps me on course, he said. It's a reminder not to stray from the habits that left me inflamed to begin with.