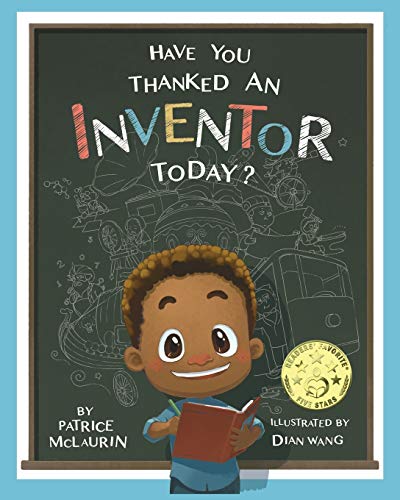 
 
Have You Thanked an Inventor Today?
Book Overview
Have You Thanked an Inventor Today? is a journey into the often forgotten contributions of African-American inventors, that contributed to the American landscape. This book was written to appeal to African-American youth, inspiring creative thought and innovation. It was also written to demonstrate to children how the genius of African-American minds is utilized on a daily basis. Biographies about each inventor, as well as activity sheets are included in the book to further stimulate the minds of young readership.
Frequently bought together
Frequently Asked Questions About Have You Thanked an Inventor Today?
Books like Have You Thanked an Inventor Today?
What should you read after Have You Thanked an Inventor Today? Book? Here is a list of books to read if you read and loved Have You Thanked an Inventor Today?
Book Reviews
(9)
Did you read Have You Thanked an Inventor Today?? Please provide your feedback and rating to help other readers.
didn't love it

Derived From Web

, Feb 15, 2022

I choose this book to read to a pre- kindergarten class for the black history month. I was surprised at how dated some of it seemed. Two examples are showing just the child waking up, making breakfast and packing lunch, and I don 't know many children who use old-fashioned alarm clocks. I liked the beginning and ending of the book and thought the riddles and original choices and ideas for multiple inventions were all great.
Every invention is a lie

Derived From Web

, Nov 29, 2021

If this were a book filled exclusively with black people taking credit for white people's inventions, it would be called racist. Not a single item listed was invented by the black person, the author claims. A white man did not invent cell phones, the fridge or traffic lights, black men did. Then there are black claims that black men invented doorknobs and locks, items that have existed for thousands of years. The method that the author tries to sneak this in is by using words such as modern or improved, in the other place she lies outright. 15 stars :
Great children's book

Derived From Web

, Feb 2, 2021

My six year old especially loved reading this and enjoyed the fun activities at the end of the book that helped solidify the names of some of the inventors that he learned just about! I would recommend this book for any family! We were especially excited to read this book to celebrate the black history month, I am sure it will be read many more times.
Inspirational

Derived From Web

, Sep 3, 2020

This book has been so inspirational to my family and I am sure to have many other readers as well. It is truly important, to know our history and to those who have paved the way to help our society grow and be strong. My little one always signs this book before bedtime and grabs the objects in the illustration to confirm who invented what. If I could give more than a five-star rating, I would. Patrice McLaurin and Dian Wang kindly acknowledged.
MUST GET FOR ALL YOUR BABIES, ESPECIALLY NEW READERS SO EASY AND FUN FOR PARENTS TOO

Derived From Web

, Jul 19, 2020

My kid stood under the ac and said : So glad they made it in the inventor - book and air conditioner! '' What was soooo coool is that he remembered the inventor and he remembered what he invented and how beneficial it was to do. He is associating inventions with people from all backgrounds, meaning its something that will naturally come for him to not assume that we weren 't part of creating things... He loved the book, very easy and fun to read, and fun to remember. I can 't say enough about this book except that it is a winner!
Great book

Derived From Web

, Jun 16, 2020

This is a very naughty book. My almost five-year-old son enjoyed this book. In the back there is a small biography section, some questions and riddles. I had no problems with the way the book was printed.
Beautiful book, vibrant pictures and great history !

Derived From Web

, Apr 23, 2020

I brought these books for my grandson library, which my daughter said brilliantly that she wanted to start a book collection! I love reading these and having my grandson order it with such pride as he should!
Great book with a caveat

Derived From Web

, Apr 11, 2018

My five-year-old son and I enjoyed reading the book. The illustrations are beautiful. I have noticed a factual error, as it pertains to the contributions of one of the inventors. Finding this error made me realize that I had to check the book completely.
Great Conversation Starter!!!

Derived From Web

, Aug 13, 2017

I can not say enough about this book! I learned a lot and loved it. A great conversation starter for your children to learn that the everyday things they use were invented by an African American inventor. I look forward to using it in my homeschool next year.