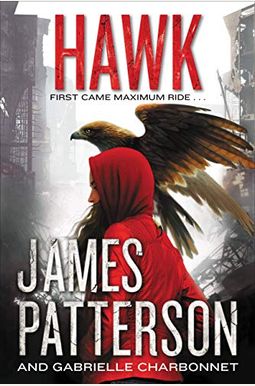  
Book Overview
This Description may be from another edition of this product.
Hawk Red Cloud lives by his own set of rules: Don't let them share the saddle, don't bring them home, and never spend the night. So far, he's managed to avoid commitment like the plague. Tildy Fletcher's parents set rules for her. She would never think of breaking them; she knows all too well what would happen if she did. Hawk and Tildy are from two different worlds, but there's no denying the attraction between them. The rules are designed to keep them apart. Will they be willing to break them for a chance at true love?Contains mature themes.
Frequently bought together
Frequently Asked Questions About Hawk
Book Reviews
(14)
Did you read Hawk? Please provide your feedback and rating to help other readers.
Didn't like

Derived From Web

, Jun 2, 2022

This author is not a very good read if you have to read for school good luck in lots of coffee!
An Intimate Look into the Soul of a Family

Derived From Web

, Jun 2, 2022

This moving saga carries the reader through the changing tapestry of events and emotions that punctuate the daily lives of the four-year-old Will Falke and his family. We are part of Will's most intimate experiences with Will, his parents, his sisters, and others he loves who love him. We feel the stinging pain of the lost eye, the poignant implications of memories, the depth of an anger that resists the release. In the family meadow, in the milk barn with sister, the library stacks with Miss Jones, the music captures us, the poetry engages us, the honesty speaks to us. William Wallis has written moments of sadness, fear, joy, and the simple but endearing love that binds the family and captures our hearts.
The art of Southern storytelling lives...

Derived From Web

, Jun 2, 2022

John Wallis'art of southern storytelling lives in William Wallis'; Hawk. The reader is drawn into the basic courage of a young Will with touching memories and haunting scenes. Bearable characters such as Alma, a kind and patient nurse who teaches Will to read. Ruth is Will's weak mother, who teaches him a love for classical music and singing. His gentle neighbor, Tyree, pays attention to him. Ray and his complexly cruel father, Compassionate, shape this narrative as well as the life of our protagonist. Throughout the story, the image of a wild hawk emerges to carry Will and the reader to a sense of freedom. Though each of our own memories is shared, they become personal. In this homage to a young boy who is trying to make his life feel good, we appreciate beauty and truth.
Growing up in Arkansaw in the 50's

Derived From Web

, Jun 2, 2022

Unresolved grief, guilt, pain, and sadness from family members play a large part in the young Will Falkes'life. Considering him a dreamer, his father's rages against him lead to unspeakable rages. Because of his poor health moments with his mother, Ruth, they are rare but precious. Will has his own pain from a split-second accident to his eye. Many strangers become friends, teachers and storytellers to the eager will. A savior to the family is Ray's sister Lennie. She understands and loves them all and helps a measure of healing. Ruth Lennie's relationship with Ruth is biblical, like Ruth and Naomi. Will's graceful soaring can escape from strife to a place of peace and quiet. Louise Martin Brown is a Brown.
The worst book on segregation I have ever read

Derived From Web

, Jan 28, 2022

I have no words for how poorly this book is written. As opposed to giving a voice to black lives extinguished by racism, Wallis makes their suffering all about himself. He endsangers them and at no point in this book does he realizes that it is not about him. This book is an insult to people who died from segregation.
I've loved this series since the 1st book.

Derived From Web

, Nov 25, 2021

I am excited and happy when the next book comes in.
Awesome Book.

Derived From Web

, Nov 1, 2020

I love the book series of James Patterson's Maximum Ride and this was a fantastic way to continue it. I hope there are more books coming soon.
Had to white out the Lord's name in vain many times

Derived From Web

, Sep 18, 2020

While the story is old and reminiscent of the good gang, the intelligence and depth of the characters are mired in the grossly unnecessary swearing that is thrown. We don't really need another book about teen anger and supporters that explain it away with that how they really talk. When they were younger, I read all the Maximum Ride books to our children and loved them. Such a shame that they won 't be able to continue with the new generation. I just feel that the intelligent writing I expected was lacking when more suitable exclamations could have been used.
Nice throw back, decent read

Derived From Web

, Aug 13, 2020

I loved the first 3 maximum ride books, and while I read the others that followed... they were not my favorite. In Hawk, you are kind of stuck with the world that the other books left you with, but I feel like it has a better story and it really brought me back to when I loved this series. I went back and read all the books in my past. I am interested to see where this new series goes and takes these characters, and I hope it can bring back more of what I originally loved from the first 3 books. I love to see characters grow up and change and its nice to see the flock now all grown up, I hope they do more with that and really develop them.
Same birds; same story line

Derived From Web

, Jul 13, 2020

3 STARS JULY 2020 Ten years ago, a girl with wings fought to save the world. She is now just a fading legend that is only remembered in stories. Hawk doesn 't know her real name. She does not know who her family was or where they went. The only thing she remembers is that she was told at a specific time to wait on a specific corner and her parents would come back for her. She's still waiting, I read all the bird books, but it was 10 years since the last book. In Part II, the old flock is brought into the story.
List of All Editions of Hawk