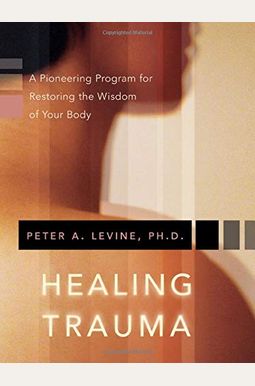 
 
Healing Trauma: A Pioneering Program For Restoring The Wisdom Of Your Body
Frequently Asked Questions About Healing Trauma: A Pioneering Program For Restoring The Wisdom Of Your Body
Books like Healing Trauma: A Pioneering Program For Restoring The Wisdom Of Your Body
Book Reviews
(9)
Did you read Healing Trauma: A Pioneering Program For Restoring The Wisdom Of Your Body? Please provide your feedback and rating to help other readers.
Great book, but don't buy it on Kindle

Derived From Web

, Feb 14, 2022

Don't buy it on the internet. The book is helpful and sensitive. The healing process depends on the exercises included in the book as a CD. You won't find a CD or link to these exercises when you get the Amazon device.
Practical information to those interested in trauma

Derived From Web

, Feb 14, 2022

I don't usually do book reviews because it's hard to balance giving a comprehensive analysis without running on and on. I really like this book and want to support it. I have been interested in how trauma plays a part in our brains and how this can be reversed. While not being as technical and more geared toward the lay population, I think this book is a good addition to the works of Van Der Kolk. It could be very helpful to anyone who is trying to recover from trauma.
Buy the book not the ebook

Derived From Web

, Feb 14, 2022

The book refers to a CD frequently, so I wouldn't recommend buying the ebook for this title. The CD is included with the regular book.
You must get this

Derived From Web

, Feb 14, 2022

This book is powerful. I have been in therapy for 15 years. My therapists realize that I have had a difficult past, but they don't get it about the pain and suffering I went through as a child. I don't want to take pills all of my life. Every therapist wants to help me by saying that I was neglected, starving, raped, and had scurvy as a child, and I need to get over it. You are an adult. Change your thoughts. This book gives me the knowledge and tools to move on. Well written and easy to understand. If you have been through trauma, you should buy this book for your therapist.
... have heard about for a while and about which good results are being reported

Derived From Web

, Feb 14, 2022

It's an interesting approach and I' ve heard about it for a while. This approach has promise for resolving and clearing out the shadow effects, after so many ' talk' solutions which have helped my thought process. Emotions freeze in the body and cause all sorts of issues unless and until they are expressed, and one can find a way to connect head to the rest of self. They have begun the process. The CD is very valuable. Hope is a great by- product.
it's basically a booklet

Derived From Web

, Jan 28, 2021

I didn't look at the page count before buying this, it's a pamphlet not a book. They don't include a CD in the book, they direct you online for exercises. Don't buy this, read The Body Keeps the Score, and do some research online. You can learn more about trauma release exercises.
NO AUDIO EXERCISES INCLUDED WITH BOOK

Derived From Web

, Jan 17, 2021

You use the audio exercises in this book. There is no audio recording. I did not have a CD. I can't even use this book well.
A Miracle for CPTSD!

Derived From Web

, Jul 31, 2020

I' ve been doing talk therapy for a long time. I' ve tried a lot of different things, including talk therapy, medications, and more medications. There wereSOLVED problems that I had been fighting for 2 weeks. It was a miracle for me. The book and its exercises gave me a new lease on life. I can't recommend it enough to anyone struggling with trauma. Mr. Levine, thank you very much. I will give you the biggest hug of your life if I ever meet you.
Good content but it requires a CD player

Derived From Web

, Jun 30, 2019

I don't recommend purchasing this program in this format unless you have an older computer. There are no options for a digital download with the CD. I had to pay for the second time to get access to the content. They booed hiss.