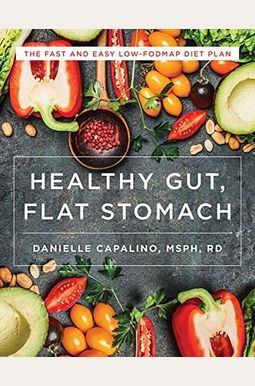 
 
Healthy Gut, Flat Stomach: The Fast And Easy Low-Fodmap Diet Plan
Book Overview
There are a lot of myths about beating stomach bloat and getting a flat tummy, but the FODMAP approach has been scientifically proven to work for both. FODMAPs are sugars found in certain foods that can be hard to digest, and can cause discomfort, gas, and IBS (irritable bowel syndrome) symptoms. Some of the most nutritious foods around are high in these sugars, frustrating people who eat well but still have tummy issues. Apples, garlic, onions, beans, dairy, bread, and cereals are on that list. It may sound complicated or far-fetched but the many converts who have tried the science-supported diet swear by it. In addition to useful everyday advice, the book includes:
The differences and similarities between this diet and a gluten-free diet
7-day sample menu plan with recipes
Simple and easy recipes for the basic items you need to adapt to fit into the low-FODMAP diet, including staples like salad dressing, marinade, and dips
Clear explanations for the science behind the low-FODMAP diet and why it works
Frequently Asked Questions About Healthy Gut, Flat Stomach: The Fast And Easy Low-Fodmap Diet Plan
Book Reviews
(15)
Did you read Healthy Gut, Flat Stomach: The Fast And Easy Low-Fodmap Diet Plan? Please provide your feedback and rating to help other readers.
If you buy one book for FODMAP this is it

Derived From Web

, Nov 3, 2020

This is a must have food sensitivities for all. The author walks you through the entire elimination process and how to reintroduce food. So very helpful, honestly wish I could hug her, it has changed my life. All these years, I thought I was allergic to dairy, nope onions, and honey, which made me aware of many other foods in that family to avoid also. And I have a new found love for scallions and garlic oil .
Good Reference

Derived From Web

, Sep 12, 2019

I was advised by my nutritionist to follow the Low FODMAP diet.
Informative Guide to Navigate the low-FODMAP Diet

Derived From Web

, Aug 2, 2019

I heard complaints that there were not enough recipes in this book. This is a guide to successfully implement a low-FODMAP - Elimination - Diet, test food intolerances and personalize your diet to reduce gastrointestinal symptoms of gastrointestinal distress. To this end, this book is an amazing resource. The author does include a few low-FODMAP recipes to give you a starting point, but the goal of this book, as I previously mentioned, is not to serve as a cookbook. If you are looking for an introduction and a systematic guide to the low-FODMAP process, I highly recommend this book.
Photos of Some Recipes Don't Reflect Actual Recipes

Derived From Web

, Apr 2, 2019

This book is OK justification. For example, the Nicoise salad shows a white salad containing boiled tomatoes and delicious potatoes. The recipe, however, lists neither of these ingredients in the ingredients. Not sure if they were accidentally left out or if a random stock photo was used for the recipe, but I think it is important that the photos reflect the actual ingredients of the recipes. What is the point in having the photos otherwise? Or if ingredients were left out of the recipe, then do a better job of editing the book before it goes to print.
Impressive

Derived From Web

, Jul 19, 2018

With a beautiful plus contains abundant large meals photos that inspire to cook .
Great Read for those With IBS

Derived From Web

, Jul 6, 2018

Educational, but repeats many things in other low fodmap Diet books.
Disappointing

Derived From Web

, Mar 28, 2018

I bought this book to set out healthy recipes that could help me with my IBS. Half the book is not recipes, but a textbook detailing and identifying a food map. There are SEVEN main '' recipes. I was really irked by this. The rest of the recipes are savory, breakfast and vegetable sides. It was just extremely disappointing. The author knows what she is talking about but the amount of money I spent on this book was expecting more recipes than a dietary lesson.
Recipes are incredibly basic and boring to eat

Derived From Web

, Oct 16, 2017

Good info, but don 't waste your money if you want good food.
Finally, enough Info!

Derived From Web

, Jul 28, 2017

This book is so much fun! was trying to start a fodmapelimination diet after a year of pain, but kept coming up short on enough information to feel comfortable enough to actually start one. This book finally gave me enough information about the foods that could cause me problems, why they cause problems and how to actually do the phase of the diet! Everywhere I was looking before gave me a list of no foods and yes foods with no explanation as to why or how I would ever try to reintroduce them! Finally, thanks so much for making it all clear to me! On my 3rd week of eliminating now, feeling better and hoping to start introducing food the next week!
Excellent

Derived From Web

, Jul 2, 2017

After being sick for 4 years, this book helped me greatly. It gave me a course to take to control my SIBO. For your research and book thank you.