Buy 3 Get 1 Free
Our Best Sale Yet! Add 4 Books Priced Under $5 To Your Cart     Learn more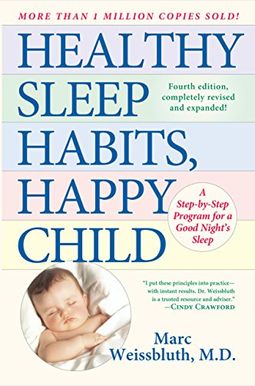  
Healthy Sleep Habits, Happy Child
Book Overview
This Description may be from another edition of this product.
The perennial favorite for parents who want to get their kids to sleep with ease - now in a completely revised and expanded fourth edition
In this fully updated fourth edition, Dr. Marc Weissbluth, one of the country's leading pediatricians, overhauls his groundbreaking approach to solving and preventing your children's sleep problems, from infancy through adolescence. In Healthy Sleep Habits, Happy Child, he explains with authority and reassurance his step-by-step regime for instituting beneficial habits within the framework of your child's natural sleep cycles. Rewritten and reorganized to deliver information even more efficiently, this valuable sourcebook contains the latest research on:
The best course of action for sleep problems: prevention and treatment
Common mistakes parents make trying to get their children to sleep
Different sleep needs for different temperaments
Stopping the crybaby syndrome, nightmares, bed-wetting, and more
Ways to get your baby to fall asleep according to her internal clock - naturally
Handling nap-resistant kids and when to start sleep training
Why both night sleep and day sleep are important
Obstacles for working moms and children with sleep issues
The father's Read More chevron_right
Frequently Asked Questions About Healthy Sleep Habits, Happy Child
Books like Healthy Sleep Habits, Happy Child
Book Reviews
(10)
Did you read Healthy Sleep Habits, Happy Child? Please provide your feedback and rating to help other readers.
Detalied, scientific, statistical guide to sleep habits - not a quick reference for parents.

Derived From Web

, May 27, 2022

If you want a good guide to help your baby sleep, this is not for you. If you want a 400-page detailed account of sleep studies, done with statistical analysis around the world, then this is for you. The philosophy of Marc Wiessbluth is '' why say it in a few sentences, when you can write a whole chapter . For example, chapter one can be summarised as best sleep is good for your baby. This book is also filled with archaeous references to historic studies, such as John E Bates, who stated that in the clinical treatment of young, oppositional children, we have seen some spectacular improvements in manageability... blah... blah... blah. If you have the time and are not dealing with a scream child at 3 : 45 and want to learn a lot about sleep, I recommend this. If you want a quick guide for how long you should sleep your baby should save the money and talk to your paediatrician or use Google.
Such a wonderful book!!

Derived From Web

, May 27, 2022

Book is really good! I like that he gives you appropriate time frames to have your child go to bed, which I really needed because I really had no idea as far as a schedule. This book helped us so much in putting our little guy on a schedule and helped us to recognize exactly when he is starting to get tired and when to put him in bed. I also enjoy it, not just giving you a certain way to do things. He gives different methods of doing things, which I like. I didn 't feel like it was one of those books that had a strict one way of doing things and it really left me feeling like I had a lot of room to decide how it should work for our family, yet it gave me a good frame of what happens when and I get to come up with the how. It has changed our lives!
Good overall read

Derived From Web

, May 27, 2022

This book was very educational in general and gave a good description of how young children sleep patterns are formed. It gave several options of how to deal with different types of sleep problems and stages, ranging from the total CIO method to the other end of the spectrum. I do not believe that it promoted harm in any way to your child, and I will use the recommendations for my own child soon. It has stressed how each child is individual and families should do what entails them regardless of what approach. Some of the statistical data and research overviews were a bit dry and boring to follow, but I understand why they included them. I have swung and read various passages as I felt were needed. Not the most exciting book, but I felt it better prepared for the arrival of our baby, and gave me an idea about what to expect most often at each different stage.
Lifesaver

Derived From Web

, Sep 6, 2020

The best baby sleep book ever written. This wonderful pediatrician is a genius! I buy it for all the new parents. I used it with my children and I liked it especially because you could read the part that related to the age of your child. Very useful, since there is no time to read a whole book with a new baby!
If you are a sleep deprived parent- this is like reading War and Peace on how sleep begets sleep

Derived From Web

, Aug 25, 2019

The author basically rambles on and on about the importance of sleep and how if you do not get your baby to sleep, they will have behavioral problems and will fail in life-long parenting anxiety! Frankly, as an exhausted parent, it is a long read that repeats itself and is WAYYYYY to frustrating. I ended up skimming chapters - chapter 2 has all the info you need, then you can toss it or give it away.
You don't need this book

Derived From Web

, Jan 28, 2019

There is no clear plan for " step by step " as advertised. However, after the newborn phase, the author pushes extinction and the best way to sleep train. Whether you are interested in the CIO method or completely against it, I think you don 't need this book. Extinction is just putting the baby in the crib and then ignore them. It is done until they sleep. No book is required to know how to do this! The rest of the information is also available online as well. Skip this long, boring and biased book. It also had a sarcastic tone that I disliked.
You do NOT sleep train a 12 week old. Good grief.

Derived From Web

, Oct 18, 2018

I can 't believe that I have wasted money on this. I am sorry, but you do not sleep a 12 week old train. Answer your babies cry, hold your baby and go with your gut instincts. Instead, read the book Sweet Sleep by La Leche. Then money was wasted.
Long read - here are the Cliffsnotes

Derived From Web

, Jun 18, 2018

The gist is sleep begets sleep. At night, more naps better sleep. Don 't let baby be awake for more than 2 hours, so this advice works! And there you read the book. ( - )
A well researched but rambling how to guide that leaves the reader unclear on the how to

Derived From Web

, Feb 18, 2018

The negative aspect of this book is that each chapter has a very little structure. For example, the chapter on sleep solutions covers over 120 pages and has almost no clear internal structure except sometimes helpful and sometimes vague paragraph headings. I would say that the best way to read this book would be to completely take each chapter and make notes, knowing that much of it is not practical information. This is not a reference book and often does not offer summaries that explain action plans, but provides clear principles instead. It is also very accommodating to mothers, so if you're a father reading this hard to raise your child, you might find this very frustrating when it ends with comments along the lines of fathers, like on the weekends.
but I got so bored with reading it I finally just googled the cliff ...

Derived From Web

, Jul 17, 2017

So long! '' Google the Cliff Notes... save the time... unless you're interested in all the studies that give the information back. Agree with a lot of points, but I got so bored with reading it that I googled the cliff notes and wish I would have done this from the beginning.