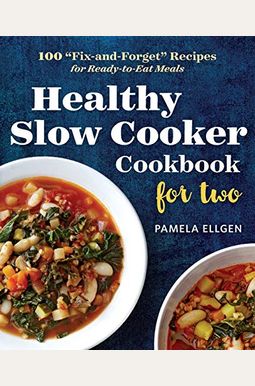 
 
Healthy Slow Cooker Cookbook For Two: 100 Fix-And-Forget Recipes For Ready-To-Eat Meals
Book Overview
Short on time? Trying to eat healthier? Looking for recipes that are truly hands-off? Look no further than the Healthy Slow Cooker Cookbook for Two. You'll find quick and simple steps for throwing together nutritious, delicious, no-fuss slow cooker meals that make just the right amount for a couple.
Slow cooking for two-Create 100 satisfying meals with a healthy cookbook that combines the ease of slow cooking with smaller portion sizes-cutting down on leftovers and food waste.
Fix and forget-These recipes require at least 6 hours of cook time so you can leave them to cook until you're ready to eat.
Organized and customizable-Color-coded labels help you find recipes that fit your diet, alongside tips for making the recipes low-sodium, low-carb, and more
This healthy cookbook makes it easy to create ready-to-eat meals to keep both of you satisfied.
Frequently Asked Questions About Healthy Slow Cooker Cookbook For Two: 100 Fix-And-Forget Recipes For Ready-To-Eat Meals
Book Reviews
(13)
Did you read Healthy Slow Cooker Cookbook For Two: 100 Fix-And-Forget Recipes For Ready-To-Eat Meals? Please provide your feedback and rating to help other readers.
Good for the slow cooker novice

Derived From Web

, May 4, 2022

I do a lot of cooking, and I use both of my slow cookers often, Mr. Rule told the judge. This cookbook is laid out nicely, has easy to follow instructions and no complicated prep work, which is ideal for a novice cook or someone who is still working on their culinary skills, said Melissa Berryhill, executive director of food for AOL Europe. That said, it might be a stretch to call a vegetarian cassoulet when it has beans and substitutes a meatless sausage for the meat, so I would recommend anyone using this to try out the recipes as they're presented and then tweak as you go.
Perfect for a woking mom who needs some help in the kitchen!!

Derived From Web

, May 4, 2022

The book is very well written, and I highly recommend it to anyone. I am a stay-at-home mom that runs a small business. But on those days, I LOVE placing something in the slow cooker and forgetting about it. There are numerous healthy dinner ideas to try. The fact is, if you have a good fridge, you can put everything in order. Example: I knew i had chicken in the freezer, so i went to the index and looked up all of the chicken recipes. Like what side dishes will go well with that? Not to mention, the Cuban Pork Street Taco recipe is DELICIOUS!
Slow cooker recipes for two rather than an army!

Derived From Web

, May 4, 2022

The Healthy Slow Cooker Cookbook for Two contains some excellent recipes and creative meal options that I would not have imagined were possible with a slow cooker. One of my major dilemmas with slow cooker recipes is that they usually yield so much that I'm stuck with the same leftovers for days, so I really appreciate that these are designed to feed two rather than an army! I also found the entire cookbook dedicated to vegetarian and vegan dishes extremely useful.
Too bland. Really really bland!

Derived From Web

, Dec 17, 2020

Bought this because it has nutritional values and small portions which are helpful when trying to control weight. Making healthy meals can be difficult, but for a best-selling author, you would expect something a lot better than these recipes. I cooked three recipes and I've never had anything this bland in my life. Avoid it at all cost. Even the free version will be throwing away food and wast your time.
Perplexed

Derived From Web

, Aug 31, 2020

It seems to be a really great cookbook, but there is no mention in the book or online at Amazon. com about the size of the crock pot you need to make these smaller meals. The Government has identified a major need, but it is not addressed. If anyone could please give me that information, I would give this book a 5.
Exactly what I needed!

Derived From Web

, Feb 7, 2018

I've never had a cookbook, but this one has everything I need. I cook in my crockpot at least a couple of times a week, and now that the household is down to two, the leftovers are out of control. No longer will we be posting pictures of our children on this site. This book is great for anyone who has diabetes or has a family history of diabetes. Ten minutes to throw everything in the crockpot, and you go off and do your thing for 6-8 hours, and then come back and eat, Mr. Hubach said. It's just that no extra steps are necessary, like mandatory browning. It was a great deal, said Kristen. "I'm so glad I bought this.
Excellent book!

Derived From Web

, Dec 5, 2017

This is the perfect slow cooker cookbook for those who love slow cooking. The recipes are built around healthy ingredients, but they can be high in fat. There is definitely a feel of lower carb, balanced nutrition in this book. The biggest focus is on taste profiles, which really combined with healthy ingredients was what I was after, Mr. Dhaliwal said.
Not quite slow

Derived From Web

, Nov 16, 2017

My idea of a slow cooker meal is one that I can put together in the morning and come back later on, preferably with a fully cooked meal, he said. The book calls for four hours of continuous cooking, plus an hour for serving. I suppose I could use the recipes on weekends when I run errands, Mrs. Cowger said.
Hate to cook for one? Great solution!

Derived From Web

, Aug 19, 2017

The book is a great read, and I highly recommend it to anyone. He can live off of three meals a day, plus snacks. Easy to follow directions. Definitely recommend.
Great cookbook for small Crock-Pot

Derived From Web

, Aug 13, 2017

This is the perfect companion for the small Crock-Pot. It makes a good present for a newly married couple or older couple.