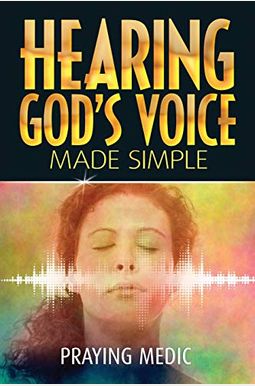 
 
Hearing God's Voice Made Simple
Book Overview
Is God Really Speaking?
Yes-and you can learn to hear Him.
Today, many are skeptical that God is speaking or that we can know with certainty we're hearing Him accurately. Hearing God's Voice Made Simple makes the case that God is speaking and that we can learn to hear Him. As you read this book, you may even discover that God has been speaking to you all along but you simply didn't know how to hear Him.
With the same straightforward, down-to-earth style used in the best-sellers Divine Healing Made Simple and Seeing in the Spirit Made Simple, Praying Medic teaches about the many ways in which God speaks. You'll find practical exercises at the end of key chapters to help develop your ability to sense what God is saying to you. Whether you're skilled at hearing God's voice, or more of a novice, this book will show you ways of hearing from God that you may not have considered-and you'll also learn what to do with the things God says.
This book is part of a series called The Kingdom of God Made Simple- a self-study course designed to train believers to live the life offered to them as heirs of God's kingdom.
Frequently Asked Questions About Hearing God's Voice Made Simple
Book Reviews
(13)
Did you read Hearing God's Voice Made Simple? Please provide your feedback and rating to help other readers.
Awesome book.

Derived From Web

, Apr 20, 2022

A great book. The author went into details, even though the Lord's command was clear. He also says that the Book is "100 percent accurate." It's just that you feel the writer's word. The Holy Spirit, the Lord's power, is at work in the Lamb's blood. You must read the Bible in order to hear the Lord's voice. To hear his voice and to stay in prayer.
easy to digest fashion

Derived From Web

, Apr 20, 2022

Easy to digest and understand, the book is a must-have for fashionistas. It is my opinion that Praying Medic has a gift that he is using for the benefit of others, said Dr. Goin.
Simple AND comprehensive... How can it be??

Derived From Web

, Apr 20, 2022

The book covers so much ground in such an approachable language, it is mind blowing. Now I consider this a reference and a training manual for myself and others on living a more full and dynamic life with God. Thank you, medic and thank you God for all you are doing to show us your love and raise us up as your sons and daughters!
It's about the enormity and steadfastness and the detail of God's love. I was going to skip the Chapter on ...

Derived From Web

, Apr 20, 2022

As a pastor for ten years, my most common question I get is 'How do you hear God? Living free of religious thinking and putting ourselves in the shoes of others is not just a book about hearing God, it's about living free of religious limitations and putting ourselves in the shoes of others. It's about the enormity and the steadfastness of God's love, Raymond said. I was going to skip the chapter on art but then I came across this amazing book. He writes so clearly, succinctly and with a profound depth of wisdom that can only have come about by experience, trials and many hours in the presence of God, he said. I would recommend this book to anyone who is seeking or just wants to know more about the Lord.
Great Book

Derived From Web

, Dec 23, 2021

The book is well written and I enjoyed the reading. The book deals with faith and strengthening faith as well as the subject matter of the title. Highly recommend.
I plan on buying everything he writes...

Derived From Web

, Sep 16, 2019

The first book I read was by the Lord, "Traveling in the Spirit." It shadowed much of what I have experienced in the 30 plus years not knowing what I was doing and being startled enough to not ask for more, Morgenthau said. His writing style is easy, nothing is needed but faith and an open mind, Raymond said. He also tells us why we believe in doing God's will, including making mistakes. Barrenas shows you how to do the exercises. No one improves their game of basketball without practice, Kerr said. I never knew what to do with it, how to do it, or even how to meditate. The Lord has given him all the necessary authority to correct the record of the times, and to correct the Scriptures.
Classic Praying Medic

Derived From Web

, Dec 24, 2018

Dan takes a potentially deep subject, and describes it in such a way that anyone can understand it. I've learned a lot from the books of his that I've read so far, and my relationship with the Lord has improved as a result, Morgenthau said.
Can YOU Hear Him?

Derived From Web

, Nov 5, 2018

He talks to us! The bigger question is, can you hear HIM? He wanted to have a relationship with us, Raymond said. If you have any type of relationship, how can you have any type of communication?
Excellent book

Derived From Web

, Aug 25, 2018

A great book. PM's comprehension of what he is working with is not absolutely perfect, but very good, said Dr. Goin. It's a very big subject, and I don't think anybody calls God that big. I really like his book on Divine Healing, because it helped me understand an important bit of what was still vague in my mind. You are a champ! It's great to be back home, said Blair.
This book was so great that I want to read all of the books ...

Derived From Web

, Jul 10, 2018

God has spoken to me at various times throughout the years, and this book explained in a way I could understand what was happening and how the kingdom of God works, he said. I want to read all of the books by The Praying Medic.