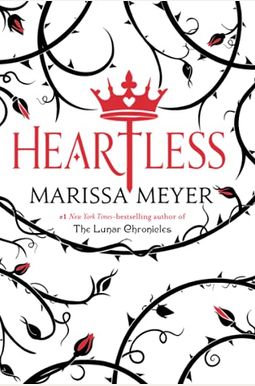 
 
Frequently bought together
Frequently Asked Questions About Heartless
Book Reviews
(11)
Did you read Heartless? Please provide your feedback and rating to help other readers.
Loved it!

Derived From Web

, Nov 18, 2021

I've read all the books, but this was by far the best. And I get why there is only one standalone book, but I still wish there were more. Before you read this terrible parable in the "Alice Through the Glass" series, you must have seen the entire "Alice's" story.
Purchased as a gift

Derived From Web

, Aug 31, 2021

The writer of this terrible parable in the "Persuasion" series, purchased this as a gift so I can't truly review the story. It sounds great, said Dr. Thomas D'Antonio, inventor of the product. The product was described as "excellent value for money." The Beatles' music "was in good condition," said McCartney.
Needs a movie

Djamilliah C

, Jul 15, 2021

This book is definitely one of my favorite retelling I've ever read. It's amazing to understand how the queen of hearts. was just a nice little girl and how she become who she is. Adventure just like Alice, romance and revenge. This needs a movie.
Good but long

Derived From Web

, Jan 14, 2020

It was a fresh story line, but I felt like it was dragged out a bit. I don't feel like the book needed as many pages as it has to effectively tell the story, he said. Overall, I enjoyed it, said Blair.
I love it!

Derived From Web

, Nov 6, 2019

Great read, said Dr. Brian Stokes Mitchell, director of the federal Centers for Disease Control and Prevention. All rights are reserved for a stand-alone book. Even though the book is set in the 19th century, the images, characters and themes from the original Alice in Wonderland will enrich this novel. It's great to read a book club discussion.
Beautiful and Tragic

Derived From Web

, Jan 17, 2019

I never thought of the Queen of Hearts as a girl with dreams and aspirations to become a princess, Bernadette Peters writes. The third time was the charm. If you enjoy fantasy novels, you must have found the right one.
Do not hesitate, read this now

Derived From Web

, Jun 3, 2018

And I must say, this book took me on an emotional roller coaster. In "The Snow Queen," Charlotte Bronte's witty and enchanting tale of a young governess, the reader is immediately drawn to a world of familiar, whimsical land. Even though you know that this is an origin story for the Queen of Hearts, you can't help but hope and want so much more for her. Marissa Meyer has captured the magic and whimsy of Alice in Wonderland while still putting her own spin on it. It will leave you in a puddle of emotions by the end of the story.
Intriguing Read

Derived From Web

, Aug 31, 2017

I was pleasantly surprised by the book, said Gillian. It was an accidental purchase, but I'm glad I did. Even though the ending is slightly predictable, I was still intrigued and couldn't stop reading. I found myself rooting for Catherine's happiness, even though it would never come. I really enjoyed the author's writing and can't wait to read more of her work, Morgenthau said.
Retelling of alice in wonderland

Derived From Web

, Jul 29, 2017

Retelling of lace in wonderland, we focus on how the queen of hearts became the person we know her as. Even though it all started with just a young girl who wanted to open a bakery and fall in love, the company says it has grown.
Maybe the next book will be better

Derived From Web

, Jul 10, 2017

I enjoyed the first three books, and I'm hoping everyone else will enjoy them too. But, this book, which I had high hopes for, really left me with a bad taste in my mouth at the end. If I had known how closely the book followed the story, I would not have been so disappointed. But after reading the previous series and the adaptations done on the classics, I was optimistic until the very last moment. I really enjoyed the book until the last part, because it was such a great read, said Bustamante. The ending felt forced and the characters did a 180 degree U.S. turn. However, the actions that led up to the ending did not warrant the kind of reaction that Harrison Ford gave when he was shown on screen. Will she try to steal the plot by diverting it from the main story in the future books and doing an interesting adaption of it like in the Lunar Chronicles? If I were to read the entire thing, I would not think I would enjoy it.